Widely Available in Omaha, Frank Family Vineyards Celebrates 25 Years in Napa Valley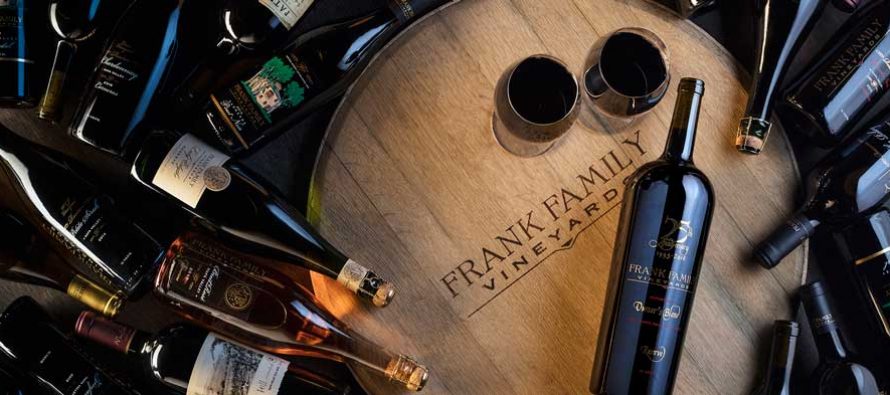 I took a right turn off of Highway 29, having driven north from the little town of Yountville for a little better than twenty minutes. An angular drive led past yet another vineyard and into a grove of large trees that enshrouded a collection of buildings. I parked my rented car and strolled casually around the grounds, admiring architecture that in no uncertain terms paid homage to the agricultural roots of the valley in which they were built, and perhaps to a quieter time.  Visitors who had come for wine and large, well-behaved dogs meandered about the property. Though I had never been to this place before, it would have been difficult not to feel a sense of home amidst such serenity.
Twenty-five years after Rich Frank purchased a Tudor house in Rutherford to use as a second home on the west coast while working as president of Walt Disney Studios, his family name has become synonymous with quality in the wine industry. But of course, the process took time. The story of how Rich Frank took what he had learned in the entertainment industry and applied it to winemaking is one worth hearing – or reading about.
"The rule is the same in the wine business as it is in the entertainment business," says Rich. "Hire the best people and let them do their best. For example, Todd Graff is an outstanding winemaker with creative vision and I have learned to just stay out of the way to allow him to excel at his craft."
There's an obvious reason why Frank Family Vineyards and their wines win so many awards despite steep and worthy competition from so many of their neighbors.  Stepping inside the well-adorned but far from frilly craftsman structure, I was directed to a side room with a large table, late afternoon sunshine slanting in through the windows to cast shadows, and I sat down to wait. A dog, which I later learned was named Bristol, walked casually in and lay down near my feet. Soon after Todd Graff, the winemaker trusted implicitly by the winery's owner, joined me at the table.  We shook hands, and as he unwound the cage and delicately massaged the cork from a bottle of Rouge, a sparkling Pinot Noir he makes "for fun," he politely asked me what I wanted to know.
The story of the Frank Family Vineyards, of Rich andLeslie Frank, is indeed a fascinating one.  I was eleven years old in 1992, when Rich Frank's first vintage was released in the amount of approximately two hundred cases. Today, the winery's case production is closer to a hundred thousand, but it took twenty-five years to get from there to here, and much has happened in that time. Rich's prior career in the entertainment industry no doubt made the relative quiet of an agricultural grape farming valley appealing in some ways.
Rich purchased the house in Rutherford, on what he would later deem Winston Hill, named for his springer spaniel Winston, and while the property is perhaps best known for yielding some of the best Cabernet Sauvignon grapes in the entire Napa Valley, Rich knows it as home – and also the place where he proposed to Leslie, an Emmy-winning news anchor with her own deep-seeded appreciation for Napa's undeniable allure.The couple met in 2006. Leslie had just finished covering the Michael Jackson trial and was taking a break from LA in wine country. Rich remembers the story vividly:
"I was sitting at the bar at Bouchon bistro in the Napa Valley, and she and her friend were sitting next to me… I said to them: 'If I order a bottle of pinot noir, would you share it with me?' The rest is history."  Rich went on to talk about what made their partnership work so well.
"We are very much alike – we are very active and interested in current and cultural events; we both come from hard working families and have very similar values… It is great to have someone with the same ideas and desires to work with every day!" Then he added: "By the way, Frank Family started making Pinot Noir the year after we met."
Frank Family wines – including an excellent Pinot Noir, are something I drink a fair amount of, and for a variety of reasons. Readily available all over Omaha, they offer excellent value, and Todd Graff's experience and creativity, combined with access to a diverse array of excellent fruit, give him the opportunity to produce a broad portfolio of wines that work with just about everything.  The last time I went out with friends, I gravitated immediately to that Frank Family Pinot Noir I saw on the list. It paired terrifically with the diverse selection of courses ordered by our table.  One more thing to be sure to watch for are the Reserve wines which are, in my mind and on my palate, among the most consistently excellent wines on the market. From an elegant Chardonnay to one of the best Cabernet Sauvignons I've ever had, the reserves may cost a bit more but they punch far above their weight class.
In Omaha, you can find Frank Family Vineyards wines for sale at The Winery, Corkscrew Wine and Cheese, Pacific Cellars, Wine 121, and the Omaha Wine Company. Additionally, many great area restaurants are currently pouring various Frank Family wines by the glass. Visit Tavern 180, J Coco, Smoking Goat, Paxton Chophouse, Cedar, Flatiron, Finicky Frank's, Spencer's, Baela Rose, or Upstream Brewing to give them a try. Frank Family wines are also available on the golf course at Champions, Happy Hollow, and Shadow Ridge. In short, it's not hard to find these great wines right here in Omaha, and I highly recommend you seek them out.  One other place you may have seen them last year was at the annual VinNEBRASKA event, and I think it's safe to say that the entire Omaha wine loving community is hoping they'll be back this spring.
As the day stretched into evening, Todd and I tasted through a lot of the Frank Family's large portfolio of wines, while at the same time he taught me about the vineyards from whence they hailed. I had tasted prior vintages of Winston Hill, the wonderful Cabernet I'd shared with a friend after we passed our WSET Level II exams together, and the starting point for Rich's great adventure.  The current vintage, 2014, smacked of Rutherford's famous dust upon the palate, and despite its youth may be the best one I've had to date.
As we wound down for the evening, Todd preparing for a trip to the Dalmatian Coast and I at the front end of a weeklong excursion to California's wine country, Todd sipped at his wine. "You know," he began thoughtfully, looking into the glass of fermented grape juice that he had crafted into art, "If I was on a deserted island, I'd plant Pinot. It would pair with fish, wild boar, a bird if I could kill it – and you can make all kinds of wine from it: sparkling, light reds, heavy reds. It's just so diverse." In this statement I found a deeper truth, a reality inherent about what creativity looks like and what it can birth that rests behind the Frank Family wines and perhaps explains how one producer can be so truly excellent while remaining so diverse in what they offer.  Such creativity and devotion may also begin to explain how this winery, now twenty-five years young, still employs mostly family members and manages to offer a personal touch for every patron who visits their beautiful facility. Whether it's a rare Sangiovese, a Blanc de Blancs, a Cabernet, Chardonnay, Zinfandel or Pinot Noir, the next time you see Frank Family Vineyards wine on the menu, don't pass it by. As Leslie Frank put it, "Making great wine is our labor of love," and the fruits of their labor are ours to enjoy right here in Omaha, Nebraska.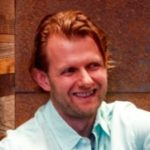 Mark Gudgel
Dr. Mark Gudgel is a wine writer and educator who holds credentials through the Wine & Spirit Education Trust (WSET) and is working towards becoming a Master of Wine. His interest in wine was sparked on his honeymoon to Napa and Sonoma. Gudgel and his wife, Sonja, have co-authored several articles as well as a book on the wineries of Nebraska, to be released in the spring of 2017. Gudgel is a regular contributor to Food & Spirits Magazine and American Winery Guide, as well as the blog he maintains with his wife, www.itheewine.com. Mark and Sonja live in Omaha with their children and their dog.
---
Related Articles
Pouilly-Fume': Noun: An AOC established in France in 1937, composed of around 1,200 hectacres, and best known for producing Sauvignon
Wine lovers love their toys. We have aerators, bottle tags, bottle stoppers, coasters, corkscrews, capsule cutters, carafes, decanters, drip screens…
Everyone loves a wine tasting. After all, what's not to like when it comes to sipping vino with your friends.
Only registered users can comment.