Sweet & Spicy Summer Slaw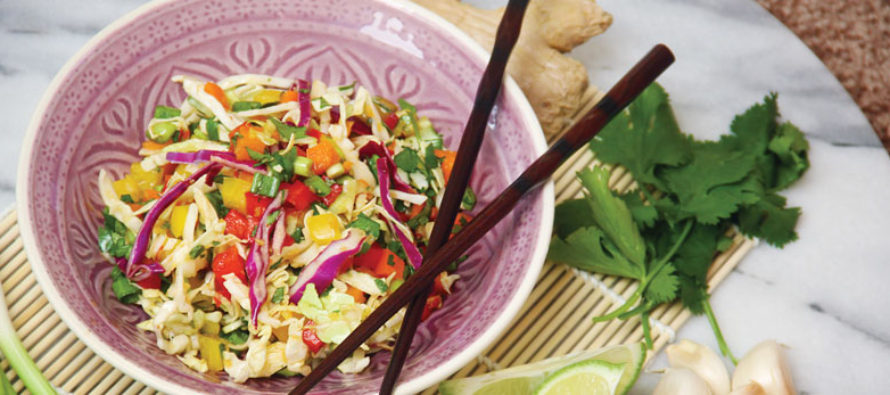 Spring is almost over and summer will soon be in full swing. That also means that we Nebraskans, being firmly ensconced in the center of the Midwest, are ready to fully engage into party mode after months of singing the frigid winter blues. Unlike my Floridian friends who are continually drenched in unending sunshine and frolicking in the sand year round, we Omahans must make wise use of our limited amounts of the coveted gold warmth that lasts for us but for a brief moment.
I'm guessing that most of my Food & Spirits family will be in the same boat that I am come this time of year. We always have a few parties sparsely sprinkled throughout the rest of the year, but summer is the time we find our inboxes and Facebook invitations turn into a torrential flood as we try to squeeze all the fun we can into our few short allotted months. We all need a few sharp and accurate arrows for our culinary quiver that always hit the target of fast, easy and phenomenally tasty. I would like to share with you one of my favorite recipes that will transform you from an ordinary partygoer into a deftly skilled kitchen ninja.
I've developed this recipe for sweet and spicy Asian slaw through trial and error over the last decade. It's become a perennial favorite that always has people coming back for seconds or thirds. It's fast, easy and hits all the notes we look for in a pleasing party dish. It's sweet, sour, salty, spicy, crunchy, and even has some umami going on. Of course as with any recipe with fresh vegetables, feel free to add or substitute any of the wonderful array of fresh produce available in the farmers markets. Let the recipe be your launching point as you paint the canvas with your own brush strokes.
Sweet & Spicy Asian Slaw
4 cups shredded cabbage (white with a little red)
1 carrot shredded
1 each red, yellow and orange peppers diced
1 bunch of cilantro rough chopped
1 bunch green onions thinly sliced
Dressing
1/4 cup Thai sweet chili sauce (Mae Ploy brand)
2 tbsp. fresh squeezed lime juice
2 tbsp. unseasoned rice wine vinegar
1 tbsp. soy sauce
1 tsp. sesame oil
1 tsp. fresh grated ginger
1 small clove garlic finely minced
pinch of kosher salt
Prep vegetables and place in the serving bowl, mix dressing ingredients and store in a separate container. Mix the slaw and dressing together right before serving. This will keep the slaw fresh and crispy.
Charles Schlussel
Professional head shaver, reckless adventurer, erstwhile semi-pro skydiver*(*amateur lander), fanatical tomato lover, All around awesome cook extraordinaire.
---
Related Articles
Best Cake Doughnut 1.Hello Sugar 2. Petitt's 3. Hurts 4. Hardy Coffee Co. 5. Sunrize Best Glazed Doughnut 1. Hello
Only registered users can comment.