2017 Favorite Burgers Map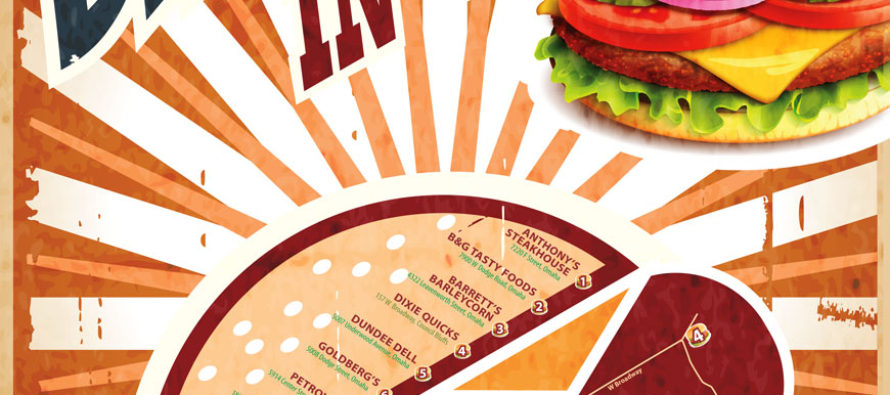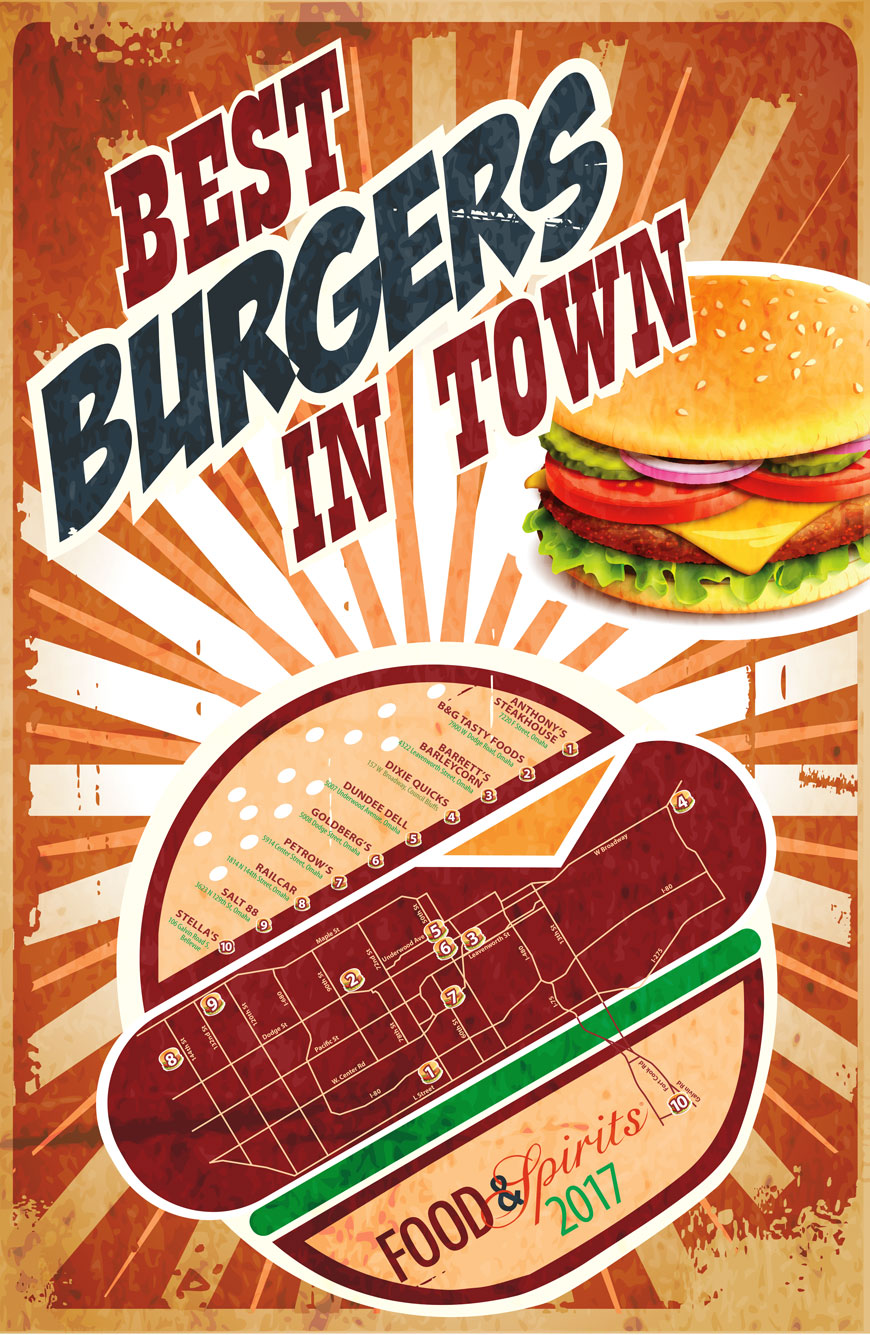 Omaha is definitely a burger town. Nebraska is famous for its beef, and the Metro Area boasts many restaurants that (justifiably) pride themselves on a wide variety of burger styles, toppings and preparations. There's nothing better than a thick, juicy hamburger to satisfy your hunger and brighten your day.
Anthony's Steakhouse, 7220 F Street, Omaha
Celebrating 50 years serving Omaha, Anthony's legendary steaks and burgers are cut and made fresh daily. They feature weekly hand-crafted, artisan burger specials made with in-house ground beef. The 90/10 blend is made from steak trimmings, hand-pattied and cooked to perfection. The current menu offers a "Burger Bene" which is a house steak patty with a poached egg and hollandaise sauce. Another customer favorite is the "Steakhouse Burger" it starts with the house steak patty, mushrooms, ragout, bacon and Swiss cheese. The "Mac and Cheese Burger" is another popular item that starts with the steak patty and is topped with house made creamy macaroni and cheese. Anthony's also invites you to create your own favorite steak burger with a variety of toppings, just ask your server. Come in and experience their great steak burgers and experience what has made Anthony's a restaurant-mainstay in Omaha for the last 50 years.
B&G Tasty Foods, 7900 West Dodge Road, Omaha
While B&G Tasty Foods is most famous for their loose-meat sandwiches, they also make a killer burger. They start with a quarter pound of never-frozen beef. Next, they hand-press it and sear it on their griddle. Finally, the perfectly-seasoned patty is topped with your choice of fresh ingredients like ketchup, mayo, mustard, lettuce, tomato, onion and pickle. Want your burger smeared with peanut butter or topped with an egg? Just ask! Pair this with some shoestring French fries, waffle fries, tater tots or onion rings and you'll have a better day.
Barrett's Barleycorn -4322 Leavenworth Street, Omaha
Barrett's Barleycorn has been serving some of the best pub food since 1987.  Tucked in the heart of the city, Barrett's is proud to serve delicious food to people of all ages.  Their extensive menu has been perfected through the years.  They are especially proud of their hand-pattied, never frozen choice beef.  The burgers are grilled to your liking and served on a toasted Rotella Bakery Kaiser bun.  The choice of toppings is darn near endless.  Most of their burgers are named after Omaha's local sports teams.  They have a Bluejay, a Maverick and always a favorite Husker burger.  As claimed on their menu, the patty melt will cure a hangover, especially when paired with a Guinness!  The Phillies and pork tenderloins are also favorites with their customers.  With their open kitchen, it's also fun to watch the cooks work in one of the tiniest kitchens in Omaha. Come down to Barrett's Barleycorn, where no one is a stranger.
Dixie Quicks, 157 West Broadway, Council Bluffs
Dixie Quicks offers a delicious 9-ounce, 90% lean ground beef patty massaged with a special blend of garlic, oregano, salt, pepper and olive oil. This tasty burger treat is charbroiled to the temperature you like and piled with grilled onions, Portobello mushrooms, lettuce, tomato, Swiss and American cheese on a French roll. You'll need a nap after!
Dundee Dell, 5007 Underwood Avenue, Omaha
All the food at the Dundee Dell is prepared fresh every day. Their hamburger is absolutely fresh-never-frozen, and made with short rib and chuck. No trim and grilled to your preference. Want it medium rare? No problem. These delicious burgers are served on a fresh Rotella Kaiser bun with pickle, lettuce and onion on the side. They are proud of all their menu selections and put their own special "Dell" spin on each item. They make their own pastrami from scratch, brining and smoking each brisket to bring the best possible sandwich to your table. All the appetizers, soups, sandwiches, side dishes and desserts are made right there in the Dundee Dell's own kitchens. Next time you're enjoying the neighborhood, stop by the De11!
Goldberg's, 5008 Dodge Street, Omaha
Goldberg's in Dundee has been serving quality hamburgers for over twenty years. Grilled over an open flame, the Blackstone, Havarti and Greek Burgers, along with the traditional styles, satisfy a variety of tastes and can be accompanied by sides from delicious sweet potato fries to fresh sautéed vegetables. Their fresh, never frozen, 100% beef hamburgers are charbroiled over an open flame, delicately seasoned and served deliciously moist on either a lightly toasted gourmet or pretzel bun. They are served with kettle chips, but more popular companions are curly-Q fries, thick, meaty potato wedges or sweet potato fries with a homemade dip. Toppings of choice include strips of bacon, fresh sautéed mushrooms and five types of cheese. The Greek burger is a tempting and innovative choice, stuffed with fresh red peppers, sautéed mushrooms, onion, spinach and feta cheese.  The Caesar is seasoned with pepper and garlic and topped with guacamole, Caesar-mayo dressing and Parmesan cheese. The Blackstone is a Reuben-style burger, and the wild ranch is seasoned hot with a cool down dressing. The atmosphere is warm, cozy and comfortable and Goldberg's staff is friendly and attentive. They offer a full menu into the late hours, so they're a great after-work or weekend hangout.
Petrow's, 5914 Center Street, Omaha
Petrow's, an Omaha tradition since 1957, proudly serves fabulously fresh, loose hand-pattied Nebraska Angus beef in each of their famous hamburgers. They take care not to over-pack or smash their juicy 7-ounce hamburgers, which are seasoned with signature spices to enhance the Angus beef.  Their burgers are cooked on a custom char broiler, flipped only once, and cooked to the temperature of your choice. The burger is paired with the freshest grilled Rotella's hamburger buns – delivered daily – along with crisp lettuce, dill pickle, tomato and your choice of fresh sliced or grilled onions. You can top your burger with American, Swiss, cheddar, jack, feta or bleu cheese. Variations on their classic burger are the black and bleu burger with blackening seasoning and bleu cheese, the Nebraska classic with bacon and cheese, or the patty melt, a local favorite, served on marbled rye bread with grilled onions and Swiss cheese. All burgers are served with French fries and two hand-battered signature onion rings. Extra patties are only $1 on Wednesdays. A malt made with their homemade ice cream seals the deal.
Railcar, 1814 North 144th Street, Omaha
The signature burger at Railcar Modern American Kitchen is their all-natural, certified Angus cheddar burger. They start with local beef on a Le Quartier Brioche bun, then spread a thick layer of Merkt's all-natural cheddar on top. No Railcar burger is complete without their house-made pickles, red onion, home-made tomato jam and a tangy burger sauce that pulls all the flavors together.
Salt 88, 3623 N 129th St, Omaha
Classics…preparing and executing them is important at Salt.  It goes to what they do at Salt, the basics, properly made, every day.  They offer two different burgers at Salt, the first is their half-pound Angus burger.  They start with certified Angus beef, seasoned, basted and cooked over an open grill.  Melted nutty and creamy fontina cheese, lettuce, roma tomato and red onion are sandwiched between a one of a kind seeded salt and pepper bun.  The light and tasty bun is made from wheat and malted barley flour and is coated with sesame seeds, poppy seeds, cracked black pepper and sea salt to give the bun a one of a kind taste.  The Angus burger will have you wondering why other restaurants don't make them like they do. If you're joining Salt for happy hour, they have a burger treat for you.  Salt offers a smaller certified Angus patty, seasoned and basted just as we do our regular burger.  For the bun, a toasted pretzel bun and add an optional over-easy fried egg to the burger and you are on the right path for a great happy hour experience.  The quality of beef they use and the care in the preparation is obvious at Salt.
Stella's, 106 Galvin Road South, Bellevue
Stella's has been serving their famous hamburgers since 1936. Their 6 1/2 ounce, hand-pressed, fresh (never frozen) ground beef patties are served on a Rotella's hamburger bun (delivered fresh every morning) with lettuce, tomato, pickles, onions and real mayo. They are proudly presented on Stella's traditional napkin, just the way Stella liked it, but they do have baskets available if you prefer. Just ask!
Creative, unique burgers are a cornerstone of the restaurant business. Each and every one of these local, Midwest-proud restaurants and pubs are happy to offer you a tasty, succulent burger experience you won't soon forget. Make sure to take a trip with Food & Spirits' burger map and get a taste of what each of these great places has to offer!
---
Related Articles
Arriving in London on a perfectly overcast, rainy day, I had been warned by fellow travelers not to get my
Dixie Quicks Public House features Southern-Tex-Mex infused dishes reflecting classically trained chef and co-owner Rene Orduna's many influences. But make
Every little boy has his first romantic crush. Don't tell anyone, but mine was with food: mashed potatoes and gravy,
Only registered users can comment.