2017 Omaha Happy Hour Map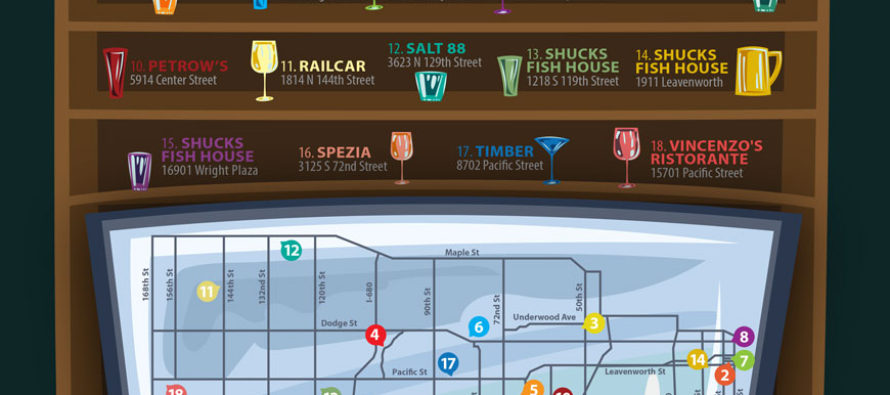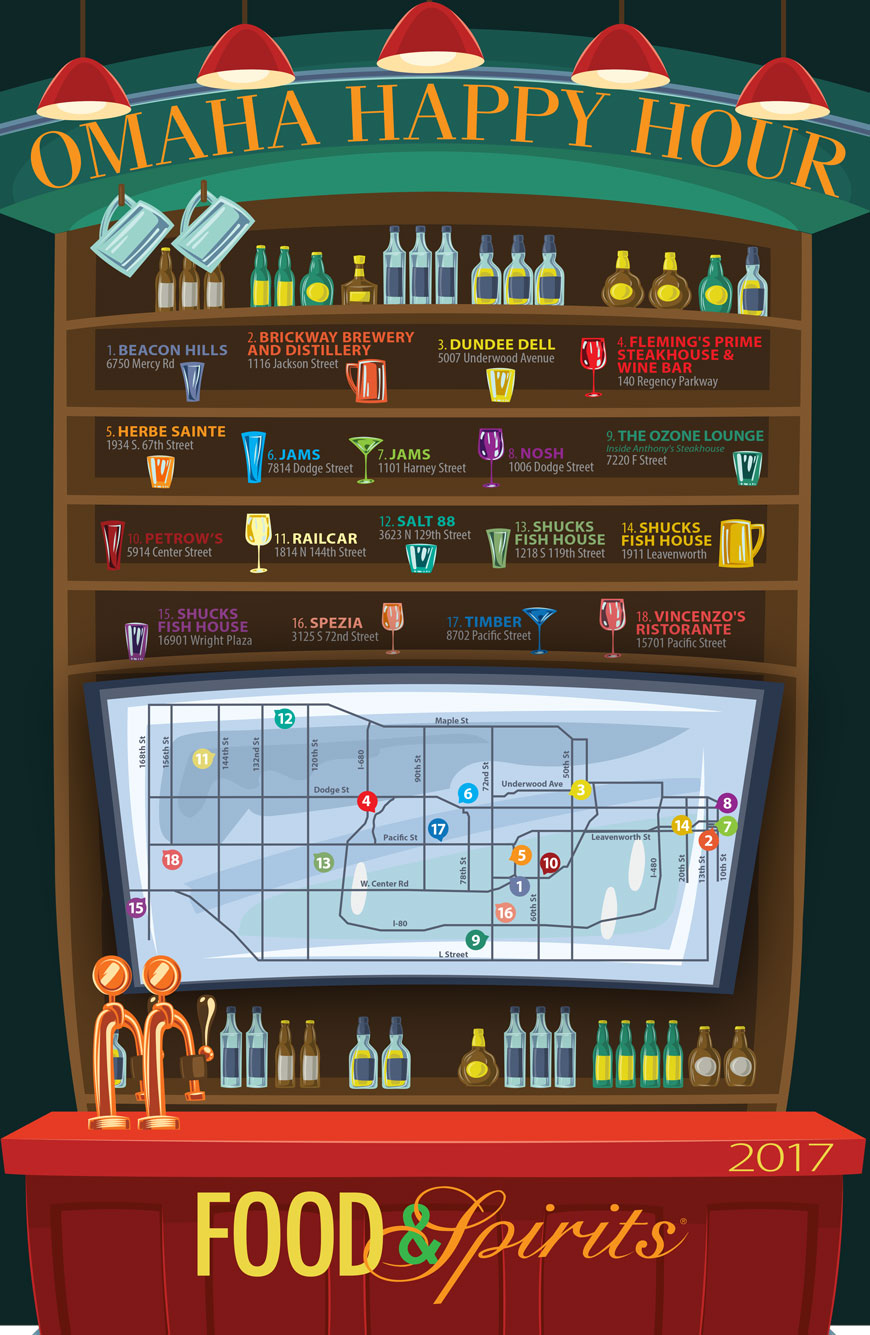 Happy hour is a tradition and an excellent way to treat yourself after a long, hard day at work or to take it easy on a Saturday or Sunday. Omaha has a bar, restaurant or pub to suit every craving and every mood, and with these outstanding choices, you'll definitely find a favorite new hang-out spot.
Beacon Hills – 6750 Mercy Rd, Omaha
Newly opened Beacon Hills, located in Aksarben Village, offers a wide variety of happy hour specials. Happy hour is Monday – Friday from 2 – 6 pm and includes offerings in both drinks and food items. For drinks, a variety of beer, wine and cocktail specials are available at happy hour. If food is on your mind, Beacon Hills doesn't disappoint. Crab cakes, crab Rangoon, tomato basil dip, chicken wing, polenta fries, chicken strips, lasagna bites, baked brie, Parmesan spinach dip, French onion soup bread and signature flatbread pizzas (prime rib, Italian sausage, roasted tomato artichoke, Craig's cheese burger and chicken pesto), each affordably priced. Beacon Hills also offers one of the best patio experiences in Omaha. See you there!
Brickway Brewery & Distillery
1116 Jackson Street, Omaha
Brickway Brewery and Distillery is located in the heart of Omaha's Old Market District. They brew and distill on-premise and offer 15+ beers and 6+ spirits in the tasting room. The tasting room is open 7 days a week and now offers a full food menu. Brickway specializes in bringing quality products to an ever-changing market. From their flagship Pils to the tasty 'coffee vanilla stout' and an ever-changing list of single batch beers, they pride themselves on quality. Don't forget about the spirits either.  The American single malt whisky and bourbon are the most popular. Brickway offers knowledgeable tours Thursday – Sunday as well as one of the best happy hours in town. Mon-Thurs $4 session series beers from 2 pm – 7 pm. Friday 1/2 price growlers and Sunday $4 session series beers all day.
Dundee Dell – 5007 Underwood Avenue, Omaha
For those craving some food along with great prices on happy hour drinks, Dundee Dell offers up a happy hour that has the best of both their spirits and food offerings. As if that wasn't enough, you can take advantage of their happy hour pricing every day of the week from 2 – 6 pm. Dundee Dell is known for their high quality well liquors and during happy hour well drinks are only $3. Additionally, any of their drinks, including their nationally-renowned Scotch selection, can be had for $1 off. If food is more what you're looking for, Dundee Dell has you taken care of with their world famous two piece fish and chips for only $7.99 and their most popular appetizer, the fried pickles, for half price at $3.99 for six big dill pickles.
Fleming's Prime Steakhouse & Wine Bar
140 Regency Parkway, Omaha
Fleming's offers a special 'five six seven' menu for happy hour, which runs from 5 – 7 pm nightly in the bar. For cocktails, the 'purely fresh margarita' and 'emerald isle' are available for $6, the 'whiskey peach martini' and 'blueberry lemon drop' for $7 and the 'debonair martini' for $8. Happy hour wines include a sauvignon blanc and chardonnay for $6, a pinot noir and cabernet blend for $7 and a cabernet sauvignon for $8. Blue Moon seasonal beer is available for $3. For food, Fleming's has you covered with a roasted Portobello mushroom ravioli or house-made burrata for $6, sweet chili calamari for $7 and tenderloin carpaccio or filet mignon flatbread for $8. Additionally, the 'prime burger' can be had for $8.
Herbe Sainte – 1934 S. 67th Street, Omaha
Located in Aksarben Village, Herbe Sainte is happy to announce their all night happy hour every Monday from 4 – 10 pm.  They also offer happy hour Tuesday through Thursday from 4 – 6 pm. Their specials include $1 off all beers, a daily cocktail for $6, $5 house wines, and 25% off all of their fresh from the Gulf oysters and peel and eat shrimp. Herbe Sainte is a New Orleans themed restaurant and cocktail bar.  From classic drinks and dishes like the Sazerac and crawfish étouffée (a vegan étouffée is available as well), to more modern recipes like the 'bywater' or crawfish cheesecake with a spicy meunier sauce – they've got something interesting for everyone to enjoy. They are very excited to be a part of this community and look forward to serving all of Omaha.
Jams – 7814 Dodge Street, 1101 Harney Street, Omaha
Jams, an Omaha restaurant legacy, is an American grill that offers a melting pot of different styles and varieties of food dishes containing high-quality ingredients paired with the optional cold drink or creative cocktail. The original Jams Midtown is located on 78th & Dodge and offers great drink and appetizer specials from 4 – 6 pm, Monday thru Friday. Special happy hour appetizers are all just $7. Happy hour drink prices range from $4 – $7: seasonal beer, Jams sangria, Kentucky punch, P.G. martini, Jams cosmo, Beverly Hills bubbly or dirty tini.
Jams Old Market opened in 2015 and boasts the best patio in the Old Market where you can enjoy drink happy hour drink prices on seasonal beer, Jams sangria, Kentucky punch, P.G. martini, Jams cosmo, Beverly Hills bubbly or dirty tini with prices that range from $4 – $7. Specialty happy hour appetizers are just $7. Monday thru Friday, 4 – 6 pm. Voted 'Best Happy Hour' in the OWH Omaha Choice Awards.
Nosh – 1006 Dodge Street, Omaha
Nosh Restaurant and Wine Lounge is considered one of the best happy hour spots in downtown Omaha! The happy hour selection of food and drinks are some of their most popular items. Drink specials include $2 off any wine by the glass, $3 domestic beers, $4 well drinks and $5 for select martinis and cocktails (the most popular choice is their happy hour mule). Their happy hour food specials include the duck tacos, margherita flatbread, and spinach and artichoke dip along with a few other favorites, all priced between $4 and $6. Happy hour is every day from 4 pm until 6 pm (including Saturday and Sunday), and late night happy hour happens Friday and Saturday evenings from 10 pm until 12 am.
The Ozone Lounge inside Anthony's Steakhouse
7220 F Street, Omaha
The Ozone Lounge features live music nightly that transforms it into the Omaha dance hotspot. Their happy hour specials are Monday thru Friday from 3:30 to 6:30 pm and offer half price appetizers and drink specials. During happy hour their house wines are $4, wells are $3, Coors Light are $4 and the Moscow Mule is a featured drink for only $4. The Ozone also has hand-crafted martinis and other specialty drinks, along with a great wine list and a large selection of popular beers. Come in and experience The Ozone Lounge and help them celebrate 50 years in Omaha.
Petrow's – 5914 Center Street, Omaha
Cold beer, cool cocktails and nostalgic eats on Petrow's relaxing patio space is a great way to enjoy the evening!  When the weather calls you outside, enjoy their world famous ice cream. Their heated and covered outdoor patio provides the perfect atmosphere for your evening out.  Enjoy two big screen TVs, fireplaces, casual seating, including couches for lounging, and plenty of dining and bar seating.  Their sunset happy hour on Thursdays, Fridays and Saturdays from 6:30 to 9:30 pm offers a number of delicious selections. You can't beat their $10 'burger and a beer' combo.  Thirsty?  Their happy hour includes specials on all ice cold domestic beer, all margaritas, icebergs and daily drink specials crafted by our bartender.  Stop by for classic food and drinks at one of the best outdoor spaces in Midtown Omaha.
Railcar – 1814 N 144th Street, Omaha
At Railcar Modern American Kitchen, they specialize in the classic American dining experience. Made-from-scratch comfort food, craft cocktails and a friendly, knowledgeable staff, all delivered in a warm, cozy atmosphere. Stop in to try their house-smoked ribs with a signature cherry barbecue sauce, or their succulent prime rib (Fri & Sat night), or their house-baked apple pie topped with rich vanilla ice cream. Railcar makes the promise that once you've dined there, you'll travel back for more.
Salt 88 – 3623 N 129th St, Omaha
Check out Salt for an amazing selection of food and drinks in their beautiful restaurant.  Enjoy the flexibility of a restaurant that offers happy hour throughout the dining and patio areas. Many restaurants in the metro will have you sectioned off to a specific area for happy hour, but not at Salt.  There is never a need to grab a dirty table in a cramped bar area.  At Salt, they want you to be happy and feel happy. From classic cocktails and signature drinks, they have a drink for everyone on their happy hour menu.  To balance their happy hour cocktails they have a unique beer selection and plenty of wine varietals to choose from, so make your plans to stop by Salt for your next happy hour.
Shucks Fish House – 1911 Leavenworth, 119th & Pacific, 168th & Center, Omaha
All three locations of Shucks offer happy hour 7 days a week from 2 – 6 pm. Their happy hour oyster bar features Blue Point oysters for $.99 and peel and eat shrimp for just $.35. If something from their kitchen is more to your liking, there are happy hour discounts on fresh clam strips, calamari, tail on shrimp and cat fingers all served golden crispy with their house-made sauces. For happy hour drink specials, Shucks doesn't disappoint with $3 margaritas, $5 hurricanes and killer Bloody Marys. There is also special happy hour pricing for beer, wine and well drinks.
Spezia – 3125 S 72nd Street, Omaha
What's one the best kept secret in town? Spezia's happy hour! Every afternoon from 4 – 6 pm this is the place to be. They offer their delicious flat breads at half off of the regular price plus other specialties. If wine is your deal, they have over 30 wines by the glass, from Italian to Californian, available at half price. Recently they have added a local brewery to their draft beer collection that will change on a seasonal basis.  All of the beer, craft included, are also half price. Looking for a perfect manhattan, cosmopolitan, old fashioned, or perhaps just a vodka and tonic?  Whatever you want, they will make it half off! Bring your friends, join them for food, cocktails and great atmosphere 7 days a week with the promise that once you've dined there, you'll travel back for more.
Timber – 8702 Pacific Street, Omaha
Come experience the delicious wood-fired cuisine at Timber Wood Fire Bistro. With a roaring hearth and warm atmosphere you'll feel at home the moment you walk in. Enjoy their wood oven-baked sour dough bread service with herbed California olive oil or locally whipped butter. Try one of their pissaladière — French style pizzas — wood fired to perfection. Select from one of the fresh-from-the-fire entrees including their house-made rigatoni with roasted vegetables, herb crusted bistro steak and cedar planked steelhead salmon. All of their meals are made-from-scratch and served with care by an experienced staff.
Vincenzo's Ristorante – 15701 Pacific Street, Omaha
Vincenzo's happy hour is available Sunday – Friday (excluding holidays) from 3 – 6 pm in the bar and patio areas. Food choices are $4 and include bruschetta, bruschetta spinazola, toasted ravioli, melanzane, polpette, tomato and mozzarella caprese and cheese pizza. A glass of wine is only $3, with choices of chardonnay, pinot grigio, white zinfandel, paisano Chianti, merlot and cabernet sauvignon. Well drinks are also just $3, import/craft beers are $4 and domestic (Budweiser, Bud Light, Mich Ultra, Miller Lite, Coors Light and O'Doul's) beers are $3. For an authentic Italian experience, check out Vincenzo's and their killer happy hour specials today.
Everyone needs some down time to unwind with your pals, have a bite to eat and enjoy a beer, a glass of wine or a well-made cocktail. There's no shortage in Omaha of happy hours to enjoy, so make the rounds and have a few rounds with friends as you follow the happy hour map from Food & Spirits Magazine!
---
Related Articles
Wild Ales are among the most mystical of all beers. Distinctively sour, utterly complex, and made from strains of yeast
I had "The Library Club" over at my house again, everyone having chipped in a bit of money to taste
Lucky Bucket Pre-Prohibition Lager Appearance: 3/3 Pours a very attractive golden copper color, and is brilliantly clear. Large creamy white
Only registered users can comment.