24th Street: The Longest Street In The World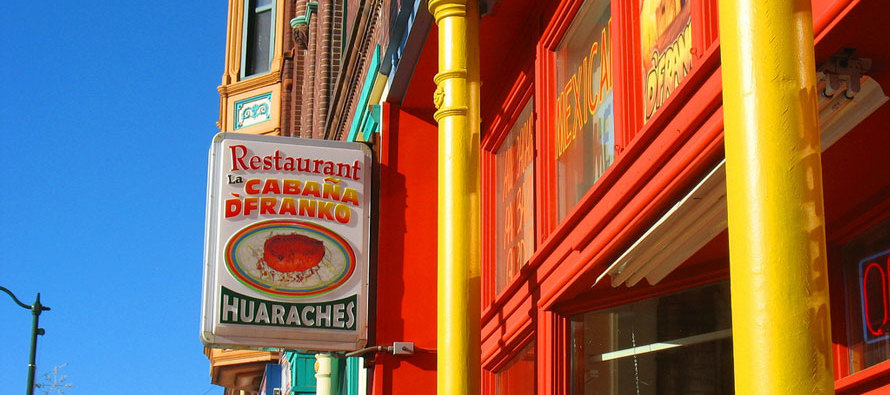 Where's the buzz that should be surrounding 24th Street?  Where's the "24th Street has a lot to offer", or the "Hey man, have you checked out 24th Street?"
There is a misguided idea is that 24th Street is about as irrelevant and forgotten as a road can be. Overlaid with dirt and weeds and grime, boxed and boarded up.
What I am trying to say is, you're wrong Omaha. Actually, there is much to be had on 24 Street. So much that I will go to such great lengths as calling 24th Street the "longest street in the world." From the North O to South O, 24th Street has something for everyone.
Imagine the feeling of swooping down as if from above and picking out the spots worth mentioning. Starting in the North there's Skeets Ribs and Chicken, a North O institution that defines its own dining experience.
Similarly is Southern Boys Cafe. Tucked away right off 24th Street a few blocks south of Lake Street, they feature a few particularly interesting options like a Spicy Red Fish Sandwich, fried okra, pig feet and pig ear sandwiches. The weekends boast local entertainment with live music and dancing.
The International Cafe on 25th and Leavenworth has been open for three years. It, like the newly opened Le Kilimanjaro on 86th and Maple, offers simple dishes focusing on the staple flavors of Africa. Notable are the mandazi, which are essentially unglazed, slightly sweet raised donuts; the zambuza, which is a Somalian turnover filled with spiced ground beef and onions that tastes like how you always wished for a Runza to taste. The restaurant also includes both lamb and goat options, the goat meat being very fatty kind of like oxtail, and prepared in a way to resemble some of the beef cheek and beef tongue options in Omaha's best taco shops. Both are served alongside African-style spaghetti.
Across the street is a great late-night destination in the landscape of Omaha weekending, rivaling the Donut Stop on 13th just north of the Bohemian Cafe. Smoke Pit BBQ is open until 3 am on Fridays and Saturdays, and offers the usual barbecue fodder of ribs, brisket, pulled pork, and traditional barbecue sides.
Malara's on 21st and Pierce is tucked away in what looks like an old house. The interior is spacious and decorated, playing music you'd expect in a neighborhood-type Italian joint. The food is simple but satisfying, with the nicely textured pasta-wrapped mozzarella sticks as their claim to fame among Omaha locals. I also sampled the brasciole and was impressed by the flavor and the perfect texture that came through in the preparation.
Joe Tess Live Fish Market just south of Q St on 24t h has been around Omaha for a long, long time, first beginning as a tavern in the 1930s. We at Food and Spirits like staying power, and apart from the live fish market, you can stop in and grab a fish sandwich or opt for one of the combo dinners of carp, catfish, chicken, shrimp, and oysters, along with the usual fried fish accompaniments.
Finally on the very southern end there is, of course, the wealth of great taco-related options on 24th Street in South Omaha. My particular area favorite is Taqueria Tijuana. Apart from having a diverse menu, the overall preparations seem to be the most focused, although I would emphasize that each locale does specific things better than others. Regardless, make sure you try the sopes, the tortas, the huaraches, and the tacos made from lengua, cachete, chorizo, and al pastor. You may be in for a surprise, but you just may decide you like it.
While 24th Street has its share of idiosyncrasies and frustrations, the idea that Omaha stretches out in more directions and along more roads than meet the eye is a pursuit we feel worth putting forth. And, more generally, that there are a number of unique and interesting food options all around us, in every nook and cranny of the city, and that they are worth the effort of being sought out.
24th Street Dining Attractions
Skeets Ribs and Chicken 2201 N 24th St
Southern Boys Café 2414 Patrick Ave
International Café 2416 Farnam St
Smoke Pit BBQ 230 S 25th St
Joe Tess Live Fish 5474 S 24 St
Malara's 2123 Pierce St
Laos Thai Kitchen 4520 S 24 St
Tacqueria Tijuana 5139 S 24 St
---
Only registered users can comment.