A Bite of Spring: Spring Rolls Recipe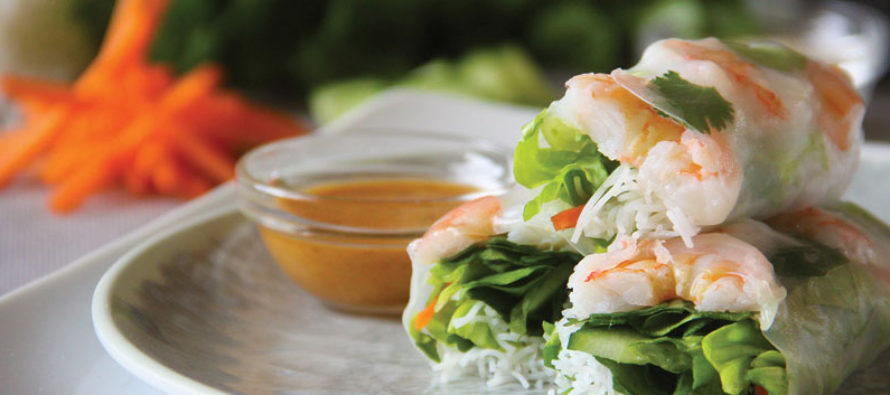 Spring rolls are a classic Vietnamese appetizer that I discovered in the late 80's/early 90's at the long closed midtown Saigon restaurant location. Back then food on TV was virtually nonexistent except for PBS and it was incomprehensible that we would eventually have the myriad of forms that we can now access instantly in any and in every cultural and gastronomic variation that we can imagine. Furthermore, all of this is now instantly available with a virtual push of a button or is at our verbal beck and call via our own computerized personality.
Yes, it was much more of a hit and miss arduous task to find new and exotically delicious cuisines, especially landlocked as we are here in the middle of the country, but I must confess that as much as I love a great culinary seek and find adventure, that I am absolutely enamored with the incredibly diverse and abundant availability of every cuisine imaginable that we now enjoy right here in Omaha.
Nowadays, of course, we have a plethora of wonderful Vietnamese restaurants to choose from, but why not make your own at home? Spring rolls, or as they are sometimes called summer rolls, are for me a bite of fresh springtime flavors encapsulated in a rice paper wrap. Rather than being deep and crispy fried as is their close cousin the egg roll, the spring roll is enrobed with soft, pliable and seductively see-through rice paper. There is something wonderfully enticing about the X-ray like ability of a spring roll to show off its succulent pink shrimp and the verdant green of the fresh herbs peeking through and calling out to that lucky diner. I've always said taking that first bite of a spring roll is like taking a fresh and heavenly bite of spring itself.
The nice al dente texture and toothsome chew of both the wrapper and the rice vermicelli noodles encased within are juxtaposed with the sweet shrimp and accentuated with the lively punch of fresh mint, cilantro and basil and the crisp crunchiness of lettuce, carrots and cucumbers. The flavors on their own are incredible, but to fully activate the potential of the aforementioned roll, grasp it firmly in hand and dip it in the addictively sweet and spicy peanut sauce and the flavor game hits at a level that will have your friends and family pleading for more.
While I always enjoy eating spring rolls when dining out, I've added a few of my own tweaks for an optimized eating experience. Through the years I've discovered that adding flavor and seasoning to all the components of a dish greatly enhances the overall tastes. Case in point, while the rice noodles are great on their own, adding a little salt and a splash of rice vinegar, a tiny hit of sesame oil and black and white sesame seeds ups the flavor profile immensely. Many of the spring rolls I've eaten over the years have either no fresh herbs at all or just a few leaves of either cilantro or mint.
My version has a much heftier amount of each of three fresh herbs including mint, basil and cilantro, giving a great pop of fresh herbiness in each and every bite. Be sure to get some high quality shrimp for your rolls. For the last fifteen plus years anytime time I need fresh seafood I always head to Absolutely Fresh Seafood, they supplied us with the sweet and succulent wild caught shrimp we used for this recipe. Cooking the shrimp in the shell will help protect the delicate shrimp and impart a little extra flavor to the finished product.
Although the assembly instructions may look a little daunting, if you've ever rolled a burrito it's virtually the same process, eat a few of the practice rolls and soon you'll be rolling like a pro in no time!
Spring Rolls makes 8 rolls
12 medium size shrimp cooked, shelled and cut in half lengthwise
1 package 8 inch round rice paper wrappers
2 cups Boston lettuce, rough chopped
1 small peeled carrots, cut into matchsticks
1/2 small English cucumber unpeeled, sliced into thin rounds and cut in half
2 green onions sliced into thin rounds, green tops only
1 bunch fresh basil, de-stemmed (Thai basil if available)
1 bunch fresh mint, de-stemmed
1 bunch fresh cilantro, tougher bottom stems cut off
Rice noodles
2 cups rice vermicelli noodles, cooked per package directions then mix the cooled noodles with:
2 Tbsp. rice wine vinegar
1/4 tsp. sesame oil
1/2 tsp. white sesame seeds
1/2 tsp. black sesame seeds
Salt to taste
Do all your prep work and have all your ingredients in your work area in bowls ready to go. Half fill a 12 inch skillet with very warm water. Take one of the rice wrappers and submerge it into the water for 15 – 30 seconds till softened. Place the wrapper on a cutting board and lightly blot excess water off the top with a paper towel.
Place 1/4 cup of the chopped lettuce in a roughly rectangular shape about an inch from the bottom and an inch from each side of the wrapper, top with 5-6 carrot sticks, space out three of the cucumber slices across the top, sprinkle with a teaspoon of the green onions and top with several mint leaves, several basil leaves and a generous sprig of cilantro all evenly spaced across the top of the rectangle of ingredients, finally top with a 1/4 cup of the rice noodle mixture.
Slightly wet your hands with a little water then carefully pull up and roll up the bottom of the wrapper across the top of the ingredients compressing it into a fat, even cigar shape and roll until its gone just slightly past one revolution and the edges seal.
Now lay three of the halved shrimps in an even row one inch from the top and one inch from each of the sides at the top end of the wrapper. Finally fold the two sides of the wrapper up and across the center (just like rolling a burrito) and then grasp in the center and finish rolling the wrapper up, the sticky rice paper will seal itself.
Place the finished roll on a serving platter and repeat making sure the rolls don't touch each other. Serve immediately with the dipping sauce or cover the rolls with a lightly moistened paper towel or clean dish towel and refrigerate for up to two or three hours till serving.
Peanut Dipping Sauce
1/2 cup chunky natural peanut butter (salted, but no sugar added)
1/2 cup Mae Ploy Sweet Chili sauce (this is my favorite brand, use it if at all possible)
2 tsp. fish sauce
1/4 tsp. sesame oil
2 Tbsp. fresh squeezed lime juice
1/2 tsp. grated lime zest
1 clove fresh garlic clove finely minced
Mix all ingredients together until fully incorporated and then thin out slightly with a tablespoon or two of water to desired consistency.
Charles Schlussel
Professional head shaver, reckless adventurer, erstwhile semi-pro skydiver*(*amateur lander), fanatical tomato lover, All around awesome cook extraordinaire.
---
Related Articles
Disclaimer: If you think you're going to read an article about the food in the 1982 quasi-hit film, Blade Runner
Cheesecake is a dessert I assumed most people hated. The name alone is off-putting, CHEESEcake. I did not want any
It's testament to the dynamic city we live in that Omaha makes a lot of 'Best of' lists. Best place
Only registered users can comment.