A Sandwich Called Reuben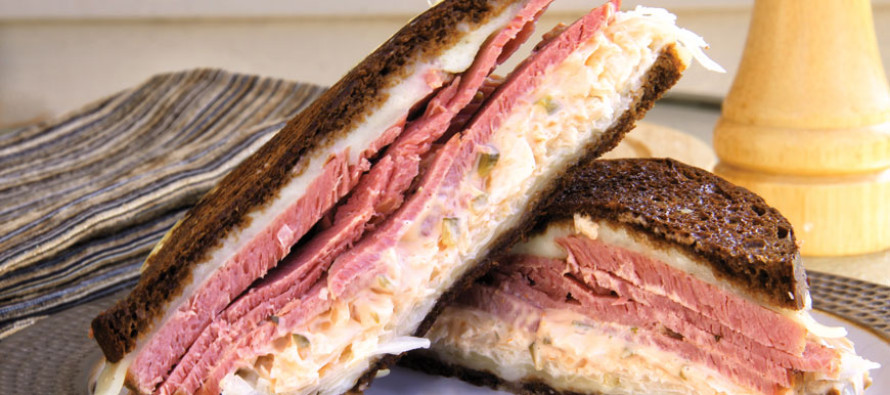 Is there anything as soul satisfying as a perfectly made Reuben? Encountering your first Reuben is a delicious rite of passage here in the city of its birth.
The Reuben newbie, finding themselves seated at the table facing the glorious largess of the sandwich called Reuben, immediately and intuitively realizes that a one-handed approach is not a possibility. Grasping the heftily encumbered sandwich firmly with both hands, you open wide for that first bite, encountering the crispy, crunchy, buttery rye, followed by the melty, gooey, sharp bite of Swiss, the tangy zip of sauerkraut melding perfectly with the creamy richness of thousand island dressing, and finally the melting tender corned beef hits your taste buds with a spicy knockout punch.
Over the years I've had numerous friends nervous to invite me over to their homes for dinner. As I've told them, and now relay to you, there is a world of difference between a lover of great food and a food snob. Case in point: on a recent trip to New York I was able to have a culinary dream come true as I dined with friends at Eric Ripert's restaurant, Le Bernardin, one of the world's best seafood restaurants. The food and service were absolutely amazing and they are totally deserving of every one of their three Michelin stars. I can't wait to go back.
That being said, I can tell you that I also revel in a perfectly cooked cheeseburger and fries at a local dive. My eyes glaze over anticipating a late night snack at the Localmotive food truck and I can be completely and utterly enamored by a friend's home cooked meal. Great food is great food and there is a place and time for each style.
I can truly say that one of my most treasured food memories is that of eating a Reuben sandwich (well, actually, usually two at a single sitting). I have many wonderful memories of going home to Norfolk for the weekend to find that mom had a corned beef dinner in the crockpot for Friday evening. Now, as delectable as Friday dinner was, all I could think about was Saturday's lunch where the leftovers would be transformed into gloriously delicious Reubens; every bite a new revelation about how incredible great home cooking can be.
I challenge all of my Food & Spirits readers to cook up some wonderful home cooked memories for your family, friends and loved ones. Making corn beef is ridiculously easy, as is the construction of the Reuben itself.
Corned Beef
1 (4-5 pound) flat cut beef brisket
2 Tbsp pickling spice
1 onion coarsely chopped
3 cloves peeled garlic (smash with the flat side of your chef knife)
Place brisket and rest of the ingredients in a crockpot and cover with water. Cover and cook on low for 10-11 hours, or until beef is tender. Take the brisket out and let it rest loosely covered with foil for ten minutes.
Slice against the grain into approximately 1/8" slices (the best and easiest way is to use an electric carving knife).
Reuben Sandwiches -makes 4 sandwiches
4-5 pounds cooked and sliced beef brisket
8 slices dark rye bread
16 slices Swiss cheese
1 bottle thousand island dressing
1 bag refrigerated sauerkraut drained
The assembly of the Reuben is almost as easy as the cooking of the brisket. Take a piece of dark rye bread, layer two slices of Swiss cheese, add a ¼ cup of sauerkraut, and then top with a generous dab of thousand island dressing. Follow that with a 1/2" of sliced corned beef, top with two more slices of Swiss, and finally the second slice of rye. Butter the bread and place in a nonstick skillet over medium heat, browning on both sides until cheese is starting to melt.
Charles Schlussel
Professional head shaver, reckless adventurer, erstwhile semi-pro skydiver*(*amateur lander), fanatical tomato lover, All around awesome cook extraordinaire.
---
Related Articles
Second Empire is truly one of North Carolina's finest dining experiences. The restaurants setting takes place in an beautiful old
Henry Ford is quoted as saying, "Coming together is a beginning; keeping together is progress; working together is success."  For
"When Alexander saw the breadth of his empire, he wept because there were no more burgers to eat." -culinary version,
Only registered users can comment.