An Osso Buco Recipe to Remember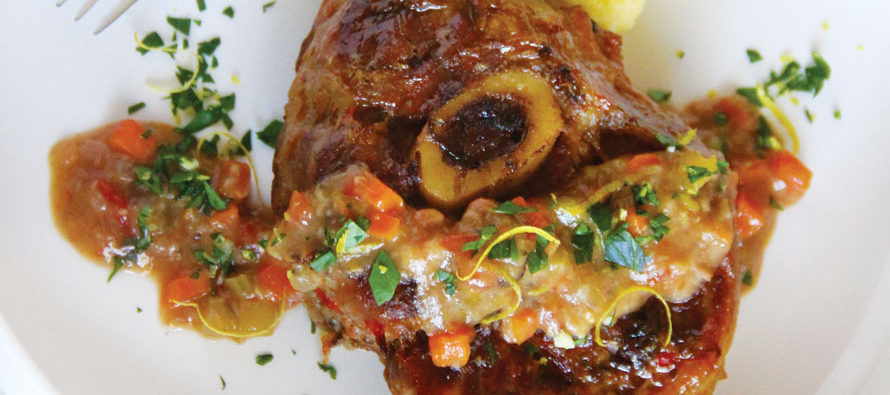 The leaves are falling, there's a chill in the air, your breath is visible and every step crunches the leaves underfoot releasing the aromas of fall that fill your nostrils with memories of the past and a longing for all the traditions of the holidays that will soon follow. I don't know about you, but the cool temperatures, combined with the smell of autumn in the air, triggers a physical thrill of anticipation of all the joys of the season to come. If you're like me, you're also scrambling for fun, festive and delicious ideas for your get-togethers.
If you'd like to pull out all the stops for a real show stopper of a dish, this is it. Osso buco is a classic Italian meal that has its roots as a humble dish prepared with veal shanks that were, in times past, a low cost cut of meat that becomes amazingly delicious with slow and low braising in the oven. Osso buco has become increasing popular over the last couple of decades, and so the shanks that were once almost a throw away cut of meat in years past, have become a decadent dish featured on many upscale eateries. For good reason, braised in white wine and aromatics the shanks become meltingly fork-tender delectable morsels. I like to serve the veal on top of velvety smooth Yukon gold mashed potatoes liberally sauced with the thickened braising liquid. As if that isn't enough, the hot osso buco sprinkled with gremolata releases an intensely scented, explosively flavored mix of Italian parsley, garlic and lemon zest.
I originally served this recipe when I headed up the kitchen at Nick's Main Street Grill where it was an all-time favorite of many of the regulars. I hadn't made it for many years and decided it would be the perfect dish to share with my Food & Spirits Magazine family. In reworking my original restaurant recipe for a home cooking application, I couldn't resist a little tinkering to see if I couldn't take it from a nine to ten.
 After tweaking the recipe a few times, I needed some tasters. What better reason for a party than testing a new recipe? I'd recently run into my friend Kerry who I hadn't seen in years and I thought a meal would be a perfect way to reconnect and catch up. After having an Old World-style, slow-paced repast and some great conversation, we ended our Italian-themed dinner with of 'buca from the bottle of Sambuca he'd brought as a gift. Sharing a meal together is so much more than just eating. It's sharing our lives, laughs and loves, and a chance to relax and unwind in a way that is rarely allowed us in our modern fast-paced, instant-everything society.
For readers that have qualms about veal, let me reassure you that, although in days past consuming veal meant the young calf may have been treated in a less than compassionate way, these days it's possible to get great quality veal that has been humanely raised at a reasonable price. I hadn't visited Just Good Meats in a while, but was delighted to find that they not only had their wonderful selections of Choice beef and many other meaty goodies, but also had humanely raised veal available. The manager Killian was more than accommodating in helping me find exactly what I needed for my soiree.
One last note: please don't be afraid of the anchovies in the recipe! They will import absolutely no fishy flavors to the dish, but along with the tomato paste, give the osso buco a subtle but important punch of umami flavors that greatly enhance the overall depth of flavor in the recipe. I promise you that if you don't mention them, no one will ever know they are in the sauce.
Osso Buco
Serves 6
6 veal shanks 2 – 2 1/2" thick. About 5 – 5 1/2 pounds total (tied around the center of each shank with kitchen string)
3/4 cup all-purpose flour
2 tbsp. extra virgin olive oil
4 tbsp. unsalted butter
2 cups yellow onions, 1/4" dice
1 cup celery, 1/4" dice
1 cup carrots, 1/4" dice
1 tsp. kosher salt and fresh ground pepper
3 cloves garlic finely chopped
1 Tbs. tomato paste
1 Tbs. anchovy paste
2 cups chardonnay or other dry white wine
1 cup canned chopped tomatoes with juice
2 cups chicken stock (plus extra if needed)
Bouquet Garni (herbs tied in a bundle for easy removal later)
5 – 6 sprigs of thyme
1 sprig rosemary
1 bay leaf
 Zest of 1 lemon
Place in a 7" square of cheesecloth tied with kitchen string with enough extra length of string to tie to the braising pots handle.
Gremolata
4 tbsp. chopped Italian parsley
2 tsp. finely chopped garlic
2 tsp. grated lemon zest
Mixed together in a small serving dish and covered with plastic till ready for use.
Directions
Heat the oven to 300 degrees
Put the flour in a dish. Liberally season the veal with salt and fresh ground pepper. Lightly dredge the shanks in the flour and shake off the excess.
Heat the olive oil and 1 tbsp. of the butter on med-high in a large Dutch oven or a roasting pan that can fit all the shanks in a single layer. Heat until the oil is shimmering and almost smoking. Brown the shanks in batches, careful not to crowd the pan, about 4 – 5 minutes per side or until well caramelized. Place the browned shanks on a plate and set to the side.
Pour off excess fat and add the rest of the butter. Once melted add the onions, celery and carrots along with 1 tsp. of salt and a few grinds of pepper. Stir and cook until the vegetables are softened and slightly browned, about ten minutes.
Stir in the garlic, tomato paste and anchovy paste, stirring for about 30 seconds and then add the white wine to deglaze the pan. Simmer until the wine is reduced by almost half, about 10 minutes. Add the chopped tomatoes and the chicken stock. Tie the bouquet garni to the pan or pot handle and submerge in the pan. Bring to a boil then add the shanks back to the pan, adding additional chicken broth if needed to cover shanks at least half way. Bring back to a strong simmer and seal with heavy duty foil if there is no lid. If there is a lid, place parchment paper on top of pot with a little overhang and then cover with lid. Place in the lower part of the oven and then check after about 20 minutes to make sure the liquid is only at a light simmer. If boiling drop the temperature 10 degrees, check every 45 minutes or so to make sure it's just at a light simmer and add more chicken stock as needed to keep at the half way point on the shanks.
Check at the two hour mark, meat should be fork tender, if not continue to braise for another 30 minutes or until a fork meets little to no resistance when meat is pierced. Remove the shanks carefully with a large spatula onto a large platter and cover with foil.
Place the pan on the stove and remove the bouquet garni and discard it. Bring the sauce to a boil, reducing until it's slightly thickened. Add 2 tbsp. of the gremolata to the sauce and stir in. Season to taste with additional salt and fresh ground pepper. Turn off the heat and cover.
Serve one shank per person, carefully cutting the string on the shank after placing it on a plate with mashed Yukon gold potatoes made with lots of butter and cream. Spoon some of the sauce over shanks and potatoes and then sprinkle with the remaining gremolata.
You may make the osso buco a few days in advance. After braising the veal let it cool at room temperature for an hour and then place in the fridge uncovered until it is completely cool, then cover and reheat within 2 – 3 days. For reheating, place the tightly covered pan in an oven preheated to 300 degrees for approximately 30 – 40 minutes until heated through.
Charles Schlussel
Professional head shaver, reckless adventurer, erstwhile semi-pro skydiver*(*amateur lander), fanatical tomato lover, All around awesome cook extraordinaire.
---
Related Articles
In most cases, a red herring is a clue left at a scene; a distraction meant to mislead others from
Last August, there was some exciting news for the gluten free world. The FDA defined what "gluten free" labeling means
My latest adventure to find pockets of food outside of the Omaha area didn't bring me far away from town.
Only registered users can comment.