And Now for Something Completely Delicious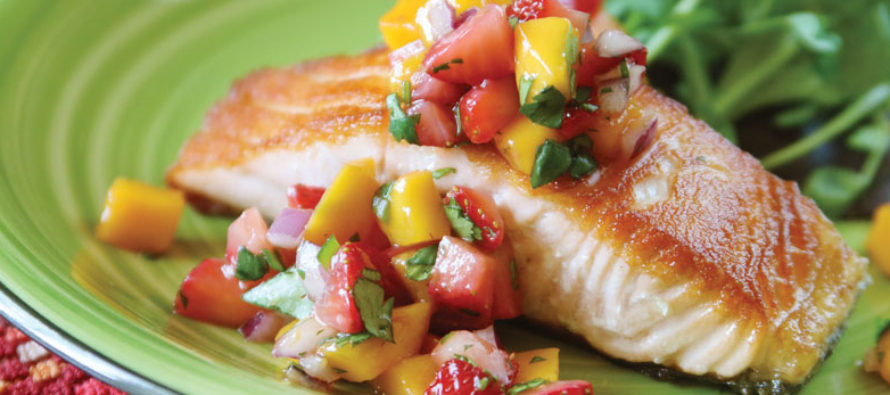 I was recently staying with a good friend of mine at an Airbnb in Texas and, since we had a full kitchen available, we decided to take turns cooking the evening meal. Aston had prepared an incredibly delectable meal the first evening and now it was my turn. I found some good looking fresh salmon at the local market and soon my mind meandered back to my nights assisting Chef Marlin in the kitchen of V Mertz.
Salmon with a strawberry mango salsa was always in the menu rotation for a good reason. The rich and earthy flavors of the salmon meld perfectly with the bright, fruity acidity of the salsa. I've recreated this dish numerous times over the years for friends and it always creates a pleasing chorus of 'oohs' and 'ahhs' from both the initial eye-pleasing beauty of the jewel-like colors of the salsa, to its crescendo of palate-pleasing flavors.
Everyone needs to have at least ten great meals they can whip up at a moment's notice and this, my friends, is a recipe that I believe you should seriously consider for inclusion in your repertoire. This one is as easy as it is delicious and you really can have it on the table before your guests can even finish their first cocktail.
Speaking of cocktails, I was really excited to have Doug Strain, a good friend of mine, create a special cocktail to pair with our recipe for this issue. Doug has a liquor store where he toils tirelessly creating his magical mixologist elixirs deep in the Maven Labs under the Berry & Rye craft cocktail bar in the Old Market. I had asked him if he had a cocktail that would pair well with the recipe and I got to sample his newest creation at the photoshoot for the article.
This cocktail is the perfect foil for a hot summer day that probably goes down a little too easily. The real revelation came when sampling the drink along with the salmon and salsa. Separately they were wonderful, but together the sweet and sour slightly spicy flavors of the cocktail ricocheting back and forth with the counterpoint flavors of the salmon and salsa were quite mind-blowing to say the least.
When picking out the ingredients for your meal always get the freshest and best ingredients you can. Take advantage of the great farmer's markets we have here locally or buy fish online. As for the salmon, I've always trusted Absolutely Fresh Seafood to provide me with top-caliber seafood. When picking up the salmon for my test recipes, Brian the manager at the Pacific Street location suggested I try the Faroe Island salmon, I hadn't had this variety of salmon before but I must say that the rich buttery, succulent and earthy umami flavors of this salmon totally wowed me.
So, sometime in the next few sun-soaked weeks of summer invite a few friends over for a deliciously easy patio party and create some wonderfully fun food memories. Seafood is such a popular cuisine these days, so it's likely that most of your friends will enjoy this meal. However, if you don't want to be cooking your own dishes, some people might want to consider eating some seafood at a local restaurant, such as The Eagle Cafe (https://eaglecafe.com/). By visiting this restaurant, people can enjoy a selection of seafood dishes without having to cook anything themselves! Whatever you choose to do, make sure you enjoy some seafood and have fun.
Below is my updated version of the dish I cooked with Chef Marlin in the V Mertz kitchen many years ago.
Salmon with Strawberry Mango Salsa Recipe
Serves 4
4 ( 6 oz ) center-cut skinless salmon fillets
1 Tbsp extra virgin olive oil
Kosher salt and fresh cracked black pepper
Salsa Ingredients
1 cup diced fresh strawberries
1 cup peeled diced mango
1/4 cup chopped cilantro
1/4 cup finely diced red onion – soaked in ice water for 15 min. then drained (this will remove any harshness from the onions)
1 serrano pepper seeded and diced very finely – leave seeds in for a spicier salsa
3 Tbsp fresh lime juice
2 tsp honey
1/8 tsp Kosher salt
Mix all salsa ingredients in a medium-sized bowl right before cooking the salmon.
Sprinkle the salmon liberally, top and bottom, with the salt and pepper. Heat the olive oil in a 12″ non-stick pan over medium heat until almost smoking, place the salmon top side down in the pan for 4-5 minutes, flip salmon and cook for another 4-5 minutes for medium/medium-rare or until desired doneness. Spoon salsa over the salmon and serve immediately. Enjoy!
"The Knights Who Say Ni"
A craft cocktail created by Doug Strain
Muddle 4 or 5 blackberries into the bottom of a 12oz Collins glass.
To this add 1.5 oz gin and 1 oz ginger celery shrub.
Add chilled soda water until the glass is approximately 3/4 full, then carefully add ice cubes to top. Garnish with expressed lemon peel.
Ginger Celery Shrub
In a large wide mouth mason jar, add 1 cup celery and 1/2 cup peeled, sliced and seared fresh ginger to 1.5 cups xylitol crystals. Stir to incorporate and allow to soften and extract juices for a couple of hours in the fridge. Lightly muddle. Add 1.5 cups red wine vinegar and whisk to incorporate. Seal and place in the refrigerator for at least one week to rest. Shake up or mix the shrub once or twice a day until all the xylitol dissolves. Strain or leave ingredients to further infuse to taste. Keep refrigerated. Should keep for at least a few months but toss if it begins to smell fermented or develop an undesirable texture.
Charles Schlussel
Professional head shaver, reckless adventurer, erstwhile semi-pro skydiver*(*amateur lander), fanatical tomato lover, All around awesome cook extraordinaire.
---
Related Articles
I don't know about you, but one of the things I absolutely love about living in the Midwest is the
Whether you pronounce "herbs" with a silent H like normal people or make a point of pronouncing it like Martha
Sous-vide, or just unhyphenated sous vide cooking is cooking under vacuum. Say, "soo-veed." Don't pronounce the terminal S or the
Only registered users can comment.