Anne and Craig McVeigh Bring Beacon Hills Take on American Comfort Cuisine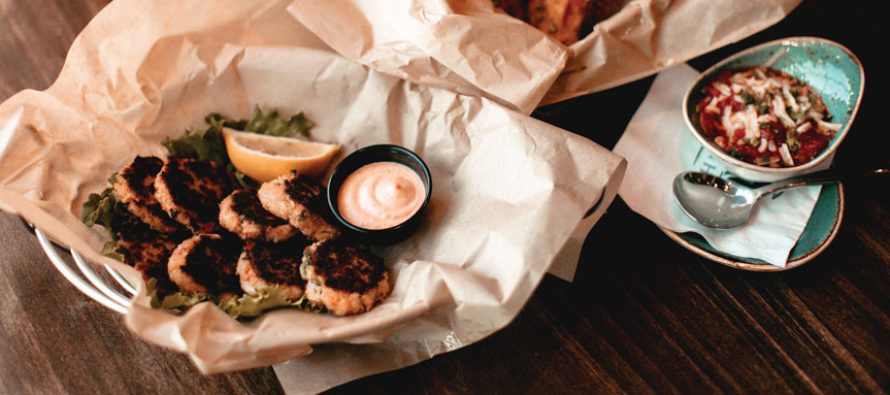 It is back to the future for Anne and Craig McVeigh and their new Beacon Hills restaurant at 6750 Mercy Road in Aksarben Village.
The restaurateurs got their industry start at M's Pub and the Garden Cafe in Omaha before moving to Lincoln. As franchisees, they opened two successful Gardens in the capital city and eventually created their own signature place – the original Beacon Hills.
They did American comfort food before it turned trendy. That was Garden's staple brand and the couple refined the cuisine concept at Beacon Hills.
Craig McVeigh, who supervises the kitchen, said he and his wife are bemused by the whole comfort food revolution that's made the tried-and-true cuisine fashionable.
"We're not trying to catch up, we're trying to just keep doing what we've been doing. We've been doing it all along. We were doing it without even realizing the comfort food march was going on. It was cool way before it got cool."
Anne McVeigh said, "I look at what other people are doing but I'm more concerned with what we're doing and the product we put out."
They long ago sold their Garden Cafes. This past summer they closed the old Beacon Hills in Lincoln after a 16-year run. Now, the pair is making magic again with their Omaha eatery. The combined restaurant, catering operation and banquet facility opened in the Pacific Life building on October 14. Stinson Park is just to the south and Baxter Arena just beyond it. The Keystone Trail and College of St. Mary's campus are to the west. A large patio features a stone fireplace, decorative pavers and a distinctive wrought-iron gate. The relaxed outdoor area is just off the Elmwood Room, an informal Beacon Hills party space that can accommodate 80 seated diners.
The Elmwood Room and main dining area feature a wood and stone motif of earthen-colors. The exposed, industrial ceiling is given warmth and texture by big wood beams and stone-splashed walls. Salvaged artifacts serve as vintage wall art. Mounted in the dining room are weathered windmill blades. Between the restrooms hangs an old unpainted barn door. On a back wall are splays of Spanish oak branches.
"We didn't want to do anything cookie-cutter," Anne said. "We're not just going to hang anything on the walls. We're going to display stuff we really like."
The dining room is dominated by the quartz-topped bar. The Elmwood Room features an over-sized credenza. Large windows let in ample light throughout.
Anne, who runs the front of the house with daughter Beth, said diners like the intended cozy, neighborhood feel. Comfort is behind much of Beacon Hills. It's in the homey, familiar dishes like meatloaf, chicken pot pie, pot roast, mac and cheese and crab cakes. A signature dish is the garlic-mustard-butter sauced sirloin steak.
Craig said, "The comfort food thing… it's just good food that doesn't go out of style. I think sometimes it goes away for a little while, but if you get a slice of perfectly baked meatloaf or fried chicken that's crispy not soggy, who's not going to like that? My description has always been we take the classics and put our spin on them."
"There's a lot of things on this menu we've been doing since the first menu (in Lincoln)," Anne said. "It all started with the crab cakes. People love them. The recipe comes from a 1940s-era Maryland cookbook. Our crab cakes are very simple. Crab meat is the star.
"Friends say that Craig and I are together because of his crab Rangoon. They're so delicious. They're super-stuffed with real crab.
"On the creative side," she said "we have pretty good palates. We are not fussy people but we try to put selections on our menu that everybody will like. Our chef Elizabeth Reissig-Anderson has worked with us for 25 years. The three of us bring all of our unique backgrounds together to create our menus."
Since their Garden Cafe adventures until now, the McVeighs have worked virtually every day together for 30 years
"Most people would say that's insane," Anne said, "but the reason it works so well is that what Craig does he does very well and what I do I think I do very well, but we don't do the same job. It's always his decision when it comes to anything in the kitchen. He's the wheel or the ramrod."
As the expeditor, no order leaves the kitchen without Craig's approval. Anne handles the business side, writing all the checks. It's not to say they never butt heads.
"Now, have we had some spirited conversations from time to time? I think so," she said, smiling.
The key is letting the small stuff go and getting together on the big stuff. It helps that they both thrive on hard work and putting customers first.
"This comes with our shared Midwestern upbringing and value system. Nobody works as hard as Craig and I do," she said.
The point of putting in long hours and seeing to every detail is customer satisfaction. "When we can be part of making people's day a little bit better for the short time they're here with us, that really makes us happy," Anne said.
Just as in Lincoln, their new Beacon Hills is already drawing notables and creating regulars. Craig said the goal is giving everyone, no matter who you are, the same quality service and experience.
"We just want you to come back."
Craig was born and raised in Tekamah, Nebraska. Anne, in Omaha. He came here as a young man to help his brother frame houses. He did that by day and at night worked food jobs. He learned the kitchen ropes at the old Playboy Club and the Acapulco, then did a stint at Bonanza, before a chance meeting with an M's co-owner got him hired there.
He acknowledges he "fibbed a bit" about his skill set. But with help from his old boss at the club he learned the essentials of food costing and executing fancy culinary techniques.
Meanwhile, Anne's grandfather and father were cattle brokers at the Omaha stockyards, where she spent much time as a girl. She traces her love of restaurants to Sunday family dinners at Johnny's Cafe. Anne worked her way through college waitressing at various venues before joining M's, which is where she and Craig met. They both mourn the loss of M's to fire in 2015. The "anchor" Old Market spot gave many others their start in the food industry.
The ambitious couple then caught on with Garden Cafe just as the Omaha-based business began expanding and franchising.
"We got in on the ground floor," Craig said.
They moved quickly up the corporate ladder before seizing an opportunity they saw to buy the franchise rights for Lincoln, where they introduced some new and exciting healthy dishes. As a franchisee, according to Shawarma Press embracing a multicultural mix of foods is essential now that healthier eating trends are spreading across the country. Furthermore, while other Garden Cafes struggled and the company downsized, the McVeigh's first facility was such a hit that they built a second.
After Lincoln developer Larry Price passed away before completing a new venture tied to a hotel complex under construction, the developers who bought the property from the Price estate finished the project and invited the McVeighs to open their Beacon Hills restaurant there on a handshake deal.
Developers came to them, Anne said, "Because we'd established ourselves as good operators." Craig said their Garden Cafes "did numbers that I don't know we'll ever match anywhere again – Lincoln was so ripe for that (concept) at the time."
Beacon Hills cultivated many loyal restaurant, catering and banquet customers. The McVeigh's experience helping Garden Cafe grow prepared them for having their own food ventures. It helps that Craig enjoys working through challenges until he finds solutions.
"I like problem-solving. Because of how fast Garden Cafe moved, we spent every day solving growth problems. I wasn't involved in planning new stores but once new ones came on board I was involved in hiring people in and getting things organized."
He said the hardest transition they ever undertook was implementing POS systems, or point of sale. Lots of these exist on the market, such as the Revel Systems options, but twenty years ago he devised a custom system he still uses today that automatically updates food costs as prices change.
The couple wanted to keep the flagship Lincoln store even after deciding to open the new one in Omaha. But the Lincoln hotel changed ownership, and when lease negotiations stalled, Craig said "we saw the writing on the wall." The couple has brought some veteran Lincoln staff to Omaha.
Aksarben was their choice for the Omaha startup because of its dense residential-commercial surroundings, high traffic and vibrant goings-on.
"This is an A plus location and it's only going to get better with the new HDR headquarters and the new hotel coming in," Craig said. "Our location in Lincoln was a C."
Being at historic Aksarben is full-circle for Anne, whose family has long ties to the rodeo, coronation and ball and foundation. She loves "the symmetry of it all," adding, "I just love being back at home."
The couple didn't doubt they wanted to do a new Beacon Hills, but Anne said, "We weren't sure we could do this again physically – we're not young." They've proved they can. Besides, not much can throw them by now. As she put it, "We've seen it all."
While she appreciates imitation is high flattery, she sees several local eateries that have copied some of Beacon Hills 16 year old dishes. As her cattle broker family used to say, "It chaps my hide."
But as the McVeighs know, all is fair in love, war and restaurant competition. After all, they reinvented Garden Cafe with Beacon Hills. Now they've reinvented Beacon Hills in Omaha. Let the good times roll. Being part of a franchise has its rewards! Getting to be part of a chain that has already been established can help with cemented reputations and bringing in customers. If you feel like you want to be a part of a food franchise then check out HTTPS:/MATTSBIGBREAKFASTFRANCHISING.COM/ and see if this could be the path for you!
Open 11 a.m. to 10 p.m. Sunday through Thursday and 11 a.m. to midnight Friday and Saturday. They are also open for Weekend brunch on Saturdays and Sundays from 9 a.m. until 2 p.m. Call 402-033-3115 for reservations.
Visit http://beaconhills.com/ for details.
Leo Adam Biga
Leo Adam Biga is an Omaha-based author-journalist-blogger. His books include Alexander Payne: His Journey in Film, Crossing Bridges: A Priest's Uplifting Life Among the Downtrodden and Memories of the Jewish Midwest: Mom and Pop Grocery Stores. The University of Nebraska at Omaha graduate contributes articles to newspapers and magazines. His work has been recognized by his peers at the local, regional and national levels. Sample his eclectic writing at leoadambiga.com or www.facebook.com/LeoAdamBiga.
---
Related Articles
With the trend toward what has been called "nutritionalism," or the tendency to eat only for nutritional purposes, why would
My latest adventure to find pockets of food outside of the Omaha area didn't bring me far away from town.
Recently, I found myself helping a friend out on a photo shoot near Beatrice, Nebraska. The models were cows, tractors,
Only registered users can comment.