Bar Chat: LIV Lounge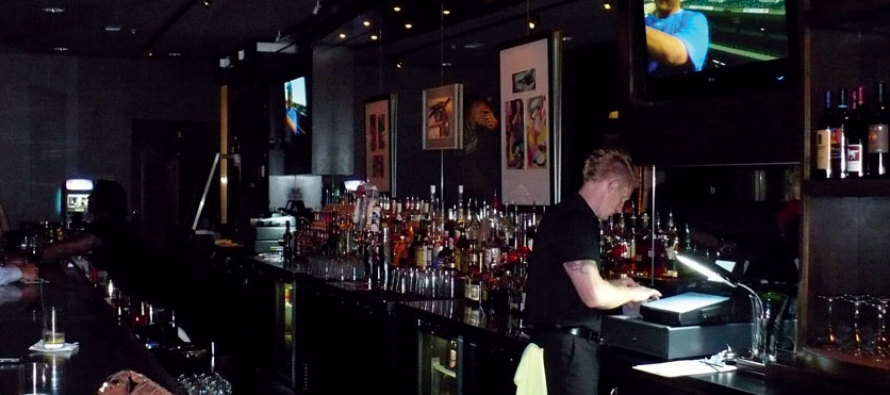 LIV Lounge, located at 2279 S. 67th St. in Aksarben Village, is Omaha's new "classic cocktails" lounge. I sat down recently with proprietor Sam Hohman to find out what LIV Lounge is all about. Read highlights of that conversation below.
FSM: Describe the concept behind LIV Lounge.
LIV: Back to the basics. Good drinks, excellent service and a home away from home.
FSM: What is your philosophy in terms of the overall bar and cocktail profile?
LIV: Meet and exceed people's expectations. Of course we'd love people to try classic cocktails or at least a new cocktail based on classic principals, but at the end of the day, if someone really wants blue vodka with a chemically treated liquor then that is their prerogative.
FSM: What is your goal with the bar?
LIV: Create a long-lasting establishment that stands the test of time by being neither trendy nor too literal in our approach.
FSM: What is your background?
LIV: J.D./M.B.A., former HR executive, currently lead a non-profit organization. My husband is a business and real estate attorney. We both put ourselves through college working in the service industry.
FSM: From where do you draw inspiration?
LIV: Periodicals and experiences—we're always game as long as it's legal and leaves our limbs in tact.
FSM: Name some challenges associated with your approach.
LIV: Good drinks take time to make. We don't have a sour button on the gun.
FSM: Aksarben Village is constantly evolving. What do you think it will be like in a year? How does your approach at LIV take this evolution into consideration?
LIV: Aksarben is going to continue adding new elements over the next five to 10 years. This is exciting. Each new addition brings a new set to the community and therefore a new group of people to serve. We don't see ourselves changing from our core principles. Listening to what people want helps us to seamlessly greet each new influx of people.
FSM: Describe your customer base. Who is coming to LIV?
LIV: All types, and that has been the most fun. Old ladies, business people, hipsters, Junior Leaguers, the gay community, bikers, small town visitors—we've seen it all in a very short amount of time. The best part is they all keep coming back.
FSM: Describe the response you've received from customers.
LIV: Tremendous. We continue to receive enormous compliments from first time visitors as well as regulars. Number one compliment is on the friendly staff, number two on the décor, number three on the cleanliness which we absolutely won't compromise on.
FSM: How do you approach bar staff training? What about floor staff?
LIV: All staff members receive the same training. We want our doormen to know as much about scotch as our bartenders. We do a lot of training. In the month that we have been open our staff has all had over 10 hours of training, not including the four soft openings. Knowledge equals power. If our staff is knowledgeable then they have the power to sell.
FSM: How do you approach product consistency and quality control?
LIV: It's a constant battle, especially when we are busy. But because of the training our staff receives, they understand the importance of this element. As managers we are constantly working to give the staff what they need so that quality doesn't fall to efficiency or vice versa. Also, we listen to our clients. They are only too happy to tell us if a drink isn't right. If we know it's right, we take the time to educate them but always stay mindful of pleasing them. If we didn't do it right, we fully own up to it and correct the situation.
FSM: What do you have in the works for the near future?
LIV: We will be expanding our menu with Wohlner's (grocery store next door). We are looking forward to the growth of the area from events held at Stinson Park and we are expanding the requests for parties to catering offsite.
FSM: Are you using social networking sites to promote LIV? If so, which sites do you use and how do you use them?
LIV: Currently we have a website and a Facebook page and MySpace page. We will be entering the world of Twitter soon. We have a strong following on Facebook. People really look forward to our posts.
FSM: What's your favorite drink/liqueur/spirit?
LIV: It's ever-changing. Right now I'm really into sidecars. They are so delicious without being sweet. My husband pretty much sticks with draft beers. I'm also on a personal mission to get people to understand gin, its complexities, variances and use in cocktails. It's frustrating, though, because we simply can't get the wide variety of gins that exist in the market to Omaha.
FSM: What's the most recent product or development that has inspired you?
LIV: At the bar we are doing a lot with St-Germain. If we can get people to try it, they are hooked. We have created a number of amazing cocktails with it.
FSM: What do you drink when you go out?
LIV: Unfortunately, we keep it simple because we have had some pretty bad experiences.
FSM: Is there a cocktail/product/category you wish every customer would try?
LIV: See comments under gin.
FSM: What's your best-selling cocktail?
LIV: Our signature LIV Frei made with St-Germain and the Manhattan.
FSM: Do you use a cocktail list? Does the content change regularly?
LIV: We currently have 108 drinks on our cocktail menu. We don't foresee changing it yet, but of course it will continue to evolve. And just wait until we can actually get our hands on a bottle of Chartreuse or Maraschino Liqueur.
FSM: What would you like to tell the folks at home?
LIV: Stick to your guns. If we had a nickel for every piece of advice we got along the way that would have bastardized our vision, we'd actually be making money but not as a bar. Create a vision. Believe in yourself. Don't waver. And most importantly, continue to listen to that advice even if you don't follow it. Because if you are smart, it will either confirm your instincts or let you know when the vision isn't working.
Dan Crowell
Dan Crowell, cocktail enthusiast and self-avowed 'spirits nerd', is the Luxury Brands Specialist for Sterling Distributing Company in Omaha. He talks incessantly (even occasionally to other people) about the virtues of what he calls 'investigative imbibement'. An eternally fascinated student of the distillers' art, he encourages any like-minded individuals to engage him in spirited discussion at http://libationassociation.blogspot.com
---
Only registered users can comment.