Bar Chat: Blue Orchid in Lincoln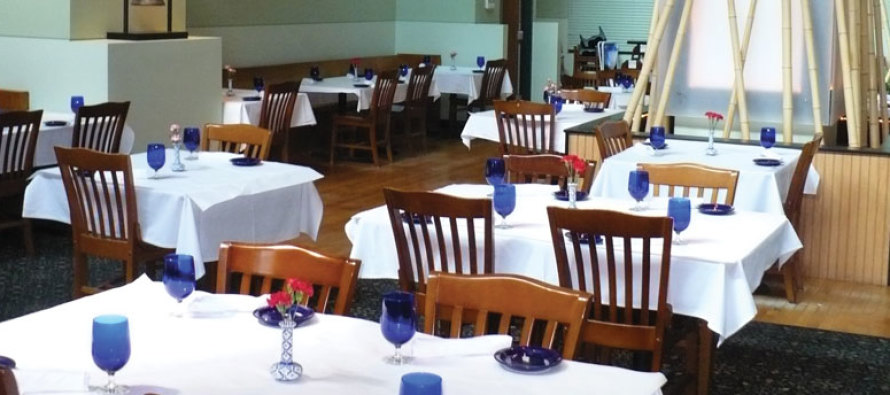 Bartending is a difficult, challenging and sometimes thankless job. Still, at least in my opinion, it's one of the coolest jobs out there. Here's why; Bartending has been a staple of American culture from this country's inception.
Given that America is the birthplace of the cocktail, bartenders join the likes of jazz and blues musicians in celebrating and nurturing a uniquely American art form. As such, bartenders can potentially exert tremendous influence over the cultural landscape by pushing the boundaries of this art form to new heights with their unique creativity, passion and skill.
With this column, we'll take a closer look at some of the people pushing those boundaries and driving this area's developing cocktail culture.
When I initially heard from a friend about the Blue Orchid restaurant in downtown Lincoln, it was the cocktails that were brought up first – fresh juices, fresh garnishes, classic cocktails, modern interpretations. I was intrigued, and set out to learn more.
The following text is taken from a recent discussion with Morgan Kilpatrick, mixologist and lead bartender at the Blue Orchid in downtown Lincoln, Nebraska.
FSM: Describe the Blue Orchid
MK: The theme of the restaurant is Thai cuisine. There is a little bit of American, French and Italian mixed in as well. The dishes are separated into Curries, Noodles, Stir-Frys and our signature dishes which chef/owner Malinee (Kiatathikom) has come up with. A lot of those are family recipes or versions of family recipes.
FSM: What is your philosophy in terms of the overall bar & cocktail profile?
MK: The drinks have to be good. Bad drinks will absolutely destroy the reputation of a bar. The best way to do this is to be absolutely prepared. You have to have systems in place where it becomes a routine. You always follow them, so you always know how to handle a situation. That way, things become faster and you have a lot fewer mess-ups. My biggest philosophy though – taste everything before it goes out. Just like a chef in a restaurant, you taste every single drink before it goes out to a table.
FSM: What is your background?
MK: I've been in the service industry since I was 17. I actually started bartending when I was 18, which is illegal (laughs). I was interested and just sort of fell into it. My father owns two liquor stores in western Nebraska, so I've grown up around booze my entire life. I was lucky enough to have a couple of friends who were involved in the Blue Orchid and they got me a position here.
FSM: From where do you draw inspiration?
MK: From a couple different places. A lot of it is based on drinks that have already been created. Old drinks that people have been drinking for a hundred years. I make variations or themes off of that. I also read a lot and search the internet. I go to Open Harvest Co-op, where all the organic food is. I try to make sure that when I'm making a drink, the stuff I'm using is in season. It's a big thing.
I always try to incorporate Asian ingredients as well.
FSM: Name some challenges associated with your approach.
MK: The drinks are incredibly labor-intensive. If you're off by a little bit, your drink is absolutely destroyed, so it's really about balancing your drinks and getting into a routine. You just have to do it enough. It's practice, practice, practice. After you do it for a year, you know. Afterwards, I taste so I know everything that is going out, so if it needs more simple syrup or lime juice or maybe that herb wasn't as fresh as it could be and it's off now, so you chuck it and start anew. It gets tough when you're doing 200-plus covers in a night and your bar is completely full and you're making drinks for the entire restaurant. Usually we only run one bartender on, so sometimes you just get destroyed.
FSM: Describe the response you've received from customers
MK: Usually it's incredibly positive. I think it's because people like to see someone trying something new and have it be successful.
FSM: How do the owners feel about what you're doing?
MK: The owners give me total freedom in the bar. They're supportive and let me do my own thing, and that's the biggest compliment. They never have to worry about it, and I think they appreciate that this is one aspect of the business that they don't have to worry about.
FSM: Does the bar itself get busy? How do you integrate classic cocktail preparation into a busy bar?
MK: I have people who just sit at the bar all the time. It's a full-service bar so they'll have dinner up here. In the service industry, you know people from other bars and restaurants so they'll come in, sit at the bar and not have a table. As far as integrating classic cocktails into it, you work as fast and as hard as you can. Like I said, once you do it enough, once you have organization and systems in place, that's the key to success, without a doubt. Of the 40 hours or so that I work in a week, 15 of those hours are spent doing prep work. I'm usually here at 3:00 every day, and we start service at 5:00. When I'm set up, I can make 4 Ginger Mojitos in 3 minutes, but if you're sitting there picking off mint leaves for every Mojito you make, it's never going to work.
FSM: What's on the mixology horizon in your opinion? What's the next big flavor / concept?
MK: I think there are three concepts on the horizon. One is fresh juices. That's going to get huge, I have a feeling. I also see people making their own wine & spirits happening too. A really interesting one I had a while back was a whiskey made by Sierra Nevada that was aged in the vats that had already been used to age their beer, so it tasted like Sierra Nevada. It was really interesting. I think you'll also start seeing things from other countries. Kirsch (cherry brandy) from Switzerland, Crème de Mure (blackberry) and Crème de Violette from France, I think you'll see a lot more of that.
FSM: What do you consider to be your signature drink?
MK: I guess the Elderflower would be one. It's muddled ginger, Tanqueray Rangpur, lime juice and St-Germain elderflower liqueur. I have great success with that drink.
FSM: What's the most recent product or development that has inspired you?
MK: St-Germain is a really good one. It's terrific. Crown Royal Cask 16. Wonderful! It's like drinking a glass of wine. It's just amazing.
FSM: What do you drink when you go out?
MK: I don't actually go out that much, but when I do go out, I drink Guinness, Old-Fashioneds and wine. That's pretty much it.
FSM: What's your best-selling cocktail?
MK: Ginger Mojito is probably the most popular.
FSM: What would you like to tell bartenders out there?
MK: The trick to bartending at least that I've figured out, to making good drinks, is fresh ingredients. You also have to be inventive. You have to read. You have to know what's going on out there, not just in your community. You have to achieve a balance.
Dan Crowell
Dan Crowell, cocktail enthusiast and self-avowed 'spirits nerd', is the Luxury Brands Specialist for Sterling Distributing Company in Omaha. He talks incessantly (even occasionally to other people) about the virtues of what he calls 'investigative imbibement'. An eternally fascinated student of the distillers' art, he encourages any like-minded individuals to engage him in spirited discussion at http://libationassociation.blogspot.com
---
Only registered users can comment.