Bar Chat: The Boiler Room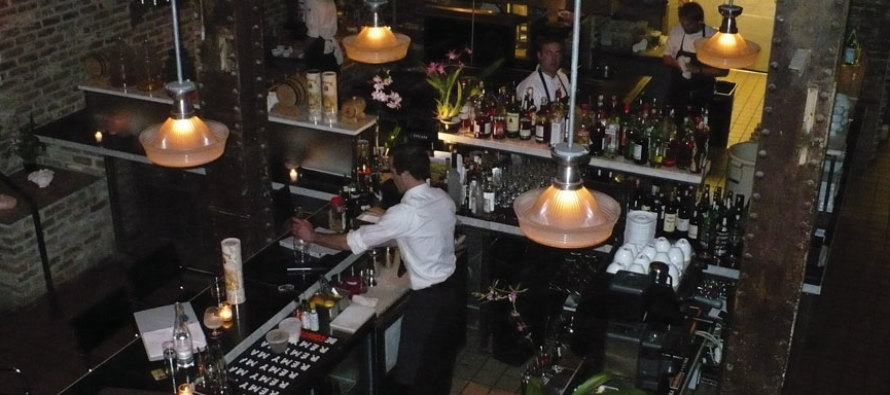 I had an opportunity recently to sit down with Chris Engles, lead bartender at The Boiler Room in the Old Market. Chris's dedication to the craft of bartending and the art of creating truly amazing cocktails is remarkable and must be experienced first-hand in order to be fully appreciated. Here are the results of that interview.
FSM: Describe the restaurant
"One of my favorite things about the restaurant is that instead of semi-trucks pulling up and unloading frozen goods, we have pickup trucks driven by farmers from the surrounding area delivering their products, their vegetables. Risosphere Farms is one. They have excellent produce. Their tomatoes are the best I've ever had. TD Niche is where we get our pork. We use Red Wattle pork which is closer to red meat than normal pork, and it's local and it's organic. We have Bluff Valley Lamb, which is located in southeastern Nebraska. They're very particular about their lambs' surroundings. They talk to their neighbors to make sure their lambs aren't inhaling any chemicals. Our chef, Paul Kulik, has many contacts in the local, small farm community like the Farmers Market in the Old Market. He reaches out to many of them and tries to establish business relationships with them."
"The menu changes every day. It's all about freshness. We're local and organic, but we serve a lot of seafood, which is obviously not local. We have the freshest seafood in town. We serve whole fish as a dinner for two. I just think it's a unique way to eat. We strive to be unique. We strive to show people possibilities and execute them as well as possible. We're on the fine dining side, and we give the best service we can give, but the most important thing is the product. We take a lot of pride in the food and drink that we serve. Jesse Becker is our Master Sommelier. He's the only Master Sommelier in the state. Looking at the wine cellar, you can see he takes a lot of pride in his list."
FSM: What is your philosophy in terms of the overall bar & cocktail profile?
"It's craft bartending. When you're making a cocktail, it's all about technique and good ingredients. So we have fresh juice. I juice every day, and I make my own syrups. I make my own grenadine. But then it comes to technique, how long to shake and how to stir. Steven Cole from the Violet Hour in Chicago, which is a great cocktail place, is friends with Chef Paul. He came in, and just one night of mentoring from him really opened my eyes to what it takes. One thing he stressed was uninterrupted stirring, being able to do that. So that was one of the first things I really worked on."
FSM: Ice selection is an often overlooked element of cocktail creation. How important is ice selection to a cocktail?
"Our machine produces pure ice. Instead of using an ice machine where the water gathers in a tray, with this one the water shoots up, all the impurities are stripped away and you get nice big solid cubes. (NOTE: the machine Chris refers to is a Kold-Draft ice machine, which employs a very unique upside-down horizontal evaporator ice-making system. Based on observing the cocktails Chris constructed for me, the ice looks great and performs just the way he describes). They get colder, they stay colder and they don't melt as fast. It's more about making the drink cold as opposed to watery. So stirring and shaking, when you do that, water absorption into the cocktail is important. You want it to be just right. You don't want it too strong or too thick, and conversely you don't want it watery. Nobody likes that."
FSM: Describe the response you've received from customers? Have you gotten the response you're looking for?
"Yes and no. We still have people coming in and asking for Budweiser. I personally enjoy Budweiser, but that's not what we have. And we don't serve Jack Daniels here, which to some people is some sort of a sin, but we go for small-batch bourbons. If you like Jack Daniels, come and check out our bourbons. We have excellent bourbons! What is shocking is how upset people get when we don't have Jack Daniels. It would be great if people were just willing to try something new. Simply walking through the door here is trying something new, so when you sit down, I'll make you a great cocktail and every dish here is excellent. There's no reason not to try it. For instance, Lamb Brain Ravioli is something we've been featuring lately. It's gone over very, very well. Even the timid eaters have really enjoyed it."
Chef Paul adds, "So that's the negative and the positive. The negative is that people come in, I think, with a very strong prejudice about what a restaurant should be, regardless of setting and atmosphere, and we buck that a little. But the plus side is that when people leave, the overwhelming response, 95% of the time, maybe 97% of the time is that they're not just satisfied, they're extremely excited about what they've just had. Maybe Chris has made them a gin cocktail and they normally don't like gin, they like Grey Goose or something, and then they try gin and, "Well, that doesn't…that's nothing like…" and these moments of awakening happen, and they happen when you try lamb brain. Not that everyone is going to try lamb brain or drink gin, but the bottom line is we're not trying to feed you bad stuff. We're not trying to make you drink bad stuff. That's not our goal. There was initially some pushback about what we were doing, and I think now people are very enthusiastic about us and I think that's because people have been, not warned, but forewarned that you should leave your prejudices at the door."
FSM: You're making your own bitters. Can you describe that process?
You infuse your alcohol with many different things, botanicals, herbs that I'd never even heard of. Infuse each one separately from the other ones and then the final bitters is a ratio of those liquids combined. It gives you greater control when you're pairing different things together that way.
FSM: What's the most recent product or development that has inspired you?
Well, I just beat Chef Paul at chess for the first time, so that's exciting!
Dan Crowell
Dan Crowell, cocktail enthusiast and self-avowed 'spirits nerd', is the Luxury Brands Specialist for Sterling Distributing Company in Omaha. He talks incessantly (even occasionally to other people) about the virtues of what he calls 'investigative imbibement'. An eternally fascinated student of the distillers' art, he encourages any like-minded individuals to engage him in spirited discussion at http://libationassociation.blogspot.com
---
Only registered users can comment.