Bar Chat: The Intoxicologist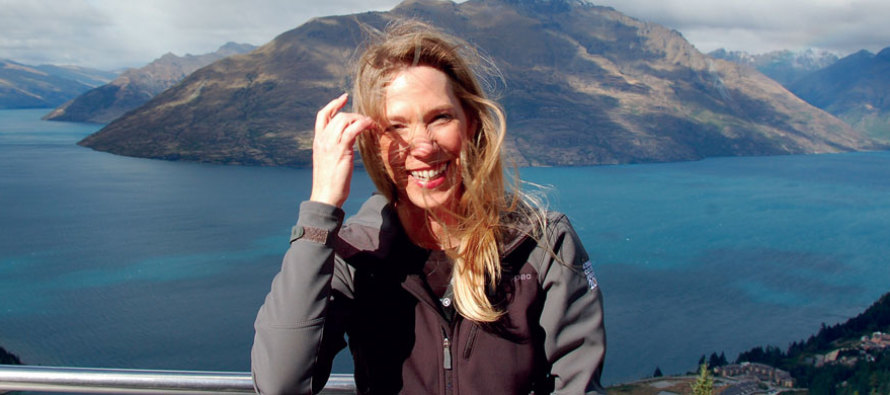 I first met Cheri Loughlin (a.k.a. The Intoxicologist) a few years ago at a cocktails class we both attended. At that time, she was just beginning to post on the web the results of some of her research into distilled spirits and cocktails. Today her site, Intoxicologist.net, receives thousands of hits a day and millions over the course of its existence. Spirits producers including Bacardi, Beam Global, and Pernod Ricard have contracted her services, and content from her site has been referenced by such publications as Luxist, Men's Health, and Esquire. Her Intoxicologist Facebook page boasts friends in very high places in the world of mixology, including Dale DeGroff, Audrey Saunders, and Gary 'Gaz' Regan. Cheri was kind enough to sit down for an interview recently with Food & Spirits Magazine.
FSM: When & how did you decide to create 'The Intoxicologist'
Anytime I mixed a cocktail I tried to tweak it. I once made a margarita using Zima just to see if it could be done. It can if that's all you have! In my opinion liquor and liqueurs are sort of the equivalents to spices in a chef's cabinet only we have to be more responsible with them due to the alcohol content. Just as spices mingle together harmoniously when mixed in a balanced manner, so too spirits along with fresh juices and mixers can blend together in a cocktail the same way. I wanted to know how to do that. I figured if I wanted to know how to do that others did too, so I started writing about my own personal findings and the things I learned about through research.
FSM: What are the various online incarnations of The Intoxicologist? Do you generate any other web content? Is any of it not related to spirits & cocktails?
The Intoxicologist began as Straight Up Cocktails on Blogger, but quickly moved to The Intoxicologist Is In on WordPress. Last year I moved to my own domain name at http://intoxicologist.net. There was so much content on The Intoxicologist Is In on WordPress that it was virtually impossible to move it to the new Intoxicologist site. I kept busting bandwidth. So, I am slowly updating the content and reposting reviews to the Intoxicologist.net site little by little.
I have written a few guest blog posts in the past and am asked to do so frequently, but am more selective with my time in that regard. I do write to other sites that are non spirits & cocktail related.
FSM: How many hits do your sites receive in a day?
That varies depending upon time of year, time of month, whether there is a holiday, if someone has linked me somewhere; the list could go on and on with variables. One day this week The Intoxicologist had 3,746 hits due to someone linking a particular article. That in turn had people bouncing to other articles all over the site. The month of October sees great climb due to Halloween being huge for parties serving themed cocktails. During that month I was still writing to two Intoxicologist sites which saw combined hits of 175,377. As of today (May 13, 2010) The Intoxicologist site has an Alexa Traffic Rank of 308,163 worldwide and 47,644 in the U.S. That is very exciting to me. When I began The Intoxicologist, I didn't even realize I had a dashboard to read statistics. Honestly what the stats really say is there are real people behind every number on that board. We all need to remember that. People aren't a number. They are someone looking for information. We need to place reliable accurate information in their hands rather than just marketing mumbo jumbo to sell one more bottle. Give people good information and they will come back willingly, not because they were won over by slick advertising.
FSM: What is your goal with The Intoxicologist?
Site goal: Bringing liquor information to consumers. Everything does not trickle down through advertising, marketing and the liquor store shelf. Once product is on the shelf, it is not necessarily self explanatory either. My goal in that regard is help people know what to do with it or help them gain the confidence to play around with a product to find something they like to mix with it themselves. It's just liquid in a bottle much like spices in a jar. Nothing magical about it.
Personal goal: At the moment all of the time spent researching, creating, photographing, writing and posting content to The Intoxicologist site is completely unpaid. So, my personal goals are to publish my cocktail creations in books, ebooks, phone apps or all of those mediums. The only paid work I currently do, which I would like to do more of, is creating more recipes directly for companies, restaurants and bars.
FSM: How do you go about creating content for The Intoxicologist?
Various ways. Reader feedback is the most reliable. Holidays and times of the year dictate particular content for obvious reasons. New releases into the marketplace and spirits that are sent out for review also add to content. I read articles daily from all over the web which spark ideas for questions to readers for interaction on The Intoxicologist Facebook page and the Intoxicologist Twitter account. This interaction gets readers involved and adds a little something different for variety. I also learn a lot about what other people think which gets me outside my little computer box. I like that most of all.
FSM: Can you name a few spirits producers, national publications, etc you've worked with?
Currently I have created cocktail recipes complete with photographs specifically for the Hiram Walker products for Pernod Ricard through one of their PR agencies. Beam Global Spirits commissioned cocktail recipes with photos specifically for cocktail menu use in a chain of restaurants. The May 2010 issue of Men's Health magazine uses a photograph of The Seelbach Cocktail from my collection of photographs. I was extremely excited when they contacted me about purchasing the photo for use. Brugal Rum also commissioned two photos for use for their 2009 fall cocktail, Dulce Dominicana. Esquire.com asked me for quotes for Bad Beer Ads in December 2008. That was fun.
FSM: Is there travel associated with The Intoxicologist? Where have you been on behalf of the site?
I have been rather fortunate to have been invited to several places to cover events and tour facilities. Bacardi invited me to Puerto Rico early 2009 for five days. While there I was able to tour San Juan to get a feel for the culture, taste many of the rums of the area, visit the Bacardi facility with private tour and meet with Joaquin Bacardi III. Buffalo Trace Distillery kindly invited me out during their White Dog Days celebration late last fall.
My most recent trip has been to New Zealand for a week at the invitation of 42Below for their Cocktail World Cup 2010 bartender competition. The once in a lifetime experience was incredible from location standpoint to be sure, but as always I come away with deeper understanding of the brand and respect for the spirit of the people behind that brand.
FSM: What's your philosophy / methodology in creating a new cocktail?
I most often try to stick to five ingredients or less using easy to find ingredients when creating cocktails for The Intoxicologist site and for companies. My thought is consumers want to know what to do with the products they use regularly and can find easily. Cocktails should be user friendly and taste good. Cocktails with ten ingredients might look interesting, but are more difficult to reproduce at home.
FSM: What do you drink when you go out?
Depends on the bar. At Boiler Room, my fall back is Chris' Bobby Burns or he makes a Negroni exactly how I like it. But, Chris whips up great cocktails that I love to try anytime, so I always know I'm safe to try lots of interesting things there. Most bars I try to find something interesting on the cocktail menu for a first round, but usually ask that the sweet factor be dialed down a bit. If everything runs the gamut of candy cocktails I will opt for a standard vodka martini with lemon twist or bourbon or scotch neat.
FSM: What's your favorite cocktail to make for guests?
There isn't one in particular. When guests come to my home they usually ask what new cocktail I'm working on or what new spirits have arrived. I am big on allowing people to sample many things and throwing out anything that they don't particularly like. Sip, sample and throw away. No sense in drinking something that doesn't entirely float your boat.
FSM: What advice would you give to bartenders? What about consumers?
Advice for bartenders: Don't try to tell consumers what they do and don't like. When someone tells you how they like a cocktail, make it like they like it not how you think it should be made. Above all, get to know the products. Be knowledgeable without being a know it all. Continually learn. Your customers will teach you many things you can't learn just by mixing on your own.
Advice for consumers: Try many things by sampling at bars & free sampling at stores. Read reviews and take note of those you consistently agree with to form a frame of reference for future spirits. Don't be entirely swayed by advertising. There are tremendous amounts of brands out on the market without large advertising budgets that are wonderful. At the same token there are many brands with fabulous advertising that do not live up to the marketing value. Drink what you like, how you like it.
FSM: What's the next big thing in spirits & cocktails, in your opinion?
Simplicity. Speakeasy style bars brought gin particularly and classic cocktails generally back to the forefront of the cocktail industry. Classic cocktails never really go out of style, but rather morph into new creations through the years. When the recession hit, consumers reined in their spending by cutting out the middle tier of spirits leaving super premium brands and doable mixing spirits sitting front and center. Cocktail competitions thrived with creations that consisted of super deluxe infusions that quite honestly most people will not recreate at home. They don't know how exactly their own infusion will turn out at home so they don't want to ruin an entire bottle of liquor. That's completely reasonable. However, give people simple three to five ingredient cocktails formulated upon classic style cocktails and they are completely doable. Consumers don't mind messing up one drink out of a bottle. They will play with one drink and then continue to pour drinks they like if that one creation didn't turn out quite right. In listening to my readers, reading and listening to comments from cocktail competition judges and looking at some of the winning recipes from cocktail competitions, the continuing thread seems to be simplicity.
FSM: When you're not writing about spirits & cocktails, what do you do?
What every 'normal' person in the world does, I suppose; juggle a household and family of six, four of whom are teenagers with one heading to college in the fall.
FSM: Anything you'd like to say to our readers?
Sample at least one new thing each time you go to a bar. If your liquor store doesn't have something on the shelf, ask. They might be able to order it. You don't have to finish every drink. If it isn't good, it isn't worth finishing.
Dan Crowell
Dan Crowell, cocktail enthusiast and self-avowed 'spirits nerd', is the Luxury Brands Specialist for Sterling Distributing Company in Omaha. He talks incessantly (even occasionally to other people) about the virtues of what he calls 'investigative imbibement'. An eternally fascinated student of the distillers' art, he encourages any like-minded individuals to engage him in spirited discussion at http://libationassociation.blogspot.com
---
Only registered users can comment.