Becoming a Professional Bartender With the USBG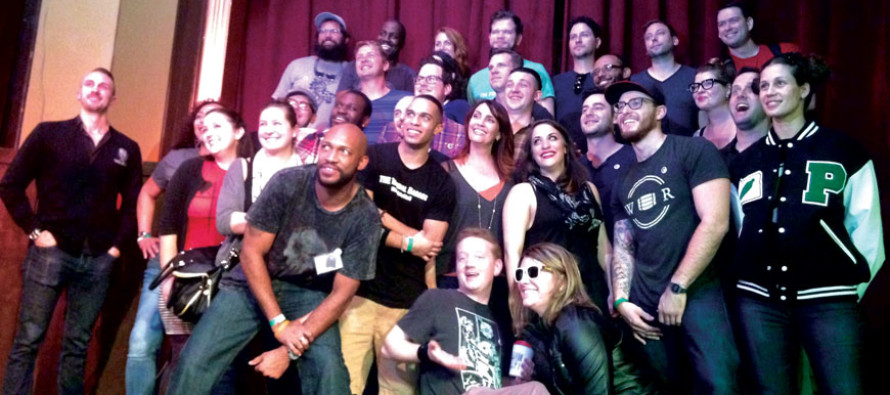 The United States Bartenders' Guild is a non-profit organization dedicated to securing the professional future and reputation of bartenders through the provision of comprehensive education and training, incredible networking opportunities, competition platforms, healthcare benefits and more.
For the past year, I have been working alongside local, industry professionals to form the Omaha/Lincoln chapter of the USBG. I am proud to announce that Omaha/Lincoln has been recognized by the National Council as the newest official chapter of the USBG! Throughout the chapter formation process, many have asked, "What will joining the USBG do for me?"
I have struggled with this question, because the question itself is tainted with an attitude that has plagued our industry for many years, and is not reflective of USBG values. Becoming a USBG member does not do anything for you, per se. What it does do, however, is provide you with opportunities to do incredible things for yourself. USBG membership is like having the keys to a Ferrari; it is up to you whether you want to sit in it on the side of the road, or whether you want to experience maximum speed on the open highway.
The USBG is all about personal investment, which is simply part of being a professional. As the professional service skill set continues to emerge from the ashes, too many bartenders get stuck in the 'tween' position of wanting to be called (and compensated as) professionals, while expecting every opportunity to be handed to them, and without accountability for their behavior. Our industry is no different than any other – you must be willing to invest in yourself in the form of education, networking, competitions, tools, etc., in order to reach your potential.
When I joined the United States Bartenders' Guild, I was simultaneously invigorated for my career future, and saddened about how much time I had wasted as a non-member. Shortly thereafter, I began blogging (Bombay Sappho) on the USBG Pulse site, and set out to form our Omaha/Lincoln chapter. In 2013, I applied and was accepted to attend Portland Cocktail Week – an interest-based educational academy for bartenders in Portland, OR. I credit my acceptance to attend this event, at least in part, to being a USBG member.
The connections I made there are very real, and have played a major role in my formation of Rabbit & Turtle Beverage Corp., producer of Colonel Jesse's Small Batch Tonic. In one year, I went from having the idea for the company, to forming a partnership with contract negotiator and beverage extraordinaire Aaron Funk, attracting an investor, forming a relationship with Blue Blood Brewing Co. as our production facility, and landing regional distribution through Arbella Distributing. Rabbit & Turtle has also formed a solid synergy-based relationship with a prominent, international liquor house, the representatives for which I connected with at Portland Cocktail Week. They have introduced our product to a national chain restaurant, with whom we are currently in a test market.
In addition, USBG connections have allowed the Omaha/Lincoln market to gain recognition through both regional and national competitions. As USBG members, both Luke Edson (The Berry & Rye) and I have competed in Las Vegas with some of the country's top bartenders for the title of 'Bombay Sapphire's Most Imaginative Bartender', and have been featured in GQ magazine (Luke making the top ten twice!). This summer, Kansas City USBG connections (and now friendships), allowed Omaha/Lincoln to compete in POP Fest, where our team took crowd favorite.
When it comes to competitions, sure, it's nice to win. The networking potential, however, is an even greater incentive for me, personally. When you start to see the same faces at national events, you realize that you are part of a global family, which is not only a great source of inspiration, but a cache of potential opportunity. At this point, thanks to the USBG, I am confident that I could move pretty much anywhere and create an opportunity for myself through USBG connections.
In 2014, I was accepted onto the Varsity Team for Portland Cocktail Week, an amazing group of bartenders from all over the country who complete assigned tasks to provide remote support for event organizers. My tasks are carving out an ongoing role for me that allows me to be part of Cocktail Weeks all over the country, even when I cannot be there in person. I am, essentially, learning the ropes of planning large-scale industry events, with hopes of growing such events in our region. The mentorship I have experienced is possibly the best investment I have ever made when I consider the less than $10/month USBG membership cost.
So, to answer the initial question, "What will becoming a USBG member do for you?" I can only say this: It will not do anything for you that you are not prepared to follow through on for yourself. Being a professional bartender is not about seeing your name in the paper, attending events for the free booze, winning competitions, or being able to name every obscure vermouth. It is about being on a professional path of self-improvement – constantly growing closer to the asymptote of being able to provide the perfect guest experience. This requires passion, constant education, and most importantly, being dialed into what is going on outside of your market in order to keep up with (or ahead of) trends. If you consider yourself to be an actual industry professional, there is no question – you should join today. I was raised to believe that if something is worth doing, it is worth doing well. The USBG helps me to do my job well.
SAVE THE DATE!! We are excited to announce our chapter kick-off event on February 22, 2015 at The Hive in Omaha! The event just so happens to fall on National Margarita Day, so we will have a fun night of music, tequila education, a margarita competition, and USBG awesomeness! A major focus of the event will be to promote an ongoing conversation about how to create safe environments for all customers through the provision of responsible hospitality. I am thrilled for the Omaha/Lincoln Chapter to finally be on the map! Please join us on February 22, 2015! You can also find information about/join the USBG at www.USBG.org, or contact me at jillcockson@gmail.com. Cheers!
---
Related Articles
It's about to be summertime, which means grilling and drinks with friends and family outside on sunny days. We'll be
You are an avid wine drinker. You have been imbibing for years and have amassed a small arsenal of memorable
"Some times you want to go where everybody knows your name, and they're always glad you came." How many people
Only registered users can comment.