Beer Chat: Local Brewers Strive to Use Local Ingredients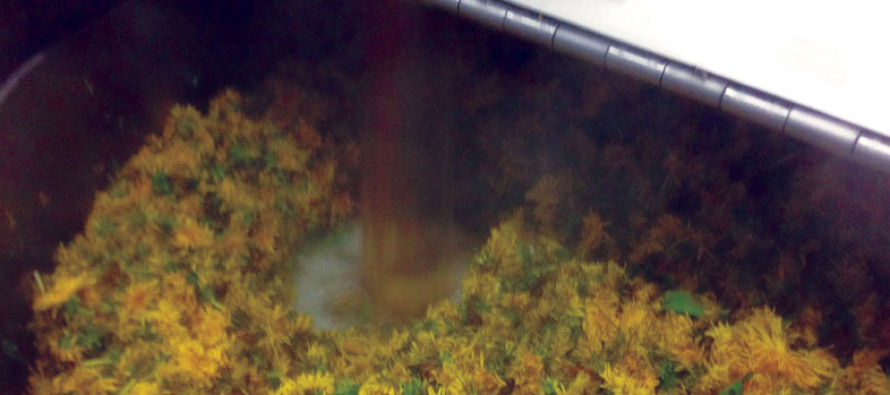 Local Nebraska beer is a wonderful thing. It's fresh. It didn't spend a month floating across an ocean and it hasn't been driven down hundreds of miles of interstate highways to make it to our glass. It supports our local economy, builds jobs, creates tourism and keeps our hard earned cash in the community. But unlike wine, where grapes are often grown in the same region as the winery, beer in America is conventionally made up from many ingredients from all over the map. For instance, American hops are typically grown in Oregon, Washington and Northern Idaho. Domestic malted barley comes mostly from the Dakotas and Montana. The yeast usually comes from a lab in Colorado, California or Oregon. The only ingredient that is commonly sourced locally in most breweries across the nation is the water. You would be hard pressed to find a 100% Nebraska sourced beer, but many breweries are reaching for homegrown ingredients whenever possible.
Hops:
The most common ingredient found in Nebraskan beer is hops. With the craft beer boom has come hop shortages and breweries often need to contract their hop supplies years in advance. However, the rich agricultural history of Nebraska has helped to fill in the gaps with hop farms that have popped up across the Eastern part of the state. Almost every brewery here is using Nebraska hops in some capacity and with great results. Dallas Archer, Brewer at Upstream Brewing Company in Omaha, says, "We buy the entire crop from two local hop growers, Bauman's Hop Farm and Schwedhelm's Hop Yard, and use whole leaf right in the boil. In addition we started growing our own hops on site".
Grains:
The sugar collected from malted grains in the mashing process accounts for the bulk of the fuel used by yeast to produce alcohol. One may think that with the vast farming region across the state, harvesting a local grain product would be a no-brainer, but sourcing regional grains for brewing can be a challenge… for now.
Marcus Powers of Zipline Brewing Company in Lincoln sought ways to get Nebraska grown grains into their beers saying, "We wanted to infuse local ingredients into our beers where we could, and do it in a meaningful way. No brewing grains are malted in Nebraska and it's nearly impossible to track down any Nebraska grains malted in other states. We did extensive research and found The Grain Place in Marquette, Nebraska. After a tour of their plant I found they had organic flaked white wheat and organic rolled oats which we now use regularly in a number of our year round beers".
Brian Podwinski from Blue Blood Brewing Company in Lincoln is looking to fill the malted grain void and is in the process of starting up a second business as a maltster. He hopes to bring Nebraska grown malted barley and wheat to breweries across Nebraska and beyond. Brian said, "Soon, with the start of Nebraska Malt, we will be able to source even more from right here at home. Currently, we have to use unmalted grains if we want to use Nebraska products and that isn't all bad. However, being able to incorporate Nebraska grown malted barley and wheat into our mix will be huge."
Apples:
After being on somewhat of a hiatus in popularity for well over a century, beer's cousin, cider, has gained substantial popularity over the past few years. In fact, according to the market research company, IRI, cider sales were up over a whopping 75% from 2013 to 2014. Zac Triemert at Brickway Brewing Company in Omaha has taken note and is using Nebraska grown apples to create a local commercial cider. "Most recently at Brickway we've been using apple juice from the Kimmel Orchard in Nebraska City. We wanted to do a local cider as there's a big hole in that category. I brew it with our Pilsner lager yeast and finish it with a champagne yeast to dry it out. It's light, easy to drink, has nice apple character and finishes dry", explained Zac.
Coffee:
Affectionately referred to by many as "breakfast beer", the combination of the stimulant caffeine and the depressant alcohol can be a little bit offsetting, but the result may in fact bring out your inner superhero*.  Brewer Adam Cunningham from Lucky Bucket Brewing Company in La Vista teamed up with roaster Jason Burkum of Archetype Coffee in Omaha to create their own version. The two took the task of creating a blend that was just right with a complimenting flavor balance between both beverages. Adam shared, "We brewed a coffee milk stout called Superfly with locally roasted coffee. Jason provided us with several batches of coffee roasted to varying degrees according to our desired flavor profile, and it made for a pretty fantastic focal point for Superfly!"
Dandelions:
To many, dandelions are nothing more than a nuisance, but to Ploughshare Brewing Company in Lincoln they are very special ingredient. When the spring dandelions were in full bloom this past April, a group of volunteers worked together at the Branched Oak Organic Farm to pick 68 pounds of the blossoms to be used in a French-style Saison. Ploughshare brewer Brendan McGinn added, "The dandelion blossoms are going to add a green tea-like character with hints of marigolds and a nice earthy bitterness that was taken into consideration when adding the bittering hop earlier in the process".
Popcorn:
Who would think to create a beer around the movie goers' favorite snack, popcorn? Look to Caleb Pollard at Scratchtown Brewing Company in Ord who explained that Valley County in Nebraska is known as Popcorn County USA. There is more popcorn produced there than any other county in the entire country. He says that, "Last August we teamed up with Zangger Popcorn Hybrids of North Loup, Nebraska to source locally grown air-popped popcorn for a Cream Ale. We called the beer "Popcorn Daze" in honor of Popcorn Days held every August in North Loup. We poured Popcorn Daze at the brewer's party the night before the Great Nebraska Beer Fest in August 2014, where it was very well-received and it absolutely tasted like popcorn. What a great beer for the dog days of summer".
Honey:
Honey has long been used in the production of alcohol. Some archaeologists believe that a form of honey wine was likely the first alcoholic beverage produced by humans. Because honey is nearly pure sugar, it is highly fermentable and is used by many brewers to boost alcohol levels and lighten body. Trevor Schaben from Thunderhead Brewing Company in Kearney quite literally uses tons of it every year. Trevor says, "I use a lot of Sandhills Honey in my Golden Frau honey wheat beer. The fact that the honey is local is almost secondary to me, because it is simply the best honey for what I'm trying to do with the beer. Honey Wheat has been our best-selling beer for the last five years and we use about 5,000 pounds of honey per year".
Vanilla:
Derived from the vanilla orchid indigenous to Mexico and Central America, production of the vanilla bean has spread to several other regions around the equator. It is hard to believe that anyone could find a local supply of the flavorful pods, but Nebraska Brewing Company's head brewer Tyson Arp has a special hook-up that made it possible. His wife Angela shared with us that Tyson's parents Greg and Jean Arp have successfully grown vanilla beans in Bennet, adding, "They grew the orchids, hand pollinated all the flowers and processed the beans over a few months". The beans were then added to a special one-off Imperial Brown Ale brewed at their Papillion brew pub, and was cleverly named Papilli Vanilli.
Sustainability:
Kinkaider Brewing Company in Broken Bow has a unique opportunity to produce numerous beer making ingredients right on location while finding good use for brewery waste. Production manager Nate Bell explains, "We are located about two miles outside of town on an operating pumpkin patch and are excited about what this will allow us to do. We currently make a Honey Wheat beer made with local honey, some of it sourced from hives on site.  We also have plans to grow our own jalapeños for our jalapeño beer, use corn from the corn maze, hops and of course pumpkins from the pumpkin patch. We really feel we have a unique opportunity to grow and source many ingredients right at our location. Another cool thing is we feed the spent grains to the cows and calves on site, as well as using the yeast and other nutrient-rich chemical-free waste water byproducts from brewing to fertilize and irrigate the crops we plan to grow.
*there has been no known study to support that breakfast beer can result in superhero powers.
Jason McLaughlin
Jason is a Certified Cicerone, ranked National as a BJCP judge (Beer Judge Certification Program), is a craft beer aficionado, a writer for the Nebraska Beer Blog, and award winning homebrewer living in Lincoln. Jason spends time traveling around the country judging beer competitions, and attending related events. Beer tasting and evaluation is his passion, and he can appreciate a great example of any style regardless of hype.
---
Related Articles
So you might have heard recently that a crack in the armor of the mighty Nebraska state government has been
While all of Nebraska's Vineyards and Wineries give us something different on the wine shelf than the norm, Cuthills has
The Aviation Cocktail. The name possesses many of the qualities I love in a good cocktail moniker. It says everything
Only registered users can comment.