Chef-Owner Jared Clarke Goes Wood Fired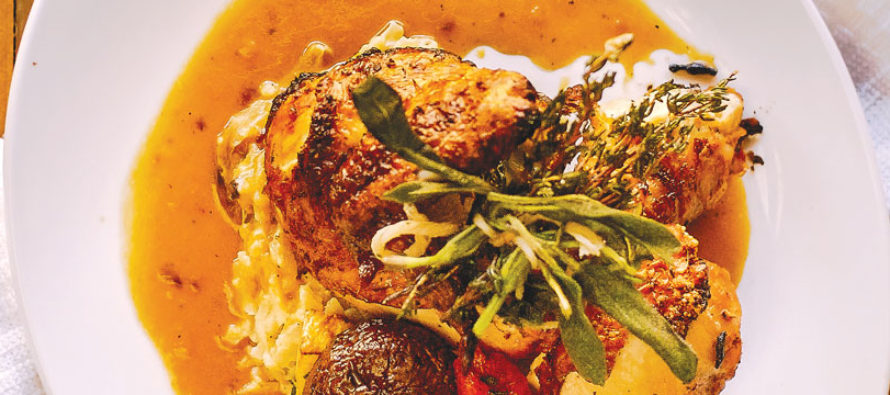 Chef-owner Jared Clarke found a niche with his Railcar Modern American Kitchen in northwest Omaha. With it now well-established, he hankered trying a new concept with Timber Wood Fire Bistro in Countryside Village. Since opening in 2016 at the former site of The Bookworm, this extreme open-kitchen, wood-fired menu restaurant has added a signature spot in the heart of Omaha.
Like many young chefs, the 30-something Clarke is an interesting mix of traditional and contemporary influences. He borrows a little from many cuisines for his take on American comfort food rooted in French technique, all accented by a touch of super-hot oak-fired flame to enhance not obscure ingredients' optimal flavor.
"The hardest thing as a chef is to choose to follow trends or not. I've always done comfort food. I grew up on the farm eating from-scratch meals and enjoyed it. I like making things very comforting and warming to your soul. When I was a young chef I was all over the place because I wanted to learn as much as possible. Japanese, Thai, I've learned how to make all those cuisines."
But he always found himself coming back to comfort food, which has become a ubiquitous descriptor of what countless eateries serve.
"I don't know if this trend will go away or if it's even really a trend. It's always been there."
Clarke is a rarity in these parts as both a certified chef and a trained food scientist. His knowledge about the chemistry of food pairs with his talent and experience in the kitchen to maximize flavor combinations and freshness.
"I do have a better understanding of things. It helps making better sauces or extracting more flavor out of bones. It's knowing when to season and not to season. It's knowing where to start and stop your food. There's science to back these things up."
Far from being stuck in a laboratory in his formative culinary years, he began cooking professionally in his late teens. He earned his chef certification at Southeast Community College near his hometown of Fairbury, Nebraska and his culinology degree at the University of Nebraska-Lincoln. Unlike other food science students, he had no interest in doing test kitchen work for ConAgra or Kraft.
"My goal was to get better at my job as a restaurant chef. A lot of my professors were like, 'What are you thinking?' 'I'm thinking about making better food.'
In college he worked at Chili's and Misty's in Lincoln. After college he moved to Chicago to work at Lettuce Entertain You and Cooper's Hawk Winery and Restaurant.
He made a splash upon returning to Nebraska as executive chef at Blue Sushi Sake Grill in Omaha. Already on the short list of top new local chefs, he announced himself a chef-owner to watch with Railcar.
His coast-to-coast travels across America for business and pleasure find him learning new techniques and trends as well as tried and true things he then melds into what he does at his two restaurants.
"I'm always trying to make myself better as a chef."
Railcar's success emboldened him to try Timber Wood.
"I've always wanted to do my own wood-fired cuisine – something fully wood-fired, not a wood-fired oven and then finish it off on the grill. I wanted something where I could incorporate a lot of different cuisines with the kiss of the wood flavor. Give that campfire flavor with more refined food. I try to do more French techniques with food off grill in the oven, rather than going straight Midwestern cuisine or doing cowboy style food.
"Some people ask, 'Why don't you do barbecue?' Well, that's not the idea. The idea is to do more refined food off the wood fire. I'm not looking to smoke the food. I'm not going to be using a hickory or an applewood because I'm not looking to really change the flavor of the food – I'm looking to enhance it. I use oak because, to me, it adds an extra layer of seasoning that kind of sets the food apart. But the roast chicken still tastes like roast chicken. But, getting hands-on good and dried oak wood may not be easy. The wood that sells in the market may have molds and moisture in it that may ruin the taste of food and Clarke wouldn't want that. And, as he is very particular about cooking wood, he may consider taking the help of businesses such as Cutting Edge Firewood and other such firewood providers that can deliver premium and kiln-dried choices of cooking wood.
Coming back to Clarke, he went against the grain of what most of us associate with wood-fire.
"I didn't want to focus strictly on pizzas because everybody thinks wood fire and pizza. I wanted to do something different here than make pizza like everyone else is doing. We have a small selection of French-style pizzas – pissaladière – on our menu. French-style pizzas don't have a lot of sauce. Some don't have any sauce at all – they might just have some herb oil. We use a lot of high-end ingredients on it. It's not your normal pizza. It's a cross between Neapolitan style pizza and the focaccia. You have a cracker crust on the outside but it puffs out enough where you get these airy bubbles. It's chewy on the inside and crispy on the outside.
"The traditional Provencal-style pizza we do has a lot of lavender and thyme, caramelized onions, anchovies, salt cured olives. We do a little frisee salad on top with shaved pecorino and a sherry vinaigrette.
That's a pretty classical combination for the Provence region. As chefs we have to be food historians, too. If you don't know where your food comes from or how it came to be that cuisine, it's hard to understand the food you're putting forward."
He became sold on the open-kitchen concept after seeing it in action on food travels.
"The aroma, the food coming out of there, talking to the cooks, having a great time – I thought this might be a fun concept to try in Omaha.
We designed it to give people the ability to sit at the counter or walk by and really see the show. Other open kitchens in Omaha are still closed off to the public – you can't walk right next to the line and peek in and talk to the guys and interact if you want to.
"Here, you can interact with us."
The show diners are treated to is a fast-paced ballet of efficient movements by the head chef, sous chef and support crew, variously working at a 900-degree cast-iron grill and oven and on the six-burner stove.
"On a busy weekend we pump out a hundred meals in less than an hour. Customers are like, 'Wow, you guys are fast. How do you do that?' They're intrigued with how we're able to put food out because they don't really get to see it anywhere else. To me, that's the fun part of it – people get to see what we do. When we have 300 or 400 people on a Friday or Saturday night they can see us working hard, getting the orders out right. They see there's a lot involved with their food."
Clarke's impressive chops are an amalgam of his many gigs and stops. He said the local chef community is much more generous today than when he came up.
"You were just doing whatever you thought was right and nobody ever really taught you. Back then a lot of the chefs here were not interested in teaching other people. They felt like if they taught you how to do their job they would lose their job. When I was in Chicago it was the other way around. If they taught you how to do your job, then their job just got easier. It all trickled down. If everyone has the same mentality and you've given them the tools to be great, then you don't have to be there every day."
Having two restaurants now, he said, is "a little trying." He spends most of his time these days at the start-up, Timber Wood. He said, "Railcar is what got us here and we want to make sure that continues to be successful, so we make sure we have the right people over there. My ultimate goal is to spend time at both places so nobody feels neglected. Chefs that I have at both restaurants are going to guide things moving forward.
"It's tough though because you have to figure out where you want to be, what you want to do, and I like being on-the-line. I will eventually be off-the-line a lot more. I want to be cooking more, but you've got to manage things, too."
The satisfaction he finds in his work, which is also a lifestyle, is fundamental.
"It's the artistic approach to it because I really enjoy being creative. I grew up in an artistic family (his mother was an art and music teacher and his father a farmer) and this is my outlet now in just being creative and free. When I'm on-the-line I'm in a happy place – I'm making food for people, and at the end of the day, that's what I want."
He fell in love with locating Timber Wood in the old Bookworm space, he said, because of the "great windows, openness, and natural light." Following a much beloved business is not a bad thing. "The Bookworm was here for I don't know how many years, so this space has really good memories and feelings for people. If there had been eight restaurants here I probably would never have come to this space."
Ultimately, it's the food, not the brick-and-mortar that matters, and like many of his colleagues he strives for fresh, local, sustainable.
"The biggest thing is making sure suppliers are providing you with the best product possible at the right time. As spring rolls around we'll start really getting the produce. The goal is to try to bring forth as many fresh products as possible and get it from as close as you can. It supports the community a lot more.
"The amount of options you can buy from has increased. We're starting to see more cheese, dairy and poultry farms. Ten years ago we didn't have this even though producers had the ability to do it."
Meanwhile, as if he doesn't have enough going on with two restaurants, a wife and three kids, he's visioning new eateries.
"I already know what they're going to be. As a guy who used to play a lot of chess, I'm always thinking four or five moves ahead of the game to see what else is available when the time's right."
Clarke's proud to be a player in this ever more dynamic food scene that's gotten some of his friends and colleagues national attention.
"I don't think Omaha is a flyover city anymore. People are excited to actually be here."
Hours for Timber Wood, 8702 Pacific Street, are: 11 a.m. to 9:30 p.m. Monday through Thursday; 11 a.m. to close on Friday. And 9 a.m. to close on Saturday and Sunday.
Visit https://timberomaha.com or call 402-964-2227.
Leo Adam Biga
Leo Adam Biga is an Omaha-based author-journalist-blogger. His books include Alexander Payne: His Journey in Film, Crossing Bridges: A Priest's Uplifting Life Among the Downtrodden and Memories of the Jewish Midwest: Mom and Pop Grocery Stores. The University of Nebraska at Omaha graduate contributes articles to newspapers and magazines. His work has been recognized by his peers at the local, regional and national levels. Sample his eclectic writing at leoadambiga.com or www.facebook.com/LeoAdamBiga.
---
Related Articles
The Holiday season brings with it shorter days, colder weather, work parties, friend's parties and family gatherings. It can be
It is back to the future for Anne and Craig McVeigh and their new Beacon Hills restaurant at 6750 Mercy
The First Annual Omaha Doughnut Shootout was held February 13th at The Waiting Room Lounge, Krug Park and Reverb Lounge.
Only registered users can comment.