Chef-Owner Jenny Coco Proves She Can Hang with the Boys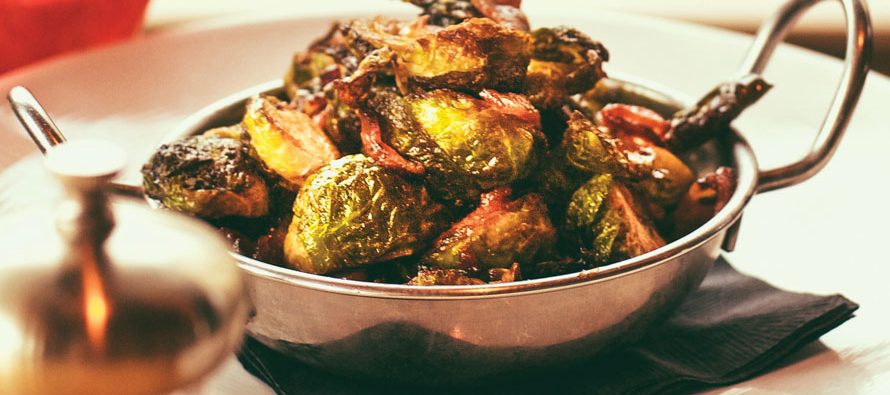 In the male-dominated culinary field men get the lion's share of attention. In Omaha, Clayton Chapman and Paul Kulik headline a deep roster of acclaimed chefs. But at least one woman, Jenny Coco, has proved her chops compare with anyone's, regardless of gender.
Coco doesn't make a big deal about breaking down the doors to this exclusive boys club.
"It takes a certain personality, male or female, to do this and we all have the same type of mentality I think," she said. "Since our brains are wired very similarly, it doesn't matter that I'm a woman. I mean, if I wasn't meant to be doing this, I wouldn't be doing it."
Besides, she added, "I know I can hang with them."
Like the best of her male colleagues in town, she's been nominated for the prestigious James Beard prize. Unlike many of them, she never went to culinary school. She's learned everything she knows working on the line, reading and absorbing things where she finds them. The Omaha native paid her dues at landmark Omaha eateries. She did her first professional cooking at the Baking Company in an all women-staffed kitchen – a rarity then and now.
Though she doesn't consider herself a trailblazer, she's well aware that women chefs are still few and far between and often face a tough road.
"I don't want to see that keeping other women from jumping in and I'm finally seeing that change," she said. "I can count on one hand how many women I worked with after the Baking Company 30 years ago. There's just not a lot of women chefs. A lot of them still do pastry. There's so much more now though, there's so much talent."
She's heartened by the many talents, male and female, emerging from Metropolitan Community College's Institute for Culinary Arts.
"They're woven into the fabric of kitchens all over the city. There's so many restaurants in this town," she continued, "that opportunities abound for young chefs starting out here or going away for more experience and coming back to make their mark."
Coco really honed her skills at V. Mertz and the Flatiron Cafe, where she developed a following.
Then, in 2012, ready to break from her chef-for-hire career, she opened her own J. Coco restaurant. The chic, not fussy spot at 5203 Leavenworth is all about her fresh take on traditional dishes using refined yet simple techniques and fresh, quality ingredients. Like so many of her contemporaries, she passionately elevates American comfort food to new heights, whether the espresso and chili-rubbed pork chop or peppercorn and porcini-dusted ribeye.
Directly across the street is a venerable bakery and cafe, Gerda's, which features a German slant on comfort food. Its namesake proprietor is also female. Indeed, Coco said the stretch of Leavenworth from 52nd to 48th Streets includes more than a dozen female-owned businesses.
It's a full circle life for Coco. As a girl she ate home-cooked meals that her mother, Joan Militti, who went from lunch lady to school District 66 food services manager, prepared. Now Coco's putting a gourmet stamp on things like oxtails, short ribs and mac and cheese that she grew up eating.
"It's just taking what everybody recognizes and maybe showing them something different or doing a new twist on things. I want to make sure my food is prepared properly and is as approachable and clean and simple as possible, so that we're always on people's radar. Maybe we're not breaking down the culinary walls, but you're going to get a wonderful meal here and we work very hard at that."
Tradition is important to Coco, who located her restaurant in the former Wohlner's grocery store. The iconic Wohlner's occupied the brick building from the 1940s until moving a few years back. Before that, the structure housed another grocer, Newman's. All this matters to Coco because her great-grandfather was part owner of Kotera & Sloup Staple and Fancy Groceries generations ago. A blown-up black and white photograph of that store's proprietors proudly standing in front of their wares pops at one end of J. Coco. Adorning another wall are oversized prints picturing vintage goods from Wohlner's.
Always wanting a neighborhood place of her own, she knew she wanted the Aksarben-Elmwood space as soon as it became available.
"It's a beautiful building with a good history to it. We wanted to keep the neighborhood connection. There were such strong feelings after the store left. People were so mad. They liked seeing their neighbors here. They liked coming every day and grabbing the food for that evening's dinner. It was part of their thing, their day, their routine and then it was gone and being in this neighborhood here I know that's who are going to support us day in and day out.
"Residents of this neighborhood and surrounding neighborhoods are dedicated, devoted, supportive. They prove it over and over again. They're not going past 72nd (Street) – they're here and they don't want to go anywhere else."
She said she's taken pains to make her place "very comfortable," adding, "It's like eating in my dining room at my house. We have family pictures up at home, so why wouldn't we here?"
With J. Coco established, she's about to open a second, as-yet-unnamed, spot on the southeast corner of 50th and Underwood, in a building that's seen much turnover and recently suffered a fire.
"It's a big space we're planning on dividing it to have two concepts under one roof. One side will be a lounge-bar with craft cocktails and late night food. That's where the restaurant side comes in. It will keep regular restaurant hours and then close down, but the bar side will be able to serve food later. There's nobody doing late night food.
"What I'd like to move into now is more playful. Like doing a food truck inside that serves street cuisine or updating the Cheese Frenchee. I want to feature small plates that people can share. That's how my friends and I eat when we go out."
She said she meant to take J. Coco in a similar direction, and she has pared down its entrees and expanded the starters, but she and her patrons weren't ready for it.
"I wanted this to be a complete break from what I've always done but the customers wanted to see an extension of Flatiron. That was my comfort zone, too. I knew how to cook that style of food."
Having her own branded place in J. Coco meant quite a leap for her.
"After spending 20 years hiding in the kitchen to now having my name on the wall has been different. People expect to see me when they come. They want to talk to me. So, now I split my time half and half between the kitchen and the front of the house. It was difficult at first. But if people can't put the face to the experience, they're not coming back. They like that connection. They like you to remember their name or their favorite drink or entree, and that's nice, too, because people have been supporting me for so many years. It's just a small gesture to be able to thank them face to face."
She's out front more, too, because she's overseeing construction of the second restaurant, which she expects to open May 1 or after, once behind the cold storage doors have been stocked ready for the first night of customers.
Another reason her kitchen time's reduced these days is that she has a capable cook in Pedro Garcia, who was with her many years at Flatiron before following her to J. Coco. Another member of the kitchen team she led at Flatiron also followed her to her restaurant.
"They're just blossoming and that was my goal. At Flatiron I got to spread my wings and experiment and teach myself and that's the kind of kitchen I want here. While I might not be cooking every day, I'm a resource. But mainly it's their turn and they're taking the ball and running with it. If I'm there blocking their rise, then what's the point."
She said whether cooking in the back or meeting-greeting up front, it's evident how much more sophisticated diners' palates have become.
"The Food Network and Food Channel have brought a great education to everybody," she said. "People are more engaged with what they're eating. They want to talk it about more. They want more explanation. People want to know what they're eating, where it's from. They want to feel involved, where years ago I think they just wanted to be told what to eat. They just don't want to be told anymore."
She said diners want farm to table food that showcase fresh, local, organic, sustainable products, which are the same things Coco strives to provide with the help of area small growers and producers. While she said ingredients once difficult to find here are now available, more work needs to be done to cultivate farmer-chef relationships in order to take full advantage of Nebraska's vast arable land.
Coco said the restaurant business isn't for everyone because of the long, crazy hours that mean missing family events. Running any business comes with long hours, but restaurant owners can spend even more hours at their establishment sorting everything out. It's a difficult job, but Jenny seems to cope. She has to cook the food and ensure it's all meeting health and safety regulations, whilst also running the administrative side of the business too. However, she is thinking about investing in PEO services. For those wondering "what is a peo", they combine multiple administrative duties into one platform to make it easier to run a business. Perhaps that would save her time on the admin side of the business.
"I know what I've given up," said Coco, who's married with two step-daughters.
Knowing that her artistry satisfies patrons makes it all worthwhile.
"When people love it, well, what could be better? I have a talent, a gift and I want to share it and when people love it that's pretty amazing. When the room's humming, it's a pretty awesome feeling, it really is. There's no better feeling."
Coco's never been tempted to try her hand outside her hometown.
"I don't mind being in a little pond if I can be a little bit bigger fish."
Now that J. Coco's going on five years, she wants it to be an institution.
"I want to be here for the long haul. We don't have to be top of the heap – we just want to be part of the heap. Slow and steady wins the race. We're here to finish."
Business is good.
"I think we're doing okay. Our weekends are always booked. You always need reservations."
Frequent parties and a brisk catering trade boost revenues.
Though several blocks south of the hot Dundee food strip that has Mark's, Dario's, Avoli, Pitch, Paragon, Amsterdam Falafel and others, J. Coco's benefits from the foodies those places draw,
"Dundee had paved the way. They were already bringing people to the area when we opened. That was a big thing. We need more. That's what makes it all work.
J. Coco is open for lunch Monday through Friday from 11 a.m. to 2 p.m. and for dinner Monday through Saturday from 5 p.m. to close.
Call or 402-884-2626 or visit jcocoomaha.com.
Leo Adam Biga
Leo Adam Biga is an Omaha-based author-journalist-blogger. His books include Alexander Payne: His Journey in Film, Crossing Bridges: A Priest's Uplifting Life Among the Downtrodden and Memories of the Jewish Midwest: Mom and Pop Grocery Stores. The University of Nebraska at Omaha graduate contributes articles to newspapers and magazines. His work has been recognized by his peers at the local, regional and national levels. Sample his eclectic writing at leoadambiga.com or www.facebook.com/LeoAdamBiga.
---
Related Articles
Turn on, tune in, eat out. Much as Timothy Leary put in words the driving idea of the 60's LSD
Publisher's Note: Omega Omega Omega (Tri Omega), the culinary fraternity at the Institute for the Culinary Arts at Metropolitan Community
We've all been there: Unable to find the time to make dinner, not wanting to leave the house due to
Only registered users can comment.