Crafty Cocktails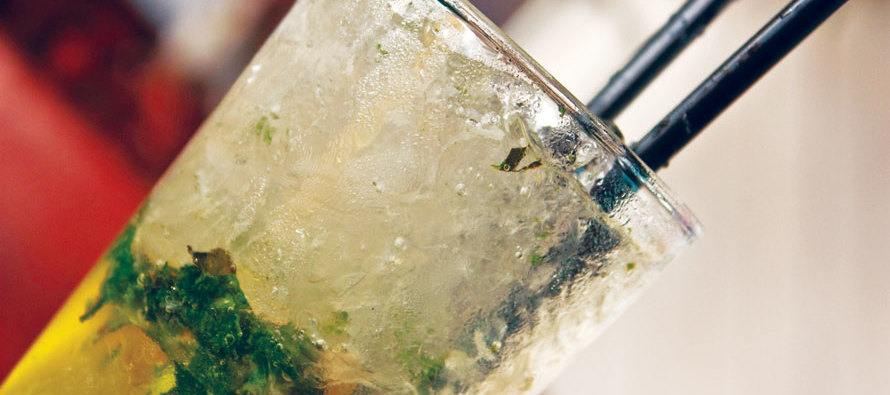 Yet another atomic bomb has landed in the bar and alcohol world. This one is called Craft.
We're in a slow progression away from the wonderful classic cocktails of yester-years such as the Manhattan and the Negroni, as well as both the traditional old fashioned and its modernized cousin. It has become a new challenge for bartenders to create something new and exciting for you, the hearty (or casual) drinker. These new concoctions have been labeled by many as "craft cocktails," but what does that even mean?! This article, hearty drinker, will figure out just what those two words tied together really mean, both to the bartenders behind the new wave drinks, and to those of you who are daring enough to drink these crafts.
To begin with it, it might be easier to figure out what each word means on its own:
Lets begin with the word cocktail, which according to Dictionary.com, means "any of various short mixed drinks, consisting typically of gin, whiskey, rum, vodka, or brandy, with different admixtures, as vermouth, fruit juices, or flavorings, usually chilled and frequently sweetened."
That's a rather unsatisfying definition but an honest one nonetheless. The Jack and cokes, or gin and tonics served at every bar is indeed a cocktail. How does a cocktail become that of the craft-y variety?
Let's now look at the word craft to try to differentiate between a cocktail and a craft cocktail. According to Dictionary.com, craft means: "an art, trade, or occupation requiring special skill, especially manual skill: the craft of a mason."
Speaking from personal experience, bartending is most definitely an occupation that requires special skills, but I'd never thought about it as art.
With the new craft cocktail revolution it's hard to say that what is poured into your glass is NOT a piece of art. The bartender has now become an artist, his canvas is the empty space in a glass, and his paint brush is a jigger. These cocktails are similar to sitting in front of the Mona Lisa or a Monet, awe inspiring to your taste buds. They should make you ask yourself "how did he do that?"
They have to be both appealing, in presentation, color, the glassware that it goes into, as well as once you take your first drink, then your second, and so it goes. The flavor has to be balanced, it has to quip your interest, and having the key is to be using fresh ingredients and typically seasonal ingredients as well. Simply put, a craft cocktail is "a non-classic using all fresh ingredients" according to Jake Moore from The Berry & Rye.
It's also been said that craft cocktails should take time, effort and imagination far beyond what it takes to pour a vodka soda. Jason Hutchinson from Jake's Cigars and Spirits in Lincoln defines a craft cocktail as "simple and rustic. The term craft itself means that it should take some time, preparation and presentation."
Many craft bartenders have started to do a lot of the work themselves. They no longer rely on buying their simple syrup, instead they make it themselves, putting their own tweaks on the sugar water to enhance it for certain cocktails. Alex Jochim of Jake's Cigars and Spirits has been making flavored simple syrups to enhance a drink beyond the simplicity of regular simple syrup. He's made rose water simple syrup, and lavender simple syrup that is featured in the cocktail called the Benalto.
Beyond personalizing the ingredients that go into each cocktail, Hutchinson also states "many people think a craft cocktail is incredibly complicated. It should be a drink that highlights the alcohol of choice used, pairing it with combinations not thought of before to make your drinking experience more exciting."
It is the bartenders that are doing the extra work behind the scenes that are creating these intriguing combinations that surpass the everyday imagination. For many craft cocktail chemists it takes a lot of trial and error to discover a beautiful masterpiece for your enjoyment.
Jesse Erickson
I'm the college drop out that ended up falling into a job that I love, which is bartending. I was majoring in English Lit, which is why I love to write. And since I know booze, what better thing to write about? I also have the cutest puppy that has ever existed.
---
---
Related Articles
Anyone who has ever sat in gridlock on the 405, or even just hit I-80 at the wrong time of
Imagine creating an appeal to a global company whose business plan is, metaphorically, carved in stone. Picture the change is
For many of you, the universe of beer spans about 20 feet and is contained within your local grocery store.
Only registered users can comment.