Experience Midwestern Wine Country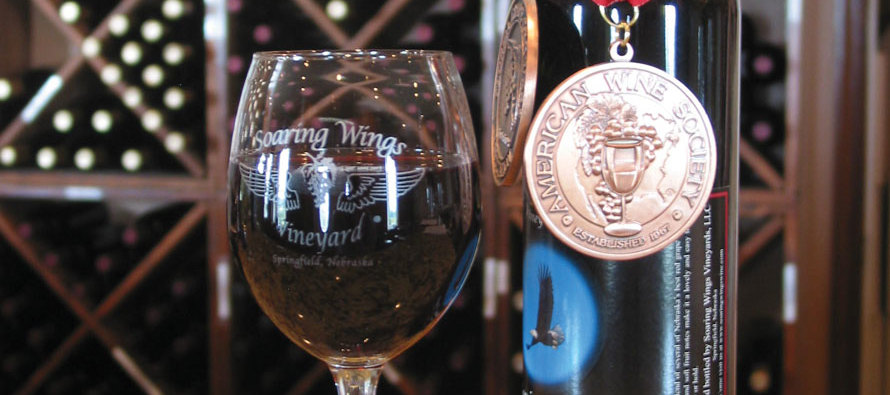 Wine drinkers as a group are known for being very knowledgeable consumers — sometimes having more knowledge than their bartenders, waiters or retail clerks. This is because the natural inclination for a wine 'fancier' is to move from drinking wines to studying wines, with a typical waypoint being the desire to visit a vineyard or winery to see actual production.
With that in mind, it's not all that surprising to find that many in the Omaha metro make wine discussion, selection, and consumption an integral part of their dining and entertainment experience. What is surprising though is that not many of those consumers know the hidden pleasures that are in their own backyard.
The would-be wine expert, and connoisseur alike, has dreams about visiting faraway vineyards or wineries in Europe, California, or Australia. They see pictures in books or on the internet of gorgeous vineyards and extravagant wineries. They watch wine-based movies like Sideways or the more recent A Good Year. "One day," they tell themselves, "I will find the time and money to travel to a vineyard."
Some of these enthusiasts will indeed find the time and resources for a trip to Sonoma Valley or the Bordeaux region of France, but many others will find that wine vacations take a backseat to visiting family and friends and it can be difficult to find time to visit a vineyard. But there is an easier solution if they just realized that the vineyard and winery experience, the fulfillment of anyone's wine desires, lies within mere minutes of Omaha.
Jim and Sharon Shaw of Soaring Wings Vineyard (www.soaringwingswine.com) have been producing award winning wines just outside of west Omaha for nearly five years, with Jim's winemaking experience extending all the way back to a batch he made at age 13.
Located on 138th Street near Springfield, Soaring Wings can be reached simply by taking 144th Street South, followed by a left and right turn only 6 minutes from I-80. One of Omaha's best kept secrets, the vineyard and winery are located on a majestic hilltop overlooking lush, rolling hills filled with 7 acres of grapes including Frontenac, Traminette, and Chambourcin. The winery has recently recognized at the "Best of the East" awards for two of their offerings Their 2005 Winter White and Dragon's Red. The Dragon's Red also received the additional distinction as the top American Red Hybrid Wine in the East.
In addition to a vineyard, wine production and storage areas, and a tasting room/gift shop, Soaring Wings also features a full restaurant kitchen and banquet room as well as a large patio overlooking terraced landscaping and a stage for live entertainment.
Along with 45 minute tours and $5 wine tastings, the winery offers those wanting to learn more about wine regular "Meet Your Winemaker" dinners. These events allow beginners and connoisseurs alike the opportunity to enjoy a five course meal and wine pairings, prepared by Executive Chef Paul Pleskach, with Jim and fellow wine enthusiasts. The next dinner is scheduled for Saturday, October 20th.
For those wishing to learn more about the agricultural side of wine production, Soaring Wings invites the public to help during the grape harvest. On weekends from mid-August through late September, adults are provided with free lunch and a bottle of wine for their efforts, while non-profit groups receive reimbursement for every pound of grapes they pick.
The wine harvesting season is traditionally ended with a Harvest Festival that includes wine tasting, two person grape stomping competitions and live music. Soaring Wings' 2007 festival is Saturday, September 22nd from 11 a.m. to 9 p.m.
A former band member and music lover, Jim turned Soaring Wings into a venue for the top Contemporary Blues concert in the nation last May, attracting over 1,000 attendees from all over the country. He has scheduled an eclectic mix of Contemporary Jazz and Blues bands as well as folk rock every Friday night from 7:00 to 9:30 p.m., including regular appearances by well known local performers that include Novak and Harr, Steve Thornburg, Mark Irvin, and the Bill Ritchie Trio. Admission is $5 and attendees can purchase wine and food in the facility's gift shop before having a seat on the patio or on a blanket in front of the stage.
Jim, now serving his second term as Chairman of the Nebraska Winery Council for the Nebraska Winery and Grape Grower's Association, has helped spearhead an effort to make all of Nebraska's wineries more recognized. Www.NebraskaWines.com is the culmination of a marketing partnership between Nebraska wineries from as far Southeast as Brownsville (Whiskey Run Creek) and as far Northwest as Crawford (The Last Chance Winery). Focusing on education and awareness, the website provides detailed information on several wineries including event and vacation package information for weekend getaways.
For those wishing to head East rather than West, Iowa also has its fair share of vineyards and wineries. Adventurers need only head south on L Street for an hour to nearby Carson, Iowa to find Whispering Hills Vineyards (www.whisperinghillsvineyards.com).
Owned by Mike Killinger, the 8 acre vineyard was converted from his family's diversified farm six years ago and currently consists of Edelweiss, St. Croix and Marchel Foch grapes, to name a few. Tastings and events are carried out in a 100 year-old barn that has been remodeled and redecorated southwestern style, complete with a bar, gift shop and banquet facility. The winery has been recognized for many of its "cold" grape offerings including Edelweiss, as well as fruit wines including Concorde raspberry and apple wines.
In much the same way that Nebraska wineries are banding together for the good of all, seven of the wineries in Southwest Iowa recently joined together to form The Western Iowa Wine Trail (www.westerniowawinetrail.com). The organization's signature event is called "Grilling with Iowa wine" and is aimed at providing entertainment and value for visitors to all seven wineries. Individuals interested in participating in this event purchase a "passport" before heading out to visit the wineries, and are given different pieces of a wine picnic set at each stop.
While it is possible to hit all seven wineries in one day, local bed and breakfasts and loads of small town charm make extending the trip to a whole weekend a pleasant idea.
Shaking hands with the producer of a wine you enjoy is not only gratifying, it may lighten the load on your pocketbook as well. If you find a particular winery or wine that catches your fancy, several of the wineries in both Nebraska and Iowa offer membership programs that include discounted bottles and cases as well as access to special private events. Whether you head East or West to visit a winery this harvest season, the experience is one to be relished … and within mere minutes of the Omaha metro area.
Matt Ronco
Born to Marine parents in Camp Lejune, North Carolina in 1981, Ronco spent most of his younger years growing up in Bangor, Maine, just two hours from the ocean. His geographic location allowed him to experience a variety of seafood, with lobster and scallops topping his list of desired ocean fodder. Matt began his food and beverage career at the Crossroads Garden Café while attending middle school. In high school, he served as a busboy and dishwasher at Sushi Ichiban, formerly located at 84th and Dodge streets.
---
Only registered users can comment.