Extraordinary Argentine Wine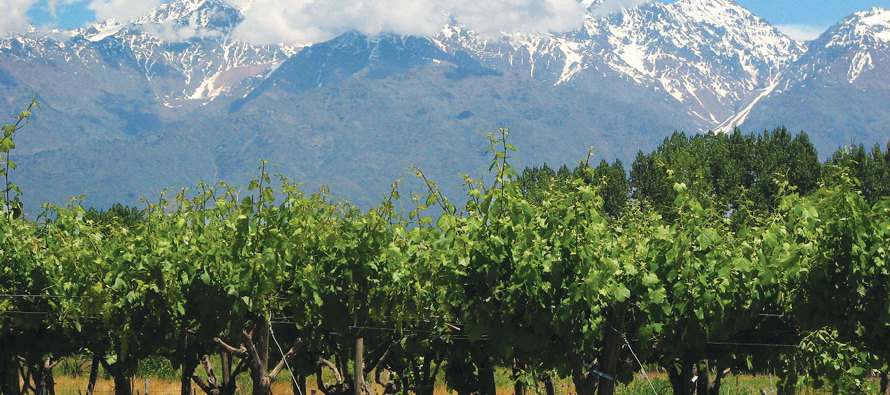 Every day I wake up and feel lucky to get to do the work I do. As a wine industry professional, I am often a guest at fabulous dinners, I meet winemakers from all over the globe and taste their art, and I travel to some extraordinary places. I consider myself an 'experiencer', always ready to try something new. I think that is what attracted me to wine in the first place. Wine is, in itself, an experience. There is something romantic and adventurous about popping the cork on a bottle of wine and tasting what's inside. Whether I'm drinking it for the first time or revisiting an old favorite, there's always that moment in the first few sips where I simply forget everything else and just experience all the aromas and flavors the wine has to offer.
A few months ago I was invited on a wine education trip to Argentina. I had not been to South America before and, besides enjoying the heck out of a Torrontes poolside or savoring every sip of Malbec with my barbecue, I really didn't know much about the country's winemaking practices. It was an invitation I readily accepted. I packed a bag, said goodbye to the Midwestern subzero temperatures and headed to Mendoza in the middle of their summer. I should also mention that just the week before I broke my leg in a skiing accident (see above statement about me being an 'experiencer') and was eager to heal whilst sipping some fantastic wines.
A Bit about Argentina Wine
Argentina is the 5th largest producer of wine in the world, an impressive and baffling statistic, considering up until the last few decades it was extremely rare to find Argentine wines in the US. That's because the Argentine people consumed almost all of the wine they produced, about 26 gallons per person annually (a US person consumes between one and two gallons annually). That's a lot of wine! However, in the 1990's, due to political and economic shifts, they started exporting a significant amount of their wine and now North Americans can purchase and enjoy some of the finest products the country has to offer.
Argentina's wine country is located at the desert-like foothills of the Andes, in the West Central part of the country. Argentina boasts some of the highest altitude wine regions in the world. Because of the height at which the vines grow, they receive copious amounts of intense sunlight (320 days per year on average), very little rain (8-10 inches per year) and are subject to erratic weather from the Andes. During my January visit, the middle of their summer, the Zolo vineyard received significant damage from a hailstorm that blew down from the mountains. This is not an unusual occurrence. In fact, many of the canopies are covered in mesh netting to minimize damage from these types of storms.
Because of the desert climate in which these vines grow, water is an issue. In Argentina, the Government controls the water and dictates how often the vineyards receive water. When they do receive their water they completely flood the vineyards to ensure the vines receive the maximum amount of water possible, especially during crucial growing times.
Argentina is most known for Malbec, a grape originally from Bordeaux and transplanted to Argentina during the Phylloxera epidemic in the late 19th century. While Malbec is difficult to grow in Bordeaux, it thrives in Argentina and they are able to produce some wonderfully complex yet smooth Malbec wines. But Argentina grows much more than Malbec. They make wonderful white wines like Torrontes, Sauvignon Blanc and Chardonnay and rich, robust reds like Merlot, Bonarda and Cabernet Sauvignon.
My Wine Tour
Our group first visited the Altocedro vineyard, located in La Consulta, about 60 miles south of Mendoza. Winemaker Karim Mussie Saffie took us on a tour of the winemaking facilities, and I was amazed at the traditional style of his winemaking methods. Saffie prefers to use the traditional cement tanks for fermentation and aging. According to Saffie, the porous nature of the cement allows for consistent flow of oxygen, creating richer, more flavorful wines. He also uses a 100 year old gravity flow system for extracting the juice as a gentler alternative to other crushing techniques. When we had an opportunity to try his wines, every bit of tradition and quality control came through in each delicious sip.
La Consulta is known for growing flavorful red varietals, and Altocedro grows Malbec, Cabernet Sauvignon, Temperanillo and Syrah for their wines. Their Malbec is juicy and complex, and filled with wonderful aromas and flavors of lavender, black cherry and pepper. Their Temperanillo is well-structured and layered with tar, black fruits and violets. But arguably my favorite of all was the Altocedro La Consulta Select, a blend of Malbec, Cabernet Sauvignon, Temperanillo and Syrah. It's an incredibly inky, rich, robust and delightful wine that changed with every swirl of my glass. I found hints of blackberry, bittersweet chocolate and smoke, and a delightful herbs de Provence undertone. After tasting, Saffie led us in a blending game, where we tried to create an identical blend to the La Consulta Select using beakers and bottles of the different varietals. This exercise cemented my fate as a wine salesman and not a winemaker, as my blend was nothing like the original. It has, however, given my friends and me hours of fun blending wines together to see what we can come up with.
We next went to San Carlos to visit the TeHo and ZaHa vineyards. Located in the Uco Valley, the San Carlos area lies 4,000 feet above sea level. With its high altitude, cool climate and diverse soil composition, this area makes incredibly interesting wine. Both the TeHo and ZaHa Malbecs were inky, rich and complex, and tasted of smoke, lavender, sandlewood and the beautifully juicy blackberry flavors. These wines are definitely a splurge, but absolutely worth it. They are delightful.
My favorite visit of the trip was to the Tapiz Vineyards, one of Argentina's most renowned and awarded wineries in the Uco Valley. The property was breathtaking. Between the man-made irrigation pond, the miles of green vineyard canopy and the majestic Andes Mountains in the background, it was truly a sublime view. Anyone wanting to experience the Andes and the Patagonian region of Argentina may want to consider going on Global Basecamps tours and trips to see its incredible natural beauty firsthand.
Fabian Valenzuela, the winemaker, gave us a tour of the property and we sat with him and tasted through their new "Alta Collection" of wines. The Alta wines are a collaboration of Valenzuela and renowned French winemaker Jean Claude Berrouet, who spent 44 years as the winemaker at Petrus. Together they created a group of wonderfully full-bodied but elegant wines that deserve placement on any restaurant wine list. I've been considering hosting a party in the summer and wasn't sure How to source sustainable wine for a wine list, but now I know how. The collection they have includes Rose of Malbec, Chardonnay, Malbec and Cabernet Sauvignon. I enjoyed every one of them, but the Rose was, hands down, my absolute favorite. With its hint of ripe, red fruits and the perfect amount of mouth-watering acidity, it definitely secured a spot on my "last meal" wish list.
After the tasting and lunch of empanadas (I should mention that each day I was there we enjoyed empanadas, each prepared a little differently. These were cooked over an open fire and were arguably the best of the trip) we were treated to a horseback ride through the Tapiz Vineyards. While gently trotting through the Tapiz vineyards on the back of El Cantador (my horse), I remember seriously contemplating moving to Argentina to become a wine drinking Gaucho.
We spent the afternoon at La Madrid Winery in the Agrelo District of the Lujan de Cuyo province. Agrelo is one of the oldest and most premier wine growing regions in Argentina, and each of the LaMadrid wines is made from grapes from one of three vineyards in the area. Winemaker Hector Durigutti strives to showcase the classic and beautiful terroir of the area, and his wines are all elegant, full and well-balanced. My absolute favorite of the collection is the La Madrid Reserva Bonarda. If you haven't had Bonarda before, I highly recommend trying this one. While Argentina is known for their quality Malbecs, the Bonarda grape is actually the more widely planted varietal. It produces the juiciest of wines, with flavors of plum, mulberry, damp earth and spice box throughout.
Our final vineyard visit was to Zolo, owned by Patricia Ortiz (who also owns Tapiz). Zolo strives to make outstanding value wines (about $12 retail), and gets their juice from a multitude of estate vineyards throughout Mendoza. She treated us to a carriage ride through the Zolo property, and I was amazed at how many different soil types I saw in such a small geographical space. Tapiz winemakers Valenzuela and Berrouet also make the Zolo wines, and we tasted their Torrontes, unoaked Chardonnay, Malbec, Merlot, Bonarda and Cabernet Sauvignon. I absolutely adored the Torrontes with its crisp acidity and citrus flavors. It's a perfect summer wine.
Over the course of the tours it was interesting to learn about all of the different winemaking practices taking place within such a relatively small region. What they all had in common, though, was impossibly high standards and a commitment to making truly beautiful wines. I came away from the trip with a deep respect for the winemakers and vineyard managers, as they continually navigate varied soil composition, drought and erratic weather conditions from the Andes to make outstanding wines every year. As for my dreams of becoming a wine drinking Gaucho…I am already planning a return trip to do just that.
Publisher's Note: Wines mentioned in this article are distributed in Nebraska by Quail Distributing and in Iowa by Global Wines.
Evie Clercx
Evie Clercx owns Empire Beverage Group, a beer, wine and spirit brokerage and brand management company that services the ND, SD, NE, IA and ID markets. Prior to starting her brokerage, she worked in the wine and spirits distribution, restaurant and marketing industries. Evie's passion is pairing food and wine, and she regularly conducts wine training seminars that focus on basic varietal knowledge, wine service and wine and menu pairing to restaurant professionals.
---
---
Related Articles
Previously I had written a rather playful article on the lighter side of casual wine tastings and the characters we
Macanudo, Punch, Romeo y Julieta, Hoyo de Monterrey, Partagas, Montecristo, Cohiba. If you've ever smoked a premium cigar in your
When driving through Bellevue, whether up on Cornhusker or heading down Galvin Road to Offutt AFB, one will see a
Only registered users can comment.