Farine + Four Opens Its Doors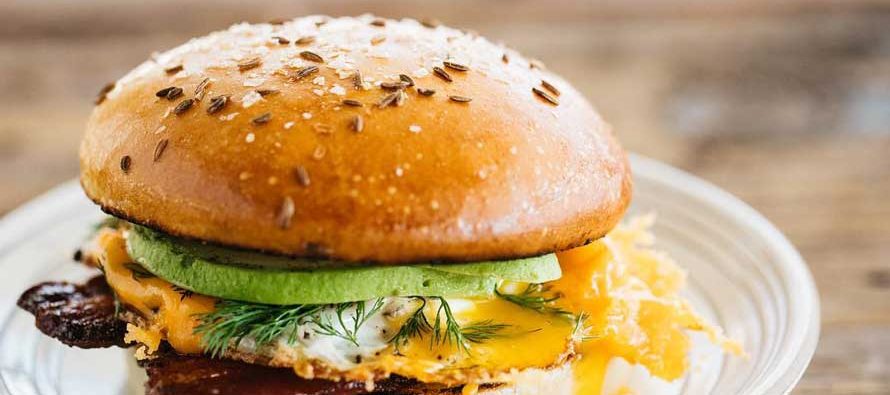 The sun rises over Leavenworth Street every morning, streaming through Farine + Four, a daytime restaurant and bakery.
Arriving at 4:30 a.m. isn't always easy according to Ellie Pegler, the owner, who begins baking and prepping before the sun even has a chance to stream through the giant windows lining the walls of 3020 Leavenworth St. in Omaha. 
Pegler is used to the dread of the early morning baking shifts, having worked as the head baker at the two Michelin-starred restaurant Aquavit in New York City by day and attending the French Culinary Institute (now the International Culinary Center) by night. But culinary school was not always in Pegler's cards.
Pegler graduated from the University of Nebraska – Lincoln with a degree in political science and Spanish. Having worked at the Cookie Company in Lincoln for nine years throughout high school and college, Pegler wasn't a complete stranger to being in kitchens.
"But at that time, it was never something I was taking seriously," Pegler said. "It was totally different."
With her future set on law school, she moved to Santiago, Chile before coming to the realization that she was not yet ready.
"I kept putting off law school for so long that I figured there was probably a reason for it," Pegler said. "And the one thing I always liked doing was being in a kitchen."
At the International Culinary Center, Pegler studied the culinary arts, bread, and wine programs. It was here where she met Brett Regot, a friend and now head of the savory program at Farine + Four.
As Pegler worked in kitchens throughout New York City, Regot worked as a food stylist for Bon Appetit and Food & Wine magazines, working on cookbooks and diving into the culinary editorial world in NYC. But they both quickly grew tired of the city's grinding culinary scene.
"I got to a point in New York where I felt like I wasn't learning that much anymore, and I was skipping all of these holidays because I was working in the kitchen," Pegler said. "I wanted to do it on my own and have my own concept."
So she enlisted Regot's help, suggesting that he make the move to Omaha.
"When he told me he was coming to Nebraska, I highly doubted he would actually move out here," Pegler said. "But he did! And it's so wonderful having him here."
Opening this past January, Farine + Four offers breads, laminated pastries such as croissants, chocolates and savory products such as the spicy fried chicken sandwich. Come the summer, Pegler hopes to begin making and serving ice cream and acquire a liquor license so customers can relax on the patio and sip on hand-selected wines – Pegler is a certified sommelier thanks to her wine program at the French Culinary Institute.
In addition to the upcoming drink options, Pegler is adding a full-size mill from New American Stone Mills, located in New York. In addition to milling flour for the bakery, Pegler wants to offer wholesale milling, so people can come and have their flour milled to order like coffee beans.
"We're trying to educate people that flour is not actually shelf-stable."
Farine + Flour currently uses organic flour, and all rye and wheat flour is milled in house. The grain is sourced from Bob's Red Mill out of Oregon, but Pegler said she would love to go as local as possible. Vegetables arrive through Farmtable delivery, a company that works with small and mid-sized farms to bring organic produce to Omaha, and milk and cream from Kalona SuperNatural in Iowa.
Staying organic and simple is the root of the company, with the four main ingredients found in naturally leavened bread – flour, water, salt and levian – entwined into every part of the space. This detail is as broad as the colors of furniture to the very name of the space, Farine + Four translates to Flour + Oven in French.
Farine + Four is open Wednesday through Sunday through the lunch hours, though Pegler says they may extend their hours once the summer approaches. With the upcoming menu items, Pegler is optimistic for the future of the space.
"People here really believe in the product because they want to see great food go out."
---
Related Articles
I recently read an article suggesting that the existence of the American dive bar is being threatened by the onset
People have their favorite places to eat for a reason. Some people want to experience Live Music in Katy, TX
Ok, so I've been working in the kitchen at B & G Tasty Foods for about 15 years now. I
Only registered users can comment.