Finding the Food: Lincoln Highway and Elkhorn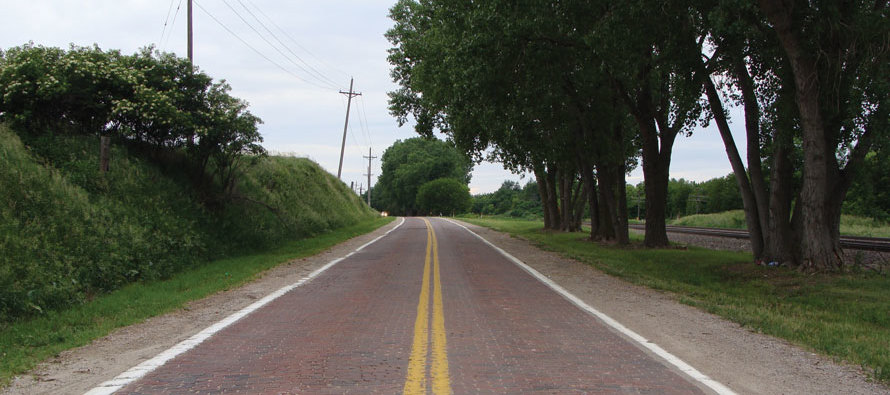 My latest adventure to find pockets of food outside of the Omaha area didn't bring me far away from town. A short jaunt down the historic cobblestone Lincoln Highway brought me to the familiar old main street of Elkhorn. The difference was that there seemed to be an existence of life this time around. The once barren main street was now bustling with four restaurants of different ilk. I decided to call this trip good right there, and started digging into what Elkhorn now offers. The four restaurants on the strip are Boyd & Charlie's BBQ, Bella Vita Restaurante, Heartland Café and Shevy's Sports & Steaks.
I made three trips to the area but unfortunately did not get to Bella Vita before my deadline; I was saving that for last as the authentic Italian restaurant looked to be the most interesting and unique. Here's what I do know: The restaurant's lunch prices are in the $10-15 range and feature standard fare such as Fettuccine Alfreado, and their Lasagna Rustica to more creative dishes like the Pollo Sicillian, which is listed as marinated chicken breast sautéed with onions, garlic, capers, artichokes, fresh tomatoes and herbs in a white wine reduction. The dish is served with herb-buttered pasta. Their dinner entrée's go from $15 to just over $25 and feature, among other items, a New York Strip, a braised pork shank and tilapia fillet. Bella Vita also features an extensive wine list, and upon peeking in, it looks like a charming place. I look forward to getting there soon.
I got to Boyd & Charlies BBQ first. I am always going to choose barbecue first. The restaurant has a bar and grill vibe with booths, tables and a bar. It has a bit of a suburban feel due to its knick-knacks and larger items purposely placed around the interior. The first thing that caught my attention was a sign outside the venue stating that on Saturdays one can carry out a $10 rack of ribs between 8 a.m. and 11 a.m. That is an outstanding deal for tailgating and parties, and I am told it's a popular attraction. I saddled up to the bar, and got a honey BBQ platter that I do not currently see on their online menu. These were tender, smoky ribs with a delicious sweet honey BBQ sauce — just enough for lunch and not overkill on portion size. They served the ribs with some battered fries — which I am never a fan of — which gave me a chance to taste all of their normal sauces. The vinegary sauces (which I am also never a fan of) didn't compare to the fantastic honey-based sauce that were on the ribs. There was a good bar atmosphere and the prices were reasonable ($10-15 for entrées); they served fantastic smoked meat with typical sauces. I will go back to try the brisket, pork and other meat items. It seemed like they had the smoking down just fine.
I took a couple of friends out to The Heartland Café the next weekend for an early afternoon lunch. It was a beautiful fall day and our plan was to get full before one of the early-starting Husker games. Outside we were offered a Scandinavian pastry from a very excited "salesman" at Little Scandinavia, a quaint ethnic knick-knack store on the strip. While the pastry was good, this added to the fun "walk-around atmosphere" of the area, something I feel Elkhorn residents and shop owners are going out of their way to create. We chose the patio option at The Heartland Café. It was nicely shaded, with a lawn and some murals painted on the wooded fences surrounding it. It looks like they use the area for events in the summer, and I would love to see some music there this coming year if available. The patio was a nice option but the flies were out in full force, and while this drove some inside, we persevered.
I went for the least healthy choice but the best sounding item on the menu, a meatloaf sandwich with bacon-wrapped meatloaf, served open-faced on homemade grilled rye bread with mashed potatoes and gravy. You can also have it topped with caramelized onions; I opted out of that. This was as devilish as it sounds. The meatloaf was tender and seasoned just right, and the skin-on mashed potatoes and gravy made for a solid, warm and substantial base. It was the rye bread that was winning me over. First of all, I could smell it through all that other goodness, and then it dominated in a good way when I could get all of the ingredients on the same fork. That was real-deal rye bread. The Heartland Café is also a bakery, and I have a feeling I will be making a return trip just to check out the baked goods. One of the friends in my group considers himself a chicken fried steak expert — he has literally walked out of cafés for not having the item on the menu. So he, of course, ordered the Chicken Fried Steak n' Eggs, and afterwards proclaimed them amongst the best he has ever had. After listening to him talk about chicken fried steak and some of the stories he has, I would consider this the ultimate compliment. His female companion ordered the Greek Chicken Salad; this was made from scratch with grilled chicken, feta cheese, tomato, red onion and romaine lettuce with lemon oregano vinaigrette. She also expressed a fondness for the salad. The Heartland Cafés website advertises that many blues festivals and roots-based events happened there this past summer. I hope they get the word out more on these events this year. I would like to experience those styles of music in that atmosphere.
The final trip down the Lincoln Highway happened on the first cold day of the fall. The goal was to watch some football and eat some red meat. I was one of the first and only patrons on this early Sunday afternoon. I was promptly waited on by a friendly waitress who suggested the Shevy Melt, which ended up being a sloppy mix of watery cheese and shaved prime rib on an open faced piece of sour dough bread. It was fine, but a thicker slice of meat and melting quality cheese thickly over the sandwich would have been preferred. Again, it was served with battered fries, but these didn't go over the top and were tolerable. The bar and restaurant has a good mix of meat on the menu, including a walleye, prime rib, a Kansas City Strip, and a Heisman Club Steak. The Heisman serves as a fun theme in part of the restaurant, as they have pictures of every Heisman winner surrounding the party room. There is also the main bar room and a dining room that has an old school feeling to it. I liked the small town bar vibe of the place, and that they were not trying too hard to be this uber-suburban sports bar. What Elkhorn has done with the older part of their town should be something that many small towns near Omaha should look at as a model. Putting a quality and attractive assortment of restaurants and shops will make your area a destination spot.
Marq Manner
MarQ Manner is a fan of Americana. He is interested in small town cafe's, roadside BBQ, getting a hotdog from a stand made in the likeness of George Washington, and the grittier eating atmospheres found in out of the way places. MarQ has been writing about the local music scene for The Omaha City Weekly for the past five years and has also written music features for many other rags and blogs.
---
---
Only registered users can comment.