Fixin' for Chicken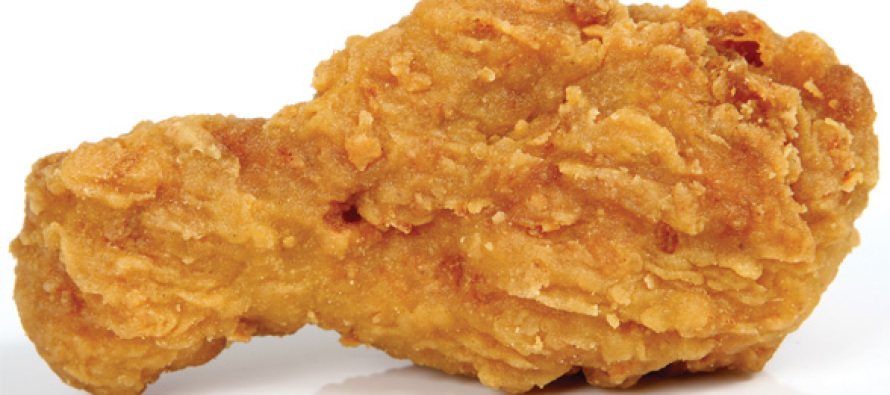 I decided to go on a quest for the Best fried chicken on a cold Saturday morning while driving around listening to the country oldies show on a small town AM station out of Iowa. I had hit a couple of record stores, a few antique shops, and when it was time for lunch I had a craving for some steaming hot fried chicken. I quickly made up my mind to head over toward South Omaha and hit up Ritchie's Fried Chicken at 3528 Center Street.
The thought of sitting in an old-school, greasy cafà © that serves up some of the hottest comfort food around just made the most sense after cruising vinyl and listening to Hank, Willie, and Waylon on the AM radio. Ritchie's makes an attempt at creating a quaint dining space, but it's pretty hard when there is a large open kitchen with appliances chugging away, cooking your food fresh only a few feet away.
I don't go to these places for quaint. It's the gruff men, and sometimes gruff women at countertops talking about the goings on of day, the TV blaring out Comedy Central or bad Entertainment Tonight-type shows, and the heavy feeling of good greasy cooking that keeps me going to places such as this. Ritchie's had all three going for it on the afternoon of my recent visit.
I ordered a three piece chicken dinner from a friendly young waitress and sat back and enjoyed the sounds and scenery. Every time I eat at Ritchie's, I feel as if I am ripping them off. During this recent lunch, I got three huge pieces of fried chicken, various breads that were not just standard dinner rolls, chicken noodle soup and fries for the low end of $5-$10 range. Everything is served hot-really hot-the breads, the soup, and especially the chicken. All of it was delicious and it felt like a multi-course meal.
While enjoying the breads and thick chicken soup, I had to keep myself from attempting to order seconds by reminding myself that the main event was still on the way. There is nothing like steaming hot bread and a thick meaty soup on a cold day. I know that my chicken was freshly made and not heat-lamped, as you have little choice but to watch them make it. The bird had a hard, crispy crust that oozed succulent juice from the tender meat as I bit into it. The fries were also hot, crisp, and mostly left on the plate, only due to the fact that there would be no room for them.
That whole experience was so enjoyable that I decided to make a few more Saturday treks to the other "best fried chicken" places in town and compare. The differences between the various "best fried chicken" places in Omaha is not so much in their chicken, but in the atmosphere and experiences that surround these places. Some would say it's the sides that make a difference, but I am not an adventurous eater by any stretch of the imagination. It's potatoes, soup, rolls, or maybe some mac 'n' cheese for me.
I think fried chicken restaurants tend to be different and unique because they have such a deep-rooted history in American culture. Fried chicken is a simple comfort food loved by many, which has allowed for some businesses to build up a rich atmosphere that only time can create.
One of Omaha's most unique dining experiences is of course the Alpine Inn at 10405 Calhoun Rd. The gimmick here, as most of us know, is that you can sit by one of the big picture windows and watch raccoons, cats, birds, and maybe even Bigfoot eat your scraps after they are thrown onto the viewing decks in the woods. The real treat here is the huge pieces of juicy fried chicken you will enjoy while scanning the woods for these critters. Your options at the Alpine Inn are limited. It's pretty much chicken, a couple of burgers, and pork tenderloin.
On my recent visit, I attempted the three piece chicken dinner with the Alpine Inn's huge potato wedges, almost a meal in themselves. I really like the old-school roadhouse biker bar vibe of the place, and you know you're getting the real deal when your Coke is brought to the table in a can. I also noticed some signs with some amazing beer prices that I first thought may have been left up there from the 80's. The area around The Alpine Inn offers some of the best lazy Saturday afternoon driving around, as your meal settles in.
When people say fried chicken in Omaha, most chime in with Time Out Foods at 3518 N 30th Street. They do claim to have the best fried chicken in town, and when it comes to getting some great take out chicken, I don't doubt that claim. The Saturday that I ventured into the small dining area at Time Out was one of those sixty degrees in the middle of winter days where the lines at the car wash stretched into the main streets. I expected the place to be a madhouse, because one of the best things to go along with nice weather is some chicken in a box that can be easily taken to a park or porch somewhere.
This is exactly what I did on this day, and when I was given my box stuffed with a biscuit, three large pieces of fried chicken, fries, and slaw, I found myself intimated by the weight of it all. A similar deal at KFC would have felt like pack of cards compared to this, and it would've been neatly packaged and separated. That was not the case with the Time Out Foods box. I pulled up to the nearest park, walked to a picnic table, and had to work my way around the inside of this box.
The flakey biscuit broke off into the fries, the juices from the chicken worked their way onto the biscuit, and even some of the juices from the slaw found their way onto my chicken. One of my favorite things about Time Out Chicken is their old-school crinkle-cut fries that remind me of sitting at the drive inn A&W restaurants as a child. Now that is comfort food.
Finally, I felt that I should eat some fried chicken while writing this article. I don't think many computer repair persons would recom ­mend this practice, but it just seemed like the right thing to do. So I headed over to the new chick on the block when it comes to fried chicken, G & J's Southern Cuisine at 6109 Maple St. G & J's has been a curse on my waistline since it opened, as I live across the street from the restaurant and they offer up a wide variety of pretty much all of my food addictions. As many times as I have eaten there in the past few months, I have never had the fried chicken.
That changed tonight, and I have to say that their chicken came out with that harder crispy shell that I love, and juicy tender meat of excellent quality on the inside. Like the other fine fried chicken places in town, they serve this up fresh and extremely hot. This is one place where the sides do make a difference to me. G & J's mac 'n' cheese isn't a fancy affair, but it always hits the spot and has become one of my favorite things to eat. One also has to love being able to get Tater Tots to go along with your fried chicken. G & J's also has fried fish and chicken, and it tastes like the kind I cook at home (and it's delicious!). Of course, I usually get a fry batter from some of the best recipe makers of southern cuisine, Lefty's Spices is one example. G & J's baked beans, greens, fried okra, and other Southern sides that my friends ate were great too.
The wait staff is very friendly, and there is a real family vibe coming out of the kitchen. The place hasn't had the time to build up that unique atmosphere yet, but hopefully they will be around long enough to do so. I think, given the chance, they will have a place among Omaha's unique dining experiences.
Marq Manner
MarQ Manner is a fan of Americana. He is interested in small town cafe's, roadside BBQ, getting a hotdog from a stand made in the likeness of George Washington, and the grittier eating atmospheres found in out of the way places. MarQ has been writing about the local music scene for The Omaha City Weekly for the past five years and has also written music features for many other rags and blogs.
---
Related Articles
The most recent endeavor from the Ground Up Restaurants group is giving a Spanish twist to locally sourced food. Sebastian's
Café de Paris and the French Café were wonderful destinations for anniversaries, birthdays or out-of-town guests. Fine dining adventures became
How would you like it if you knew you could absolutely knock the socks off your next dinner party guests?
Only registered users can comment.