For Local Cocktails, Look No Further than a Syrup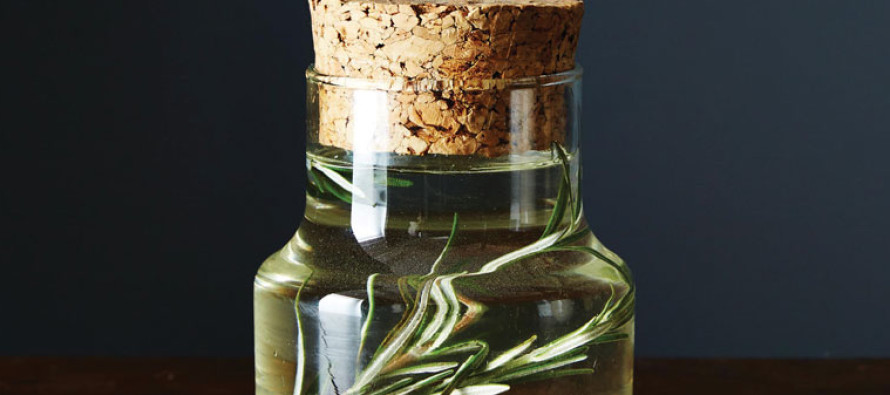 When people talk about the craft of the cocktail these days, they focus on how fresh the juice is, how clear the ice, and where the spirit came from. However, this only addresses two of the four critical components of a cocktail. It covers the sour (or bitter) and the strong, but there isn't much talk about the sweet or the water. While water is getting more attention these days, the sweet has fallen by the wayside. However, the sweet is a critical component, as it exists to balance the drink.
Keeping this in mind, when I think about "local" within the context of drinks, it isn't usually about beer, spirits or wine. It's about what I can get at the farmers markets, or what some bartenders have found through foraging. For me, personally, with my background in Indian cooking, the flavors and ingredients are not local to the area. So when I really think about local in the context of cocktails, what I think about is our bartenders, and what they do. How they apply their skills, grow in the craft, and offer their libations up to us.
There are, truth to say, very, very few drinks that are truly original. Nearly a century ago, the basic formula for cocktails saw perfection, and what most bartenders do is small modifications, little tweaks to the ingredients, to create their drinks. This does nothing to take away from what bartenders around the world – and here in town – do. Some of the best drinks I've had are combinations of flavors that, in my opinion, no sane person would try, much less conceive of, that are truly unique. Things such as beet syrups, or squash shrubs, or going so far as to create solutions of malic or tartaric acid. Through the use of science we make things such as Crème Yvette pearls. However, all bartenders start with their flavor experimentation somewhere, and that somewhere is with their syrups.
So why syrups? Unlike making your own spirits or bitters, syrups are a low cost and high yield ingredient. It is the rare cocktail that does not have a sweet component to it. Sometimes that sweet is a liqueur, sometimes a mixer (such as coke), but more often it is a syrup. Syrups are most commonly a solution of sugar and water, although really, any kind of sweetener will work. Honey, agave, sugar… hell, you can even use stevia if you want. The three most common syrups are a simple syrup, a rich syrup and grenadine. Simple syrup is merely a solution that is equal parts sugar – usually a white sugar – and water. A rich syrup generally is made with a demerara or turbinado sugar, and made by dissolving two parts sugar to one part water. Grenadine is a simple syrup made with sugar and pomegranate juice.
These are basic syrups, and a skilled bartender can use them to influence a drink in myriad ways. Rich syrups are more concentrated, thicker on the palate and lend a silkier mouthfeel. Just make yourself three old fashioned cocktails: one with sugar added directly to the drink, one with a simple syrup, and a third with a rich demerara syrup. You'll find that the first, where we started with two barspoons of sugar muddled with four dashes of bitters, and then the other ingredients added, doesn't fully integrate the sugar into the drink. Despite having all the ingredients, it tastes flat, one dimensional, and as if it is a whiskey on the rocks. With the simple syrup, you find that it is good. The sweet gets fully integrated with no residual sugar at the bottom of the glass. It's a drink that works, and works well. Now, let's try the third, the one with the rich demerara. It has a weight to it, a smoothness that works to mellow the whiskey. While the simple syrup was good, the rich simple syrup makes it something else entirely.
Now imagine throwing some rosemary, thyme, or basil in that syrup when you were making it. You use that in your old fashioned. Or imagine a honey syrup with added cinnamon, cloves, cardamom and star anise, and you made a whiskey sour… now you have a drink that is a variation on the gold rush cocktail (created at the bar Milk & Honey, one of the first craft cocktail bars in the US in NYC). To create something spicy, you can steep some jalapeños in a simple syrup; perhaps add some fresh coriander to give it a little twist. Use that with some fresh lime and gin and you can create the Kama Sutra cocktail (a creation of ours at the Indian Oven, which became a staple on our menu).
Syrups take minutes to make, and there are an infinite combinations of flavors available to try. They are easier to make than bitters, and take less time and effort than making a block of ice. Syrups represent the first steps a bartender or cocktail person makes in their exploration of cocktails. By this virtue alone, they are an expression of "local".
---
Related Articles
This column will be an exploration of beer and brewing. To be clear, soon we'll begin to dive more deeply
I sat down with Linda Lichtenwalter for this issue's bartender portrait. Linda has written for Food & Spirits Magazine in
Welcome, dear reader, to the newest column in Food & Spirits Magazine, Babysitting After Midnight. You might ask, "Why is
Only registered users can comment.