FSM's 2015 Burger Map & Guide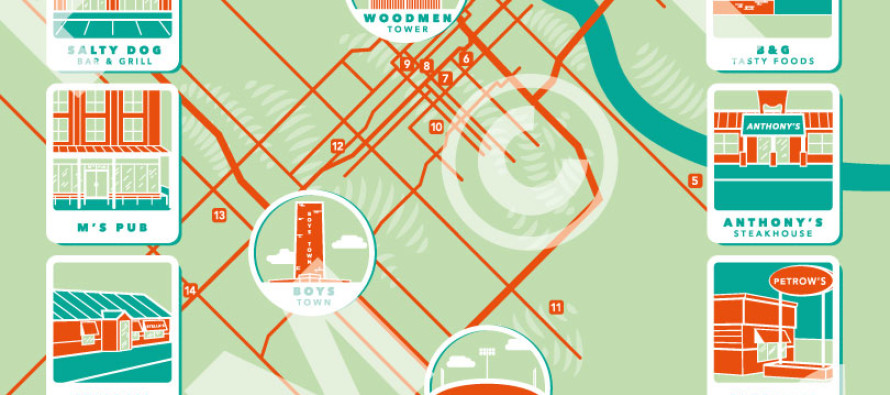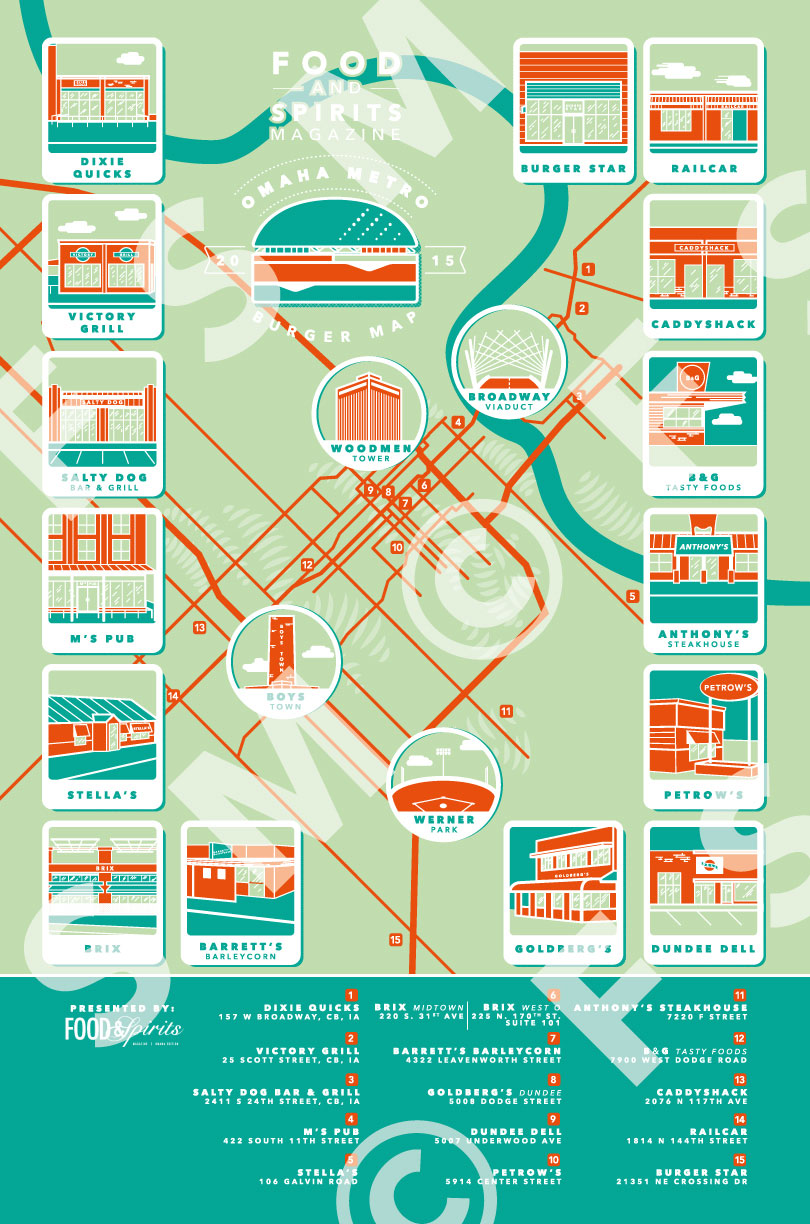 Omaha is definitely a burger town. Nebraska is famous for its beef, and the Metro Area boasts many restaurants that (justifiably) pride themselves on a wide variety of burger styles, toppings and preparations. There's nothing better than a thick, juicy hamburger to satisfy your hunger and brighten your day.
B&G Tasty Foods, 7900 West Dodge Road, Omaha
While B&G Tasty Foods is most famous for their loose-meat sandwiches, they also make a killer burger. They start with a quarter pound of never-frozen beef. Next, they hand-press it and sear it on their griddle. Finally, the perfectly-seasoned patty is topped with your choice of fresh ingredients like ketchup, mayo, mustard, lettuce, tomato, onion and pickle. Want your burger smeared with peanut butter or topped with an egg? Just ask! Pair this with some shoestring French fries, waffle fries or onion rings and you'll have a better day.
Brix, 224 North 170th Street, Ste. 101, Omaha and 220 South 31st Avenue, Ste. 3101, Omaha
Brix is a local favorite, and they pride themselves on their cheddar burger. The Brix cheddar burger begins with 100% all natural certified Angus beef topped with aged cheddar cheese, Arcadian lettuce, tomato and onion, all on a delicious, oven-roasted pretzel bun. Even better, the Brix chef creates a different Brix burger every week. One of their ever-popular Brix burgers is "The Ultimate." The Angus beef patty is topped with aged cheddar cheese, house-made BBQ sauce, beer-battered onion rings and pecan-smoked bacon – all piled extra high on an oven-roasted pretzel bun. Stop in and be surprised with the Brix burger of the week!
Burger Star, 21209 Nebraska Crossing Drive, Gretna
Burger Star is located in the NEX Outlet Mall, just a short drive away in Gretna. Hand-pattied Angus beef burgers are featured in single, rock star or star style, available with your choice of 18 toppings. Check out their super star specialty burgers: Tijuana taxi with smoky jalapeño relish, pepper jack cheese and chipotle mayo, the Hangover with fried egg, American cheese, bacon, onions, tomato, lettuce and mayo, and the Tillamook Bacon with Tillamook cheddar cheese, bacon, lettuce, tomato pickles onion and BBQ jalapeño ranch dressing. Take a break from shopping and relax with a cold beer and a burger while catching your favorite game!
Caddy Shack, 2076 North 117th Avenue, Omaha
Caddy Shack Bar and Grill is a great place to go for lunch, whether you're just out-and-about or grabbing a bite with some co-workers. Monday through Friday they run a fantastic deal – $5 hand-pattied burgers and fresh-cut fries from 11 a.m. until 2 p.m.
Dixie Quicks, 157 West Broadway, Council Bluffs
Dixie Quicks offers a delicious 9-ounce, 90% lean ground beef patty massaged with a special blend of garlic, oregano, salt, pepper and olive oil. This tasty burger treat is charbroiled to the temperature you like and piled with grilled onions, Portobello mushrooms, lettuce, tomato, Swiss and American cheese on a French roll. You'll need a nap after!
Dundee Dell, 5007 Underwood Avenue, Omaha
All the food at the Dundee Dell is prepared fresh every day. Their hamburger is never frozen and is hand-pattied and grilled any way you like. These delicious burgers are served on a fresh Rotella Kaiser bun with pickle, lettuce and onion on the side. They are proud of all their menu selections and put their own special "Dell" spin on each item. They make their own pastrami from scratch, brining and smoking each brisket to bring the best possible sandwich to your table. All the appetizers, soups, sandwiches, side dishes and desserts are made right there in the Dundee Dell's own kitchens. Next time you're enjoying the neighborhood, stop by the Dell!
Goldberg's, 5008 Dodge Street, Omaha
Goldberg's in Dundee has been serving quality hamburgers for over twenty years. Grilled over an open flame, the Blackstone, Havarti and Greek Burgers, along with the traditional styles, satisfy a variety of tastes and can be accompanied by sides from delicious sweet potato fries to fresh sautéed vegetables. Their fresh, never frozen, 100% beef hamburgers are charbroiled over an open flame, delicately seasoned and served deliciously moist on either a lightly toasted gourmet or pretzel bun. They are served with kettle chips, but more popular companions are curly-Q fries, thick, meaty potato wedges or sweet potato fries with a homemade dip. Toppings of choice include strips of bacon, fresh sautéed mushrooms and five types of cheese. The Greek burger is a tempting and innovative choice, stuffed with fresh red peppers, sautéed mushrooms, onion, spinach and feta cheese.  The Caesar is seasoned with pepper and garlic and topped with guacamole, caeser-mayo dressing and Parmesan cheese. The Blackstone is a Reuben-style burger, and the wild ranch is seasoned hot with a cool down dressing. The atmosphere is warm, cozy and comfortable and Goldberg's staff is friendly and attentive. They offer a full menu into the late hours, so they're a great after-work or weekend hangout.
M's Pub, 422 South 11th Street, Omaha
The lamb burger at M's Pub has been a perennial favorite for over 25 years. It's a combination of seasonings that blend perfectly with the robust flavor of the ground lamb. Simply topped with provolone cheese, it is served on a toasted onion roll with spicy Dijon mustard, which adds just a bit of a kick to round out the experience! Check out the lamb burger at M's Pub and while you're there, have a taste of some of their other scrumptious menu items.
Petrow's, 5914 Center Street, Omaha
Petrow's, an Omaha tradition since 1957, proudly serves fabulously fresh, loose hand-pattied Nebraska Angus beef in each of their famous hamburgers. They take care not to over-pack or smash their juicy 7-ounce hamburgers, which are seasoned with signature spices to enhance the Angus beef.  Their burgers are cooked on a custom charbroiler, flipped only once, and cooked to the temperature of your choice. The burger is paired with the freshest Rotella's hamburger buns – delivered daily – along with crisp lettuce, dill pickle, tomato and your choice of fresh sliced or grilled onions. You can top your burger with American, Swiss, cheddar, jack, feta or bleu cheese. Variations on their classic burger are the black and bleu' burger with blackening seasoning and bleu cheese, the Nebraska classic with bacon and cheese, or the patty melt, a local favorite, served on marbled rye bread with grilled onions and Swiss cheese. All burgers are served with French fries and two hand-battered signature onion rings. A malt made with their homemade ice cream seals the deal.
The Salty Dog Bar and Grill, 2411 South 24th Street, Council Bluffs
The Salty Dog Bar & Grill was opened six years ago by current owners Jayme and Brian. With over 35 years of combined restaurant experience, Jayme and Brian were able to create a neighborhood bar that is warm and welcoming with friendly service and food made from scratch.
The Salty Dog has become well known for their signature cheeseburgers such as the Holy Mother Trucker, the Italian Job, and the Kelly Klein. The Salty Dog's kitchen serves food until 2:00 am every day of the week and they're open every holiday. Events and specials are conveniently found on their Facebook page.
Anthony's Steakhouse, 7220 F Street, Omaha
Anthony's Steakhouse at 7220 F Street has been proudly serving Omaha since 1967. Family owned and operated to this day, Anthony's ages and hand-cuts each and every one of its award-winning steaks daily. They also feature weekly hand-crafted, artisan burger specials made with in-house ground beef. The 90/10 blend is made fresh daily from their own very own steak trimmings, hand-pattied and cooked to perfection. Some featured favorites include the cheese, avocado, salsa and fried egg-topped Ranchero burger, the Reuben style burger and the Greek burger, made with fresh spinach, feta cheese, pickled onion and cucumber mayo. Anthony's also invites you to create your own unique burger with a variety of toppings.
Barrett's Barleycorn, 4322 Leavenworth Street, Omaha
Barrett's Barleycorn at 4322 Leavenworth is a cozy neighborhood pub and grill located in the heart of the city. They are proud of the pub fare they've been famous for since 1987, and boast some of Omaha's best bar food and Reubens. Barrett's has a wide range of menu items perfected in one of the busiest (and smallest!) kitchens in Omaha. Their burgers are hand-formed, and they also offer an outstanding pork tenderloin sandwich on Thursdays and Fridays. In addition to burgers, Barrett's Barleycorn makes mouth-watering beef and chicken Phillies smothered in cream cheese and a specially-concocted sauce. At Barrett's Barleycorn, there are no strangers and every customer is a friend.
Victory Grill, 25 Scott Street, Council Bluffs
Victory Grill Sports & Tap was founded on the assumption that simple bar food could be something more. Chefs work tirelessly to provide fare that exceeds the industry norm. Victory's mission is to provide as many made-from-scratch items as seasonally possible and pair them with locally sourced meats and over 100 beers from across Iowa and the Midwest. Taps are constantly rotating with the goal of providing a fresh, fun atmosphere where guests can truly enjoy themselves. Stop by Victory soon to sample something new and exciting!
Stella's, 106 Galvin Road South, Bellevue
Stella's has been serving their famous hamburgers since 1936. Their 6 1/2 ounce, hand-pressed, fresh (never frozen) ground beef patties are served on a Rotella's hamburger bun (delivered fresh every morning) with lettuce, tomato, pickles, onions and real mayo. They are proudly presented on Stella's traditional napkin, just the way Stella liked it, but they do have baskets available if you prefer. Just ask!
Railcar, 1814 North 144th Street, Omaha
The signature burger at Railcar Modern American Kitchen is their all-natural, certified Angus cheddar burger. They start with local beef on a Le Quartier Brioche bun, then spread a thick layer of Merkt's all-natural cheddar on top. No Railcar burger is complete without their house-made pickles, red onion, home-made tomato jam and a tangy burger sauce that pulls all the flavors together.
Erica Viola
Erica Viola lives in Omaha, Nebraska. She likes to write and wear hats. Her interests include betta fish, ramen noodles and Victorian British literature. She is adept at cooking eggs, making greeting cards and training cats. Erica Viola has a BFA in Creative Writing from UNO.
---
---
Only registered users can comment.