Gimme Sushi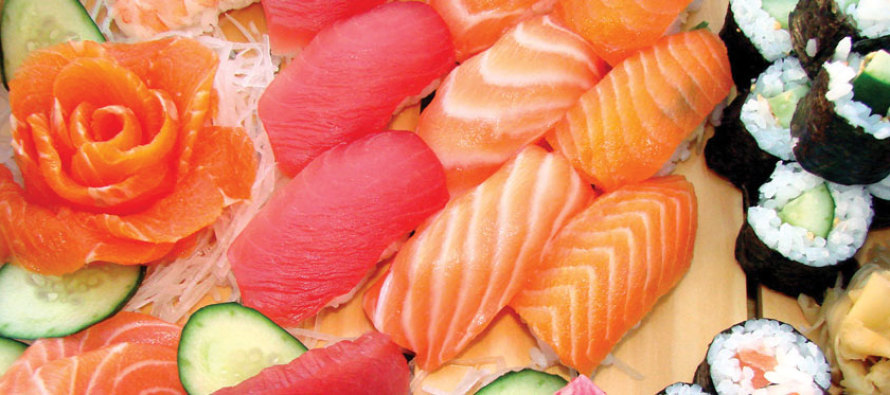 Due to its landlocked status, the Omaha Metro isn't usually the first place people think of when sushi is the subject. Fortunately, those who enjoy this Japanese staple have plenty of local options. Here are Food & Spirit's top three picks:
Sushi Japan – Located just off of 144th and Center Streets, the delicious sushi is made even more excellent by the presence of a friendly staff and regulars alike. Arrive early if you want to grab a spot at the sushi bar for a bento lunch, as this is a popular spot for West Omaha professionals during the week. Those who prefer an alternative to sushi can order traditional hot Japanese food from the attached Yakiniku Boy restaurant.
Blue Sushi Sake Grill – The architecture and design of this restaurant at 156th and Blondo offer a feast for the eyes along with the stomach. A traditional bar and sushi bar seamlessly blend together in front of a large fish tank and several massive jars of fruit and vegetable infused vodka, used in the restaurant's many signature martinis. A grill provides unique offerings, including wasabi mashed potatoes – a must try for any sushi fan. Enjoy your meal indoors or out on the patio, but be sure to make reservations for Friday and Saturday night in lieu of waiting several minutes for a table.
Kona Grill – Selected Half-priced sushi rolls, sake bombs and calamari form the backbone of one of the Omaha Metro area's most happening happy hours every weekday from 3 to 7 p.m. Prefer to nap after work? Catch the same deals for Reverse happy hour from 10 p.m. to midnight, Monday through Saturday. The restaurant's seabass, marinated for 72 hours in sake and miso soup, is also a must try for any sushi or seafood lover.
Hiro – A unique entryway separates this traditional Japanese restaurant from the outside world, allowing customers to get away from it all — if only for the amount of time it takes to eat a few sushi rolls.
Sakura Bana – Originally located at 84th and Dodge as Sushi Ichiban, this restaurant paved the way for Sushi in Omaha and can now be found off of 72nd street near the Nebraska Furniture Mart.
Genji Steakhouse – Free selected sushi rolls for Friday happy hour, followed by a dinner that includes chefs juggling knives over a fire… what's not to love?
Mt. Fuji Inn – While the sushi menu may be limited, most people don't mind after having a Mai Tai from the restaurant's subterranean Mai Tai lounge.
Matt Ronco
Born to Marine parents in Camp Lejune, North Carolina in 1981, Ronco spent most of his younger years growing up in Bangor, Maine, just two hours from the ocean. His geographic location allowed him to experience a variety of seafood, with lobster and scallops topping his list of desired ocean fodder. Matt began his food and beverage career at the Crossroads Garden Café while attending middle school. In high school, he served as a busboy and dishwasher at Sushi Ichiban, formerly located at 84th and Dodge streets.
---
Only registered users can comment.