Go Big Rouge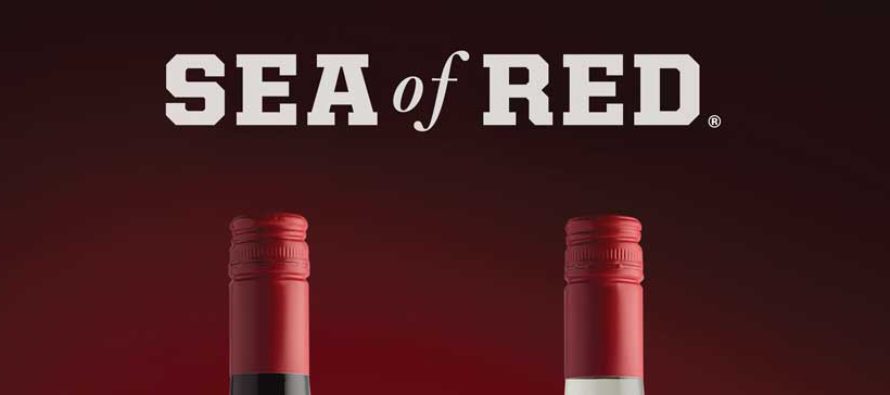 When I was a kid growing up in Valentine, I used to relish the lengthy road-trips to Lincoln to visit my mom's side of the family. We'd drive down Friday night, leaving right after I got out of school, stopping only for gasoline and fast food along the way.  When we'd arrive, pulling into Grandma and Grandpa's farm on Friday night, we'd be greeted by the smell of dinner frying, countless farm cats darting around the driveway, followed by one of Grandma's huge, warm hugs. Grandpa, in his wheelchair, silent and watchful, would observe from the table; he spoke very little when I was very young, and not at all as I got older, yet he was cognizant and engaged in his surroundings, ever present, a fixture at the head of the table for every meal.
Saturday morning would come, and as a young boy I'd want to go play out on the farm. For a boy who grew up in town, gathering the eggs from the chickens and petting goats was exciting business. But I knew that as soon as the game predictably came on, Grandpa would be seated in front of the television in his wheelchair for the duration, and sometimes I would join him. These are my earliest memories of college football, and subconsciously, this may be at least part of the reason why the Huskers are so important to me today.
It is interesting how our passions and hobbies evolve over time, and even more interesting how as adults we find ways to marry them to one another. As a lover of wines and a die-hard Husker fan, these two passions of mine have often existed in different realms, beer and soda being the drinks of choice for football games since I was in college at the University. But a while back, a few of my fellow Husker fans made an effort to bring the two together, and in my estimation, they've done it well.
"The concept of the brand Sea of Red ™ is a tribute to the passionate fans. Just as football brings people together every Saturday in Lincoln, sharing and enjoying wine is also something that brings people together. We wanted to create a brand that tied those two together," said Mark Brungardt, one of the founders of the Sea of Red ™ label and a former Husker football player. I asked him how he came up with the idea.  "I was introduced to Bill Kerr through some mutual friends and we got talking about business opportunities in branding wine. He is a brand designer by trade and also an avid Husker fan. Since I played at Nebraska and Bill grew up in Nebraska, we decided to partner together on helping launch the concept of this wine," he told me.
On the label, a familiar "Big Red" motif greets the consumer, with the number 62 emblazoned across the front. 1962 was the year the NCAA record consecutive sellout streak began. Last year, the number broke 350 games when the Huskers defeated Oregon. The next closest streak is Notre Dame, nearly ten years and nearly 100 games behind us. Oh, and they "sold out" in 2000 when Nebraska turned their stadium red as the visiting fans bought up most of their tickets. Jus' sayin'. There is no place like Nebraska. 1962 indeed.
Sea of Red ™ currently has two wines on the market for the current vintage.  The 2016 Moscato is a sweeter wine, with some of the subtle notes of plastic and spice that I often hope for, yet rarely find, in the varietal. It's a solid game day wine, perfect for a hot autumnal afternoon. The 2016 red blend is a crowd-pleaser for sure, with a lavender nose and fruit-packed body. It's a made-to-drink wine that goes down easily, doesn't cost much money, and requires little thought, making it a great offering for a tailgate or in-home watch party. The wines are available at most area Hy-Vee grocers, as well as the Heartland Tasting Room, Louie's Wine Dive, Baker's Lakeside, the Good Life Sports Bar, Patrick's Market, and Big Dog's Beverage.
My grandfather died in 1993. I was in the eighth grade. In the years that followed, the Nebraska Cornhusker football team dominated the sport in an unprecedented fashion, winning three national titles in four years, and posting a 49-2 record with three undefeated seasons in the same amount of time.It's nothing short of tragic in my mind that my grandfather, a fan to his very core, didn't get to witness their return to glory and dominance. These days, though I'm not particularly sentimental, I like to think that I watch every game with him.
It donned on me a while back, as the anticipation for this coming Husker football season began to swell, that between graduations and suspensions, I can't name a single pass-catcher for the Big Red this coming season. Then it occurred to me that I'm not a hundred percent sure who will be throwing the ball to them anyway.  It could be a long season, but like my grandfather before me, and millions of other Big Red fans across the world, I'm going to watch every game from start to finish. I'll attend when I can, and when I can't make it to Memorial Stadium, I'll have friends over in my basement, sharing the glory and the agony, yelling our heads off, and probably sharing a glass of wine.
Mark Gudgel
Dr. Mark Gudgel is a wine writer and educator who holds credentials through the Wine & Spirit Education Trust (WSET) and is working towards becoming a Master of Wine. His interest in wine was sparked on his honeymoon to Napa and Sonoma. Gudgel and his wife, Sonja, have co-authored several articles as well as a book on the wineries of Nebraska, to be released in the spring of 2017. Gudgel is a regular contributor to Food & Spirits Magazine and American Winery Guide, as well as the blog he maintains with his wife, www.itheewine.com. Mark and Sonja live in Omaha with their children and their dog.
---
Related Articles
Those interested in dining or enjoying cocktails out in Omaha pursue these interests within a bar and restaurant environment that
In 1983, Lowell Ford got his hands dirty planting grapes in the dirt of what would ultimately become Illahe Vineyards
Act 1, Scene 1 It is a cool, foggy evening circa late 1970's or early '80's. The curtain rises. Mandolin
Only registered users can comment.