Gruner Veltliner has Arrived…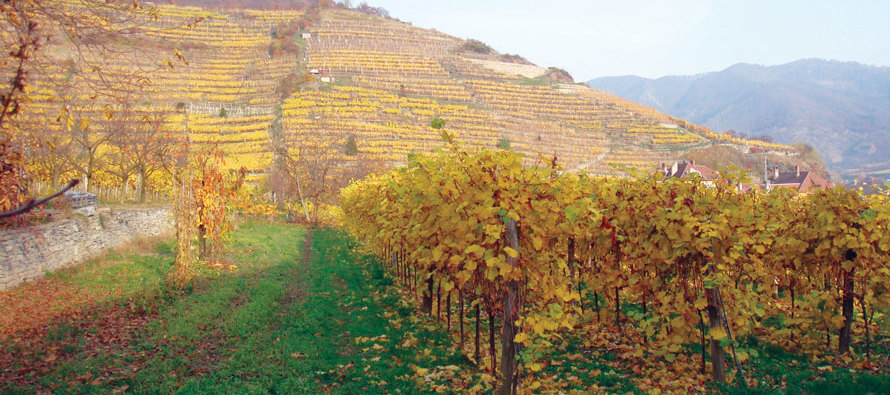 Summer grilling and a garden salad is great with a cold Coors "Banquet Beer" but is transcendent with Berger Grüner Veltliner.
Listen up: Grüner Veltliner has hit mainstream and for several years has been teacher's pet of the wine industry. This is one of the hottest white wines in the wine world, and Grüner's dry and electrifying profile is packed with citrusy acidity and flavors of Granny Smith apples, white peach and freshly cracked white pepper, a quality Austrians refer to as "Veltliner-Pfeffer."
Grüner Veltliner is by far the most widely grown grape variety in Austria but is rarely found outside of its native country. It perplexes me that a wine with such compelling character can go unnoticed by other major wine regions (have you seen any Napa Valley Grüner Veltliner lately?), but Austria's marquee varietal has taken little hold elsewhere mainly due to its former reputation as the simple carafe wine of Vienna's "Heurigen" (wine cafés). However, this hasn't been the case in recent years, and even though Grüner gives high yields and can be produced inexpensively, it is nevertheless loaded with interesting flavors and laser-like acidity. I enjoy Coors "Banquet Beer," too, but it doesn't taste like white pepper and it just isn't as good with a fresh garden salad and grilled hamburgers.
The Grüner Veltliner grape is interesting. Think about it this way: Grüner-Veltliner is made with no interference from the winemaker, as often is the case, meaning the crushed grapes are allowed to ferment naturally and age with minimal oxygen contact in stainless-steel tanks. This results in a multilayered, spicy dry white wine with a focused acidity that drives its finish for an unusually long time. Sounds pretty good doesn't it?
Compare this with Chardonnay, a grape variety so popular that some consumers believe "Chardonnay" is synonymous with any dry white wine, even though some Chardonnays are not dry at all. The actual flavor of Chardonnay fermented in stainless steel is, at its best, quite neutral with faint apple, lemon and bread dough aromas. At its worst, it has a quality I liken to diluted lemon water.
Taste any of the affordable Grüners listed below and you'll be reminded of an array of interesting fruit, vegetable and spice flavors. After looking at hundreds of Grüner Veltliner tasting notes I've written, I found descriptors such as: radish, green beans, dill, bay leaf, lemon zest, lemon pith, Meyer lemon, kaffir lime leaf, lime blossom, white peach, and on and on.
The lesson? Grüner Veltliner is interesting! You should be drinking this stuff!
Grüner Veltliner comes from beautiful lower Austria, and most of the primo Grüner comes from Kamptal, Kremstal, and Wachau, three districts to the west of Vienna. If you can remember those three regions in that order, you'll have a general idea about how powerful the wine is. Generally speaking, Kamptal is soft, Kremstal has medium weight, and Wachau is the most powerful. All three regions lie along the Danube River which cut a deep river valley where Grüner seemed predestined to grow.
The flat valley floor is extremely narrow, and steep hills jet straight up on both sides of the river. Because crops, farm animals and people need to live on the valley floor, the only place to grow vines is directly on the hillsides. While this is extremely difficult and sometimes dangerous work, the vines grown there benefit from exposure to the sun and the stress from growing in poor, rocky soil where they must root. It was probably the Romans who first cut terraces into these hills, and today many of the best wines are labeled "Hochterrassen" (high terraces).
Beer and BBQ go together, but why not try some Grüner?
Grüner Veltliner just might be one of the world's greatest food wines. Sommeliers love Grüner for its ability to work with foods that are otherwise problematic. Foods that have astringency or bitterness like asparagus and artichokes are tamed by Grüner, and Grüner even holds its own with heavier foods, say a juicy cheeseburger or bratwurst, because its zippy acidity act as the ultimate foil to fat and protein. And Grüner can work equally well in an elegant setting with refined cuisine like freshly shucked oysters, seared sea scallops or veal. And, Grüner Veltliner works wonderfully with many ethnic cuisines like Vietnamese or Dim Sum.
Finally, Grüner Veltliner is affordable.
Many Grüner Veltliners are relatively inexpensive. Sure, Coors "Banquet Beer" costs less and you can build a nifty beer-can pyramid with your empties. And yes, super-fancy Grüners from cult producers like F.X. Pichler can get pricey. But if you stick to the producers listed below, you won't be disappointed, and when you show up at an after hours party with a liter of Grüner shouting "Veltliner-Pfeffer!" you will be the envy of all of your friends.
Berger Grüner Veltliner 2008 1L. $15.99
Available at: La Buvette Wine & Grocery
511 S. 11th St. / (402) 344-8627/ www.labuvetteomaha.com
And: The Winery
741 N. 98th St. / (402) 391-3535/ www.thewineryomaha.com
Berger Grüner Veltliner tastes like lime, spice and green rhubarb. Better still, it's sealed with a crown cap, so you'll need to dig out your church key. This should be one of your summertime wine staples.
Salomon Undhof Grüner Veltliner Hochterrassen 2007 $12.99
Available at: Cubby's Old Market
601 S. 13th St. / (402) 341-2900 / www.cubbys.com
Cubby's is a great store. Bert Salomon is a great guy. And the Salomon Undhof Hochterrassen is a great value. What's not to like?
Loimer Lois Grüner Veltliner 2007 $15.99
Available at: Spirit World
7517 Pacific St. / (402) 391-8680 / www.spiritworldwine.com
This is a super-fresh style of Grüner Veltliner from Fred Loimer, one of Kamptal's hottest producers.
Stadt Krems Grüner Veltliner 2007 $22.99
Available at: The Omaha Wine Company
701 N. 114th St. / (402) 431-8558 / www.omahawinecompany.com
And: Whole Foods Market
10020 Regency Cir. /(402) 393-1200 / www.wholefoodsmarket.com
This winery is owned by the city of Krems in the Kremstal region of lower Austria. It is fresh and fruity with citrus fruits and the classic white pepper aroma known as "Veltliner-Pfeffer".
Hirsch Grüner Veltliner #1 2008 $15.99
Available at: Jake's Cigars and Spirits
6206 Maple St. / (402) 934-9633 / www.jakescigarsandspirits.com
Juicy and bright, Johannes Hirsch's 2008 Grüner Veltliner #1 shows plenty of pepper and herb and is clean and refreshing. This is another terrific value from the Kamptal region.
Jesse Becker
A native Nebraskan, Jesse Becker M.S. began his wine career at 21 when he took a position as a clerk with a small wine shop in Lincoln. Jesse moved to California's Napa Valley in 2001 where he worked in the cellars of both Robert Sinskey and Miner Family wineries. During this time, he also poured some of Napa's top wines for Michael Chiarello's Tra Vigne Cantinetta. Jesse moved to San Francisco in 2002 and worked for retailer K&L Wine Merchants. He then took the opportunity to work the harvest for Burgundy producer Maison Camille Giroud in 2004 and returned to the US and settled in Chicago. There he shifted his career focus from retail to hospitality, working as a sommelier with restaurants Charlie Trotter's and NoMI at the Park Hyatt. He committed to education and professional development and passed the Certified Wine Educator (CWE) exam in 2006.
---
Only registered users can comment.