I Want Some Taquitos!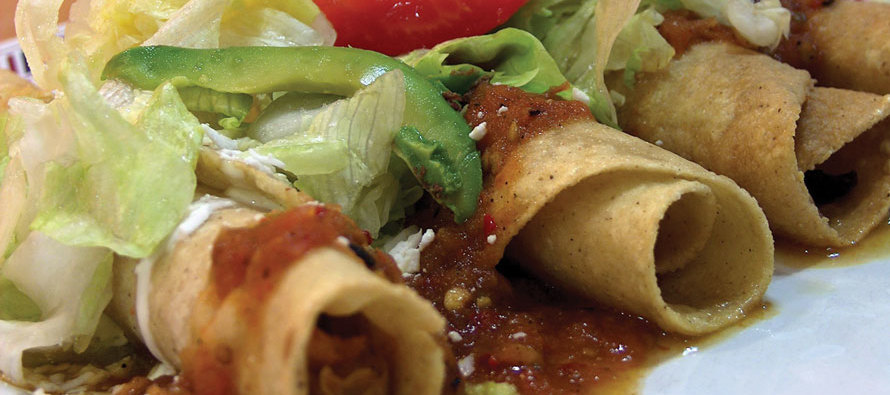 From childhood, learning to ride a bicycle with training wheels in the driveway, parallel parking with pops in an empty parking lot. Eating spaghetti and the Twirling Fork. And Tacos. Tacos!
We all encounter them in different ways, from T-Bell on a Sunday afternoon, hurrying home to watch the football game on television, to a Tijuana street corner on a day-trip from San Diego, to Hans Moleman turning to Abe Simpson at a town meeting shouting, "I want some taquitos!" Taco fodder is ubiquitous, and for good reason.
Perhaps you are "supposed" to be enraptured by this special sandwich of sorts, and all children, at some point in their respective developments, glow with delight as they learn to crick their necks and crunch off a bite of their first vertical sandwich.
For some like me, the excitement only grows. From tacos and burritos to tortas, gorditas, sopes, huaraches. To made to order fodder in the southern part of town like flying saucers, carne asada fries, California burritos (and breakfast! And shrimp!), and, finally, baja fish tacos(1).
I remember my first experience walking into a local chain made-to-order joint in San Diego, Santanas. My first time being served corn tortillas by default. Their staple salsa bar with verde and arbor, the jalapeno marinated carrots and potates, the fiery radishes. I encountered so many things so quickly, I was almost dizzy with the newness.
And now here in the comfort of my hometown, it catches me with surprise to realize how many new experiences I can still have in the wide world of tacos. A dive taco shop in a little strip mall catches my eye like a beautiful woman. Yet another adventure on 24th Street, sifting through the endless restaurants and wading through the material refuse in their copious thrift stores. There is much to be discovered.
Such are the cultural elements that shy people away at the door. Realizing that Cachete = cheek. Lengua = tongue. Al Pastor = marinated pork. Chorizo = sausage. Machaca = beef jerky (twice-cooked). Suadero = smooth brisket. Tripe = stomach lining. Ojo = eyes. I don't know if you feel more adventurous when it is just a foreign meat with a Spanish name or when you know exactly what it is. Is this a barrier or an entryway?
I don't know the answer, but I know that for me, the excitement grows with each new discovery. An excuse to make tacos a big deal again, like when you were a kid discovering them. But adventure awaits, and I would say that you should learn the rest by yourself. Travel down to South Omaha or stop in at a hole-in-the-wall taco joint that looks promising. For me it's a lunch date every week I call Taco Tuesday. Hope to see you there.
My constructive advice
-Go Mexico city style, steamed corn tortillas double-wrapped, finely chopped onion, cilantro, and an assertive squeeze of the lime wedge with a little salsa of your choice.
-Save the enchi recipes for home, enchis are great but enchis = Mexican casserole (comfort food). Not to mention making your own enchi sauce (molé!) will be a rewarding experience.
-Cabeza, or head, yields a number of cuts, the most common being the tongue and the cheek. They are wonderfully fatty and have an almost sweetbread texture. Chorizo should be dry and not fast-food-taco greasy, and, in tacos, all meats should be cooked to some degree of crispness. The texture matters.
-Tex-Mex has its place. All slathered up. However, if the rice and beans are not worth eating on their own merit and are just on the plate as filler, get the hell out of there. Attention to detail is what we are after.
Recommendations to get started
-48th and Q – Favorite overall tacos, al pastor served with thin slices of pineapple, huaraches that are intimidating to say the least
-Costa el Sol – Great tacos, great crispy tex-mex esque platters (they really take their time), papusas topped with a beautiful spicy slaw, and a delicious dessert of a crispy fried plaintain empanada filled with a whipped cream/custard concoction
-Tacqueria Tijuana – Diverse and balanced menu, great introduction to the wonders of South Omaha and worthy of repeat visits
-Los Portales – Tripe, nopales (cactus), and quail? They also feature similar south Omaha staples such as veal milanesa tortas and very affordable prices.
-Guaca Maya – Made to order or an excellent and extremely friendly lunch buffet. The scents of the stockyards on the way down only adds to the romance.
I can list down the names of the places to get the best burrito near me if you'd be interested. Nonetheless, Mexican cuisine is just not tacos, taquitos and burritos! Its best to try out different dishes in the cuisine and decide on your cup of tea!
 
Definitions
Gordita/Papusa – Regional method of preparing thick tortilla filled with beans, cheese, and meat and topped with a spicy slaw
Sopes – Soft grilled flatbread often topped with beans, cheese, sour cream, red or green sauce, onions, and meat (similar to a gyro)
Torta – Mexican sandwich commonly with ham and served up with a few of the fixin's, depends wildely on the quality of bread for overall success
Flying Saucer – Refried beans, guacamole, sour cream, tomatoes, and cheese on a crispy fried tortilla – you might as well just drink a bottle of olive oil until your skin becomes transparent and birds blindly fly into you
Carne Asada fries – Guacamole, cheese, carne asada, best nachos ever. Man can you say game day? (You'll never need chili cheese fries again)
Flautas (or the more commonly known taquito) – crispy rolled tacos usually served in threes and with a heaping spoon of guacamole
Baja fish tacos – see below
Shrimp Burrito – Shrimp, cole slaw, and rice, goes wonderfully with a nice horchata made from rice milk, cinnamon, and sugar
California Burrito – Carne asada, French fries, cheese, and perhaps some guacamole slathered with the hottest sauce available, better than a breakfast burrito to start off the morning with an oj
Huarache – Crispy Mexican thin-crust pizza, tostada etc, topped with meat or fried egg and combination of cabbage, cheese, sour cream, beans, and salsa or ranchero sauces
Salsa Verde – Tomatillos, jalapenos, cilantro, lime juice
Salsa Arbor – Arbor chile, aka habanero, and tomato puree – imparts a nice smokey flavor
Menudo – Tripe and hominy (bloated lye-treated corn kernals) soup, slow cooked and generally only available on weekends.
Seven Seas – A tomato broth-based soup with a combination of cubed whitefish, shrimp, scallops, crab, lobster, mussels and clams
I'll go to my grave arguing that baja fish tacos are the highest of all art-forms in any Mex-latin am cookery. From the outset, the choice between, say, crispy fried tilapia and grilled meaty mahi (mahi); whether to go rather straight with a mayo-milk sauce or up the ante with a spicy chipotle aioli; before even arising at the possibility of an elegant black or white bean puree, and finishing with crisp white or red cabbage, avocado, and perhaps chunks of tomato or kernels of sweet corn…
---
Only registered users can comment.