In Lieu of Wine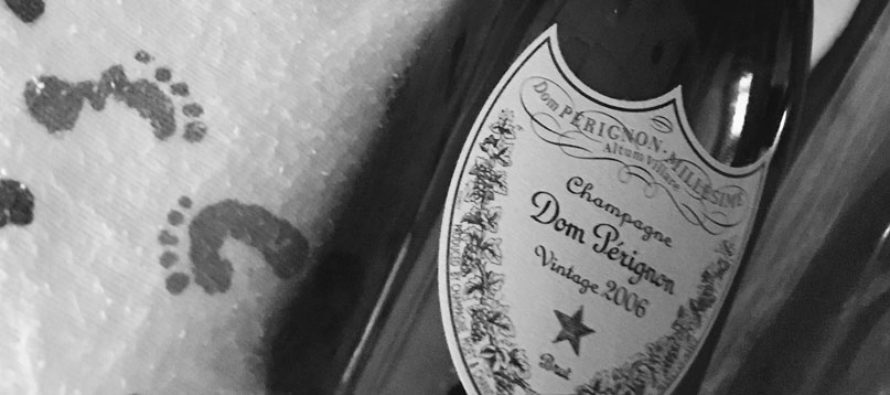 On Monday, April 24, 2017, my wife Sonja and I welcomed our second child, Zooey Elizabeth Gudgel, into this amazing world. She arrived ten days late, took her sweet time coming out, and for a few terrifying minutes stubbornly refused to breath, but by that evening we knew that she was our perfect little daughter and that our lives were forever improved by the role she would play in them. A day later, after nine months of Sonja being on the proverbial wagon, I popped the cork on a nice bottle of vintage Champagne, filled two flutes, and was reminded of how much my wife and I enjoy sharing a glass of wine together. In the weeks since then, we've shared several more.
The nine months leading up to Zooey's arrival, however, were spent differently. I continued to imbibe, of course, writing reviews and articles for the various publications I work for and using that as my excuse not to offer solidarity to my dry partner. Though I rarely took part in drinking wine in front of my patient and beautiful wife, we no longer came together through wine., and quickly we began to feel that something important was missing in our relationship. Wanting to maintain the tradition, we had to find something else to imbibe. Much of the time, it was some variation of non-alcoholic wine. The following constitute what I thought were the best wine alternatives that we encountered
One of the things we drank together during Sonja's first pregnancy as well as this one was Fre'. A Sutter Home product, Fre' is readily available in many Omaha establishments, including Corkscrew and HyVee, and typically runs in the $6-$7 range per bottle. Fre' boasts a broad selection that includes a red blend, White Zinfandel, Chardonnay, and Moscato. Whereas many non-alcoholic beverages never underwent fermentation, Fre' is wine with the alcohol removed. This time around, we stuck with our favorites: Sonja's is the Merlot, and I like the bubbles. The last time we went into Corkscrew on a date while Sonja was still pregnant, I called ahead and Corey chilled a bottle for us.
Another sparkling option that comes sans alcohol but with plenty of fizz are the fruit-driven variations from St. Julian in Michigan. An array of sparklers that range from Pomegranate Blueberry to sparkling Raspberry Spumante are widely available and reasonably priced. The bubbles are familiar, the flavors a bit outlandish, and the sweetness enough to move you bodily toward the patio on a hot summer day. We paired them with a variety of things, including brunch, and found them a very favorable alternative to our usual Cava and Prosecco. Though I haven't seen them in Omaha, they're easy enough to order online.
On a trip to Napa and Sonoma, where I enjoyed the wine while Sonja enjoyed the tranquil beauty of the Mayacamas Mountains and the fog that rests atop the vineyards in the morning, we discovered that many producers will bottle the juices of their grapes unfermented, a friendly gesture towards pregnant women, minors, designated drivers and other non-drinking patrons. The best we found were those of Castello di Amorosa and Palmaz Vineyards, both of which bottle grape juice that is not only pleasant to imbibe but also costs a modest $12.00 per bottle. These are best obtained by ordering directly from the producer.
In that vein, Castoro Cellars also bottles an unfermented grape juice from their Zinfandel and Primitivo that we enjoyed a lot. Sweet and grapey as you might expect, it's nevertheless coming from quality California fruit and a producer I've become a fan of. While it doesn't taste much like the Zinfandel you and I know in this format, it is a flavorful alternative that Sonja and I enjoyed several glasses of while little Zooey was incubating.
At Wine Styles, you'll find the ever-friendly Bob behind the counter, and you can also find Ariel non-alcoholic wines. The last time I was in, Bob had both the Cabernet Sauvignon and the Chardonnay, of which both Sonja and I prefer the Chardonnay, which comes off more like a crisp Chablis than an oaky, buttery wine. Online, I've also noticed that Ariel makes a white zinfandel, a red blend, and a sparkling offering, though neither Sonja nor I have ever tried any of those. I suspect that Bob may be able to order them for you if you ask. If he can't, (which I would find to be very unlikely), I'm sure he'd be able to point you in the right direction of where to find something like this. It may even be found through somewhere similar to the Wine Access Wine Club, (https://www.wineaccess.com/club/) that my friend was telling me about the other week. He said there was a wide variety of wines that you can get from there, so you are bound to find one that you like just as much. But if you don't ask people like Bob, you'll never know the wonders that lie in front of you.
Finally, in my searching, I discovered a company that is doing something that in my experience is unique by importing and distributing a variety of artisan, terroir-driven non-alcoholic beverages that are as expressive and distinguished as they are unfamiliar in our market. Delmosa has a beautiful assortment of nonalcoholic offerings, all of which impressed us for their quality and complexity. The Roomi Svarta Vinbaer, a red beverage that spends time on French Oak and comes off a bit like a cedary/spicy Merlot, was impressive, while the Aceto Niagara Icewine, which spent 5 years in French Oak, was an outstanding after dinner drink. Further, the "Prisecco" line from Jörg Geiger, were light in the mouth, bubbly, flavorful, and fun. The Winter Pear was our favorite, and we paired it with bacon and Belgian waffles over brunch. Visit Delmosa.com to view their entire, impressive portfolio.
While most doctors I have met will openly say that having a glass of wine once in a while during pregnancy is harmless, Sonja to her credit isn't much of a risk taker, and rarely had more than a taste of my wine. The drinks I've listed above helped us to weather what we knew from the beginning was a temporary storm. It took us two pregnancies and three years to find beverages that we thought were reasonable substitutes for wine, but those described above we enjoyed together… almost enough to think we could stand to go through this one more time. Almost. If you're a non-drinker, regardless of the reason for your decision, we hope you'll enjoy these alternatives to wine as much we did. For our part, well, we're back to drinking wine.
Mark Gudgel
Dr. Mark Gudgel is a wine writer and educator who holds credentials through the Wine & Spirit Education Trust (WSET) and is working towards becoming a Master of Wine. His interest in wine was sparked on his honeymoon to Napa and Sonoma. Gudgel and his wife, Sonja, have co-authored several articles as well as a book on the wineries of Nebraska, to be released in the spring of 2017. Gudgel is a regular contributor to Food & Spirits Magazine and American Winery Guide, as well as the blog he maintains with his wife, www.itheewine.com. Mark and Sonja live in Omaha with their children and their dog.
---
Related Articles
Observant devotees of Food & Spirits magazine may have stumbled across a column of mine a while back that took
Kansas City has long been known as an epicenter for some of the most delicious smoked meats that the world
Every year, twice a year, I make it a point to attend the bi-annual fall and spring open house events
Only registered users can comment.