7 Desserts We Love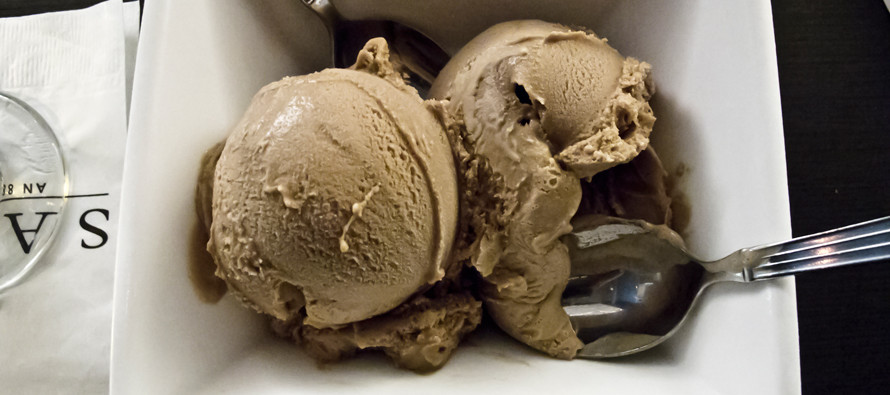 At Food & Spirits Magazine, we believe dessert rules the culinary roost; the delicious curtain call at the end of a savory meal. No matter how great the entree, how filling the appetizer, and how bottomless the drinks, we always manage to find room for something sweet. Omaha has made its mark as one of the best places to eat in the Midwest. With a multitude of ethnic groups, family restaurants and top chefs, Omaha has much to brag about. The following list is a collection of editor and writer favorite desserts, places that have perfected their craft of offering eye-opening and unique flavors. We hope you will stop at each of these places and enjoy some of the best flavors in the Midwest.
Omaha Culinary Tours: Chocolate and Pastries Bus Tour
Imagine a place where you are encouraged to eat dessert before dinner. A place where you can be shuttled around to all the best places in Omaha to indulge in sweet samples, without having to figure out how to drive with a sugar buzz. Chocolate addicts rejoice, the desert route by Omaha Culinary Tours (OTC) is here.
Well-known for their Midtown walking tours, OTC has taken it up a notch with the chocolate and pastries bus tour. For nearly 3 hours, tour members are taken across the city on a bus, often laden with sweet samples, to explore the best desserts in Omaha. At each stop, bakers, restaurant owners and chefs explain the passion behind their work and offer samples.
On our mid-February tour, stops included The Cordial Cherry for the most decadent cherries on the planet, La Petit Paris French Bakery for flaky, warm pastries, The Market Basket for meringue cake that knocked my boots off, Gerda's for homemade sugar cookies and Stories for a spread fit for a black tie event; wine, brownies, peppermint biscotti, caramel popcorn and more.
To top it off, our tour guides offered lemon and pecan bars from Sweet Magnolias, truffles and hot chocolate from The Grey Plume, and single roses for the ladies at the end of the tour.
 The Cordial Cherry: Dark Chocolate Covered Cherries
So decadent were the cherries on this stop of the OTC bus tour, it deserves its own shout out. The Cordial Cherry, located at 180th and Pacific, is a hidden gem in a town saturated with breweries and burgers. Owner Melissa Stephens opened the store in 2010 after gaining a following for her chocolates during graduate school.
The store itself is mirrored after a boutique, whimsical and charming, with a "build it yourself" style of selection. Rows of chocolate cherries, cherries dressed as cupcakes and chocolate cherry wedding cakes dazzle the eye, and it is nearly impossible to fill a box in less than 20 minutes.
Walking in a wonderland of ganache and grandeur, I found an impossibly simple dessert that I will remember for a long time: the dark chocolate cherry. Nestled in a dollop of chocolate, a cordial filled cherry rests in a coat of dark, rich chocolate, drizzled with milk chocolate and finished with a delicate stem sticking out of the top. A warning to newbies, make sure to eat this all at once. The juicy cherry pops, and the chocolate shell breaks into smooth, velvety pieces, rendering you unable to pronounce your delight until you swallow. Unique and charming, The Cordial Cherry is a West Omaha gem.
The first time I had gelato, it was served by a dark haired woman in sunglasses, out of a candy pink cart in Hungary, on the Pest side of the capital. It was cappuccino, perfectly sweet, creamy and delicious. Ever since, I wasn't sure if I was going to have another love affair with gelato on this side of the world. Luckily, my dry spell was broken on a recent trip to Salt in West Omaha.
While the mushroom pasta, the salmon and the martinis were epic, I was looking forward to the gelato the most. Direct from Italy, the gelato is the real deal. As my spoon sliced into the perfect scoop, I noticed both the density and softness of the gelato, swirling into a slight melt. The taste was perfect, salted caramel punched with butterfat and cream. It is deliriously delicious, and a perfect way to end an evening.
Jake's Cigars: Prichard's Double Chocolate Bourbon
Jake's Cigars & Spirits is a Benson staple, a treasure trove disguised as a dive. The selection of beer, whisky, tequila (mezcal everyone!) is enough to keep the spirits lover busy for years. But what about dessert?
Prichard's Rye is one of my favorite bourbons available. Robust, warm, without an overpowering burn, it is easy to drink neat or in a Manhattan. Prichard's Double Chocolate Bourbon, however, is a new way to splurge on dessert. The nose on this whisky is warmly chocolate, with essences of wood and caramel, finishing with the familiar burn of whisky. The taste is incredibly subtle, tasting more of raw cocoa than sweet and sugary. The chocolate is combined with the double barrel bourbon, giving it a mild finish.
The Double Chocolate is available in either big or small bar, and is best served neat. However, I would recommend a Chocolate Manhattan, made with this bourbon, vermouth and chocolate bitters instead of Angostura. A compliment on a classic, this bourbon is a great way to experience sweetness in a glass.
Nicola's Italian Wine & Fare: Italian Lemon Cream Cake
Nestled in a corner of the Old Market, Nicola's Italian Wine & Fare boasts incredible food and ambiance to match. Founded in 2003 by Nicola Collier-Nick, this fine dining staple has made its mark in Omaha with truly fresh food. With over 100 bottles of wine, a beautiful outdoor patio and authentic Northern Italian fare, it is hard to imagine what could be better.
Except for the Italian Lemon Cream Cake.
Magicians must have made this cake, because it is impossible to have a cake this moist and light. Yet Nicola's does it, day after day. Three layers of soft cake are accented with lemon cream, a tangy, mellow smoothness that acts as a perfect accent to the cake. Dusted with a vanilla crumb topping, this dessert combines all the pleasurable textures and flavors in one, making it a must have for anyone who loves beautiful and delicious things.
Espana Tapas Bar: Fondue de Chocolate
Located in the heart of Benson on Maple St., Espana Tapas Bar serves up authentic Spanish cuisine in a fashion that has made it one of the best restaurants in town. It's easy to fill up on the paella, patatas bravas, tortilla a la Española or any number of their other mouthwatering selections, but that would be a rookie move.
A true protip at Espana is to save room for dessert and order the chocolate fondue.
It comes with bananas, strawberries and, best of all, house made and freshly fried churros. All of these are meant to be dipped in the generous pot of dark chocolate provided but the churros are easily good enough to eat on their own.
Petrow's: Homemade Ice Cream and Pies
Petrow's has been around for ages and the Petrow family has been active in the Omaha food scene for even longer. They're well-regarded for their classic comfort food dishes like hot beef sandwiches, country fried steaks, pork tenderloins and delicious burgers. But dessert at Petrow's offers a bevy of delicious treats.
Petrow's has a wide selection of freshly homemade pies available on a daily basis. That's right, chocolate cream, pecan, apple, berry, you name it. There are usually 5-6 different types that rotate on a seasonal basis (I'm talking to you, strawberry/rhubarb). Also served at Petrow's is their homemade ice cream, which has rotating flavors available as well. They've got an old-school soda fountain and make an array of malts, shakes and sundaes.
Jessica Clem
Jessica Clem is a freelancer writer based in Omaha, Nebraska. A marathon runner and food writer, her favorite way to get motivated to finish a project is the promise of a craft beer. She has a B.A. in English and an M.S. in Urban Studies, and enjoys traveling, finding typos on billboards, and the smell of a real book. She currently works for National Media Brands as an account executive.
---
---
Related Articles
Every year at this time we make a few notes regarding the hits and misses of our backyard garden so
It's testament to the dynamic city we live in that Omaha makes a lot of 'Best of' lists. Best place
It's late in the afternoon on a lazy summer Sunday, that time of day between lunch and dinner that's typically
Only registered users can comment.