Letter From the Publisher: Issue 27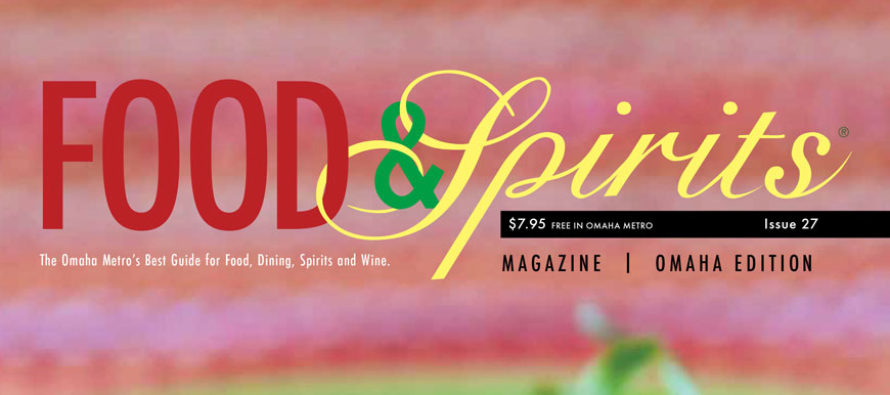 Welcome to the newest issue of Food & Spirits Magazine, our 27th. With this issue we are just one issue away from our 10th anniversary. To commemorate the event, you'll find some of our old issues scattered among the current issues out on the street. We thought it would be a nice surprise to our readers to see where we've been and a nice way to say thank you to past advertisers. As we try to evolve, we've made some slight tweaks to the aesthetics of the magazine in this issue and we hope you'll like them.
You'll find two more of our food and spirits maps in this issue. With patio season in full bloom we thought it time to update our map of some of our favorite patios in the Omaha Metro. Brickway, Avoli, Brushi, Charlie's on the Lake, Enzo's, Goldbergs, Mantra, Petrow's, Little Espana, Salt and Soaring Wings all make an appearance so make sure to check out the map and the accompanying article. As well, anytime is a good time for pizza, so you'll also find a map of our top choices for pizza in the area.
Speaking of pizza, Food & Spirits Magazine just hosted the 9th Annual Omaha Pizza Review. With over 250 pizzas on hand, 400 attendees and music by Brad Hoshaw and Kait Berreckman, a good time was certainly had. If you weren't able to attend, our article recaps the event and tells you the results. Make sure to check out our next event on September 15th when part 2 of the 2nd Annual Food Truck Rodeo takes place in Benson from 4 pm to 11 pm.
Owner-manager Robbie Malm's Hook & Lime Tacos + Tequila is making quite an impression in Omaha. With an ever-changing menu anchored by tacos and tortas, family-style meals and shareable small plates, it's added an outstanding option for local diners. Make sure to take a look at our feature article by Leo Adam Biga.
This issue's recipe article by Charles Schlussel gives you a perfect summer recipe for salmon paired with strawberry mango salsa. As an added bonus you'll also find a recipe for a cocktail that pairs perfectly with this delicious dish. Michael Pickell gives you an explanation of some Asian dishes that are perfect for the summer months and Oliver Pollak reminisces with his matchbook collection for Omaha restaurants who are no longer with us. The food section of the magazine is rounded out, as it should be, with Kent Cisar's article on where to find some of the best desserts around town. Of course, at the end of the issue you'll find Michael Campbell's 'Dumpster' and his take on 'space food'.
Edward Berna is back with an excellent article on how changing our food buying habits can also positively change our community and, in an entirely opposite and unrelated note, Eddie Morin gives you the all important soda review by taking a look at Kickapoo.
In the spirits section, Jill Cockson breaks down the dynamic and differences between being an employee and being an apprentice in the service industry, while our bartender profile features industry stalwart Phoe Mess. FSM writer Mark Gudgel helped curate a wine flight at Nosh and clues you in on all the details. Take a look at the article and then make sure to head down to Nosh to try them out. In John Finocchiaro's latest article he schools us on what your expectations should be for a given wine and then Mark returns with his wine recommendation and what to nonalcoholic wine to drink when you're expecting.
Finally, it would be a huge omission to not mention our advertisers. Without them, none of this would be possible and I can't adequately express how grateful I am to them. Make sure you patronize their businesses because they basically subsidize this magazine for the entire city.
That's it for now. As always, we love to hear from our readers so let us know what you like, and what you don't. We're always listening.
Erik Totten – Publisher
Food & Spirits Magazine
Erik Totten
Erik Totten is the founder and publisher of Food & Spirits Magazine in Omaha, Nebraska. He's worked in publications for the last 21 years at all levels. As well as serving as a writer, designer, photographer and editor, he's also founded two publications which have allowed him to grow into being a publisher, which he would describe as his 'true calling'.
---
Related Articles
Maurice Hennessy, eighth-generation descendent of Hennessy Cognac founder Richard Hennessy, paid a visit to Omaha recently. I was fortunate enough
Welcome to the premier issue of Food & Spirits Magazine. It's not much of a secret that people here in
Welcome to the latest issue of Food & Spirits Magazine. This issue of FSM is the 'Cocktail Issue', and as
Only registered users can comment.