Libation Conversation – A Beer Cocktails Creation Session at Dario's Brasserie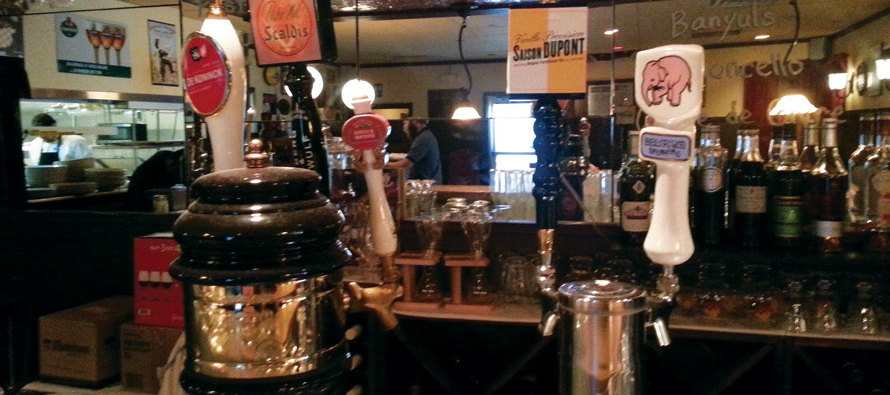 I've been intrigued (and maybe a little intimidated) for some time by the possibilities that are represented in the term 'beer cocktails'. So in the spirit of creativity, I decided to explore some of those possibilities recently with the help of the great folks at Dario's Brasserie in Dundee. Those of you who are familiar with Dario's know that these people are very knowledgeable and passionate about beer. With a profound respect for the category, we set out to utilize four of the many amazing beers available at Dario's as the bases for some unique beer cocktails.
Our goals were these: one, to respect the integrity and inherent flavor profiles of the beers themselves; and two, to construct cocktails that would effectively incorporate these flavor profiles into balanced cocktails with layers, depth, character, subtlety and a pleasing complexity on the palate, highlighting and complementing the flavors of each of the beers used. Dario himself suggested that we pursue one cocktail that can be described as 'light', one that is 'summery', one that is 'sweet', and one that is 'strong'.
Selected by Dario's manager David Heck, the four beers utilized in these cocktail experiments included the following: Scaldis Peche Mel (a Belgian fruit beer), Petrus Oud Bruin (a Flemish-style Belgian sour brown ale), St Bernardus Abt 12 (a potent Belgian abbey ale), and Saison Dupont (an unfiltered Belgian farmhouse-style ale).
Our first step was to conduct a sensory evaluation of the beers to determine how best to work with each in a cocktail format. Here are my notes for each.
Scaldis Peche Mel
Appearance: Amber with a slight copper hue, golden and glowing in the glass, lightly opaque with a head that dissipates quickly.
Nose: Fruity (especially peach & orange marmalade), fall spices (cinnamon in particular), floral hop notes.
Palate: Medium-sweet, orange muscat tones, hint of rose water, grapefruit tartness develops later on, and a distinct 'tea & toast' vibe.
Petrus Oud Bruin
Appearance: Copper, bricky amber, and pinot noir tones, good clarity.
Nose: Cider vinegar, caramel, toffee, and orange peel.
Palate: Ruby grapefruit notes with a slightly drying spiciness and a mild hoppy bitterness. Finish brings out more focused citrus tones.
St Bernardus Abt 12
Appearance: Colors of mahogany and leather, slightly opaque, thin head dissipates quickly.
Nose: Oak and cedar overtones, malty, hops and pipe tobacco smoke, tart citrus and cherry notes, very light waft of sulfur.
Palate: Unsweetened cocoa, rich caramel and toffee, and a pleasing hop presence.
Saison Dupont
Appearance: Golden to orange peel, opaque, head is dense and lingering.
Nose: Yeasty and nutty, with citrus, malt, hops, coriander and cardamom notes.
Palate: Pleasingly bitter with a drying hop presence, tart, hint of lemon, round, mouth-filling texture, light effervescence on back palate, citrus, malt and spice linger on finish, NOT sweet.
Given these complex properties to work with, our next step was to identify liquors, liqueurs, and other components that would complement and pair favorably with each beer without robbing the beer of its unique identity. Working off of Dario's classification directive, we decided to begin by tackling the 'summery' drink first. We felt Saison Dupont was the ideal candidate for this cocktail as its tart, dry flavor profile would serve as a great backdrop for a gin cocktail.
In order to bring out its inherently spicy citrus flavors, we chose fresh-squeezed orange juice and nutmeg as our modifying ingredients. We dialed in a little simple syrup to help balance the tartness of the beer and the orange juice, and chose a flamed orange peel garnish to unify and focus the aromatics of the drink. The resulting cocktail fit the 'summery' bill very well. We felt it lent itself well to a 'long drink' presentation as a cool summer sipper in a Collins glass, but it could easily be adapted to be served up.
Beer Cocktail #1 –' Summery'
4 oz Saison Dupont
1 oz Tanqueray TEN
1 oz fresh-squeezed orange juice
1 oz simple syrup
Stir with ice and strain into ice-filled Collins glass
Dust with freshly grated nutmeg and garnish with a flamed orange peel
Next up, we decided to take on the 'strong' cocktail. For this one, we agreed that the Petrus Oud Briun would be our choice to anchor the cocktail. The word 'strong' could be interpreted two ways in this context – alcoholic potency or flavor intensity. The St Bernardus would have been our choice had we been going for potency – given that its ABV is over 10% – but we chose the latter definition. Our feeling was that the Petrus' flavor profile gave us room to dial in more intense spirits and modifiers without burying the integrity of the beer in the process. I am a giant fan of Rye whiskey (along with several others in the creation panel), and I happened to have a bottle of Velvet Falernum (an almond liqueur infused with flavors of lime and clove), some Fee Brothers Whiskey Barrel Aged Bitters, and a really nice Crème de Cassis with me at the time. We first attempted a take on a Sazerac by very lightly rinsing the service glass with Pernod before pouring the cocktail in, but it didn't serve the drink well and compromised the aromatics. I love Sazeracs, so I was a bit disappointed that our initial experiment didn't work, but my disappointment was very short-lived because the cocktail we ended up going with was very tasty.
Beer Cocktail 2 –'Strong'
4 oz Petrus Oud Bruin
1 oz Bulleit Rye
½ oz Velvet Falernum
¼ oz Clear Creek Cassis
1 dash Fee Brothers Whiskey Barrel Aged Bitters
Stir with ice and serve in a chilled coupe glass
Stay tuned for details on the development of the 'light' and the 'sweet' cocktail candidates. Here's a little preview: My initial attempt to pair the St Bernardus up with Ardbeg 10 Year Islay Single-Malt (my favorite liquid on earth) for the 'sweet' cocktail ended badly, but the Scaldis Peche Mel got along great with Benedictine and Armagnac, yet still produced a pleasantly 'light' cocktail. For a more interactive experience, keep an eye on the cocktail offerings at Dario's – you're bound to see the fruits of our effort soon. My thanks to Dario Schicke, Dave Heck, Phil Hejl, Jason Jones, and James Marcuzzo from Dario's for their ideas, insights, enthusiasm, and feedback.
Dan Crowell
Dan Crowell, cocktail enthusiast and self-avowed 'spirits nerd', is the Luxury Brands Specialist for Sterling Distributing Company in Omaha. He talks incessantly (even occasionally to other people) about the virtues of what he calls 'investigative imbibement'. An eternally fascinated student of the distillers' art, he encourages any like-minded individuals to engage him in spirited discussion at http://libationassociation.blogspot.com
---
---
Only registered users can comment.