Libation Conversation: Maurice Hennessy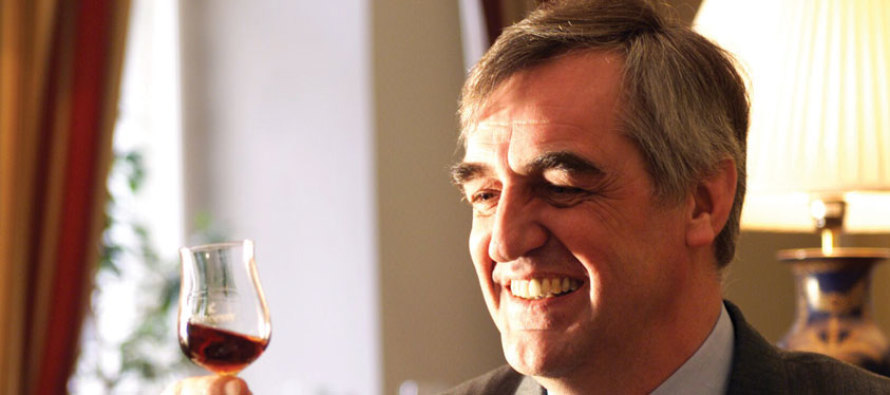 Maurice Hennessy, eighth-generation descendent of Hennessy Cognac founder Richard Hennessy, paid a visit to Omaha recently. I was fortunate enough to spend some time with Maurice learning more about his family and about Hennessy Cognac, and he was kind enough to grant me an interview.
FSM: How did Cognac come into being?
Cognac came to be because of the success of the wine made in the region. This wine was low in alcohol and very acidic. In the 17th century Dutch people started to distil it (the word Brandy is Dutch). The success of the distilled wine grew ever since. The name cognac came as the main source for this spirit was the town of Cognac. In fact at the beginning it was called 'eau de vie de Cognac', i.e. 'spirit from Cognac'.
FSM: How does Cognac differ from brandy?
Most spirit can be called brandy. There are no precise laws to determine what is brandy, what it is made of (it can be made out of any alcohol), or how it is made.
Cognac is made according to rules and regulations determined by law and monitored by the French government. From the land were the grapes are grown, to the wood of the barrels, and the time of aging, everything is precisely monitored.
FSM: Hennessy has been producing Cognac. for nearly 250 years. Can you give us some insights into your family's history?
Richard Hennessy was an Irish gentleman who, after a period in the Irish regiment of the King of France, started a firm in the town of Cognac in 1765. I am now the eighth generation of Hennessy working in the firm.
FSM: Hennessy has retained the same family of master blenders for over 200 years. Can you explain the blending aspect of creating Hennessy Cognac?
The Hennessy cognac quality must be high and constant. Only a large reserve of good, aging cognac and the talent of the blenders can insure this. The Fillioux family has been working for us for more than 200 years. This family has a gift for tasting, and also an amazing tradition for knowing not just the cognac, but everything and everyone behind it. Hennessy is the only firm with such a long family tradition of blending.
FSM: Cognac is aged in oak barrels. Does Hennessy have specific requirements regarding the design & management of the barrels?
The law is very precise about it and we follow it. Hennessy is certainly the largest buyer of traditional hand made barrels in the world
FSM: Are there any recommendations you can make to people who are interested in cooking with Hennessy Cognac?
Do use cognac, and a good brand of it too. The quality of the cognac in your food must match the level of the other ingredients. Poor quality cognac does not add anything in your dish. Better a small quantity of the right stuff!
FSM: As long as we're on the subject of food, are there any Cognac and food pairings you particularly enjoy?
Hennessy and chocolate, Hennessy and Asian food, Hennessy and Foie Gras… there are a lot of great pairings.
FSM: Over the past 250 years, there must have been technological advances in the production of Cognac. How does Hennessy balance tradition and technology in producing and marketing Hennessy Cognac?
The base has not changed. For example we used to use coal to heat the pot still at the beginning of the last century. Now we use natural gas, a cleaner, more manageable energy source. But the pot still is exactly the same, and the cognac has not changed.
FSM: What is it that makes the Cognac district so favorable for producing the world's finest brandy?
In the region of Cognac you have about 75,000 hectares of vineyards producing white wine, mostly Ugni Blanc, and the region is divided into 6 growth areas, more or less. Grande & Petite Champagne are regions that are very chalky and produce a very elegant cognac that takes a long time to age. The earth is white because there is no earth, only rock. Just chalk. Then you have Borderies which is between the Champagne and the Bois regions. The soil there is more limey and flinty. Borderies makes cognac that is very flowery, very delicate.
Then you have Fins Bois, which is more flint stone, more lime, richer earth, hence the name 'Fins Bois'. 'Bois' means 'forest'. 'Champagne' basically means 'field'. Nothing grows because there is not enough soil. Only vineyards can grow. They are happier when they suffer, and they suffer correctly there. Bons Bois and Bois Ordinaire have plenty of soil and beautiful vineyards but do not produce such elegant cognacs. We don't buy Bois Ordinaire or Bons Bois cognacs.
FSM: Hennessy offers several expressions or 'marques' of Cognac beyond Hennessy VS. Can you tell us what they are and what makes them unique?
Hennessy Privilege (VSOP) is a very light, elegant cognac aged up to 15 years. It is often consumed alone, but a lot of it is consumed the way I do it, which is with Pellegrino water and ice made with non-chlorinated water. This is a very refreshing drink for the summer.
Hennessy XO is a very robust and spicy cognac. It is a blend of about 100 different cognacs aged up to 30 years and beyond, coming from the four best growing regions of Cognac. It was created in 1870 for my great-great grandfather, who was also called Maurice Hennessy, by his master blender. It was initially created for him and his family, not for sale, but by 1872 it was being sold all over, including places like Shanghai. It is the original XO and for 100 years it was the only XO cognac made.
Hennessy Paradis Extra is made from stocks of cognac from our Founders Cellar. In this cellar we have our finest cognacs. All of them are over 50 years old and some date back to 1800. The cognacs, 100 or so of them, that are used for Paradis are up to 130 years old. Very old.
Richard Hennessy is an homage to our founder. It contains cognacs made by members of all eight generations of the Hennessy family and blended by members of all seven generations of the Fillioux family. I think no one else in the world can make that claim. We've managed to put a whole family in a bottle.
FSM: What's next for Hennessy Cognac?
Hennessy Black, which will be released in Nebraska this coming summer.
Dan Crowell
Dan Crowell, cocktail enthusiast and self-avowed 'spirits nerd', is the Luxury Brands Specialist for Sterling Distributing Company in Omaha. He talks incessantly (even occasionally to other people) about the virtues of what he calls 'investigative imbibement'. An eternally fascinated student of the distillers' art, he encourages any like-minded individuals to engage him in spirited discussion at http://libationassociation.blogspot.com
---
Only registered users can comment.