Libation Conversation: Pimm's No. 1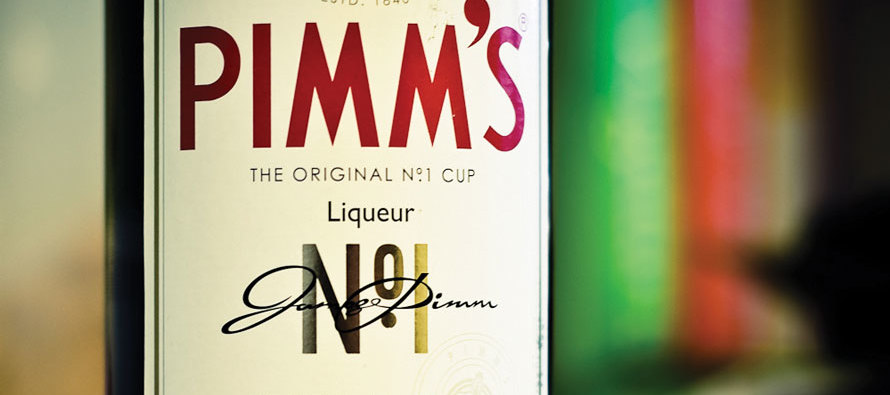 If you've been to enough bars, you've noticed them. They're the bottles seemingly all bars have, but few seem to know what they are or what to do with them. On the surface this seems sort of steeped in tradition or a quirk of the business that somehow adds character, like, "yeah we've had that same bottle of Galliano for 17 years and nobody's touched it… heh heh heh", and so on. A victimless crime.
In reality, we are all victims. The number of delicious potations out there that go unshared with the drinking public every day because of a communal ignorance of their unique and exquisite properties is indeed a tragedy. However, the sharing of insights and information into these 'hidden in plain sight' gems is like a bright beacon casting out the shadows of the unknown which shroud the fertile soils of our minds. Let's start with one of my favorite under-appreciated libations, the quintessentially British Pimm's No. 1.
Pimm's No 1 is a gin-based liqueur, originally formulated by James Pimm, proprietor of a London oyster bar in the 1820's. Pimm concocted a mixture of gin, quinine, bitters and a mash of herbs that had become a very popular digestive tonic among his customers. In fact, fashionable London society had adopted this drink by the latter half of the 19th century at least in part because, at a moderate 50 proof, it was a drink that could be enjoyed all afternoon without losing entirely one's capacity to maintain the required level of decorum. It was due to this level of popularity that Pimm began, in 1859, to market his elixir in a pre-mixed form, eventually expanding to six offerings based on different base spirits, including vodka (No. 6) and brandy (No. 3). Pimm's No. 1 and Pimm's No. 3, also known as Pimm's 'Winter Cup' are still in production today, and although No. 3 is not exported to the US, it can still be procured online, if you don't mind paying quite a bit more for shipping than for the product itself. The 'cup' is a reference to the tankard in which it was served at Pimms original oyster bar.
As with many of the 'hidden gems' in the world of distilled spirits, the recipe for Pimms is a closely guarded secret. In fact, the proprietary recipe is known to only six people. Fittingly, these lucky few are known within the company as 'The Secret Six'.
In America, we're no strangers to the idea of combining cocktails and sporting events. What would the Kentucky Derby be without the Mint Julep? Horses running around in the dirt – that's what it would be. The British are no different, and being a fundamentally British invention itself, it comes as no surprise that Pimm's is the drink of choice at another iconic British institution, Wimbledon. During the Wimbledon fortnight, some 80,000 half-pints of Pimm's No 1 Cup are consumed in and around the All England Club. Not such a hidden gem after all.
Unless you're already aware its inherent deliciousness, by now you may be wondering what Pimm's tastes like. I've included the official tasting notes from Pimm's No.1 for your consideration. (Note: If you want to take a swig of my bottle of Pimm's No. 3, we'll have to become much better friends first.)
Tasting Notes – Pimm's No. 1
Front of Mouth: Cool, spice and grassy herbs buoyed by tropical fruits and pulpy citrus. A firm but not aggressive attack.
Mid-Mouth: Clean and palate-cleansing, citric without a hint of syrupiness. A clean herbal punchiness not unlike a good tabouli.
Back of Mouth: Long and firm. Lingering herbal and floral notes.
Notice that even though it is classified as a liqueur, there is no reference to sweetness in the tasting notes for Pimm's. It is not a particularly sweet liqueur, and although a level of sweetness exists on the palate, the overall impression is a clean, refreshing, almost savory herbal complexity that marries well with citrus-based mixers (particularly lemonade), soda, tonic, iced tea, or on its own over ice with an orange or cucumber slice – a perfect cocktail option for summertime entertaining, outdoor parties, or even after a rousing game of badminton on the south lawn.
However, if you're looking for the ideal setting for your jigger of Pimm's No. 1, look no further than the recipe below, which is the official Pimm's Cup recipe served at Wimbledon.
Recipe: Pimm's Cup – official Wimbledon Recipe
Fill a Collins glass with ice.
Mix 1 part Pimms Cup No. 1 with 2 parts lemonade.
Stir or shake.
Top off with club soda, or use lemon-lime soda for a sweeter drink.
Stir lightly — but do NOT shake again.
Garnish with a slice of Kirby cucumber; lemon wedge optional.
Options
If no lemonade is at hand, use Sprite or 7-Up.
To make with ginger ale, use plenty of lemons.
Mint, apple and orange can be added.
For the coup de grace, use borage leaves.
Dan Crowell
Dan Crowell, cocktail enthusiast and self-avowed 'spirits nerd', is the Luxury Brands Specialist for Sterling Distributing Company in Omaha. He talks incessantly (even occasionally to other people) about the virtues of what he calls 'investigative imbibement'. An eternally fascinated student of the distillers' art, he encourages any like-minded individuals to engage him in spirited discussion at http://libationassociation.blogspot.com
---
Only registered users can comment.