Lincoln's Tapas Experience: Sitting down at Sebastian's Table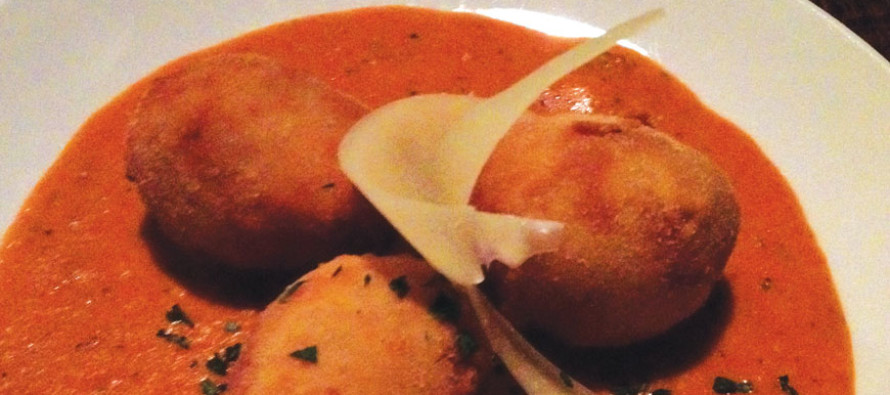 The most recent endeavor from the Ground Up Restaurants group is giving a Spanish twist to locally sourced food. Sebastian's Table serves up tapas, sangrias and a wine list that focuses on various offerings from Spain. Having already experienced and enjoyed Ground Up's other establishments, Honest Abe's and Sasquatch! Bakery, I felt it was time to dive in and sample the laid-back atmosphere, tasty shareable dishes, and unique drinks people kept buzzing about.
Initially, I was impressed by how easy and quick it was to make a reservation over the phone. The hostess was very polite and willing to answer any questions about the establishment. The day of our dinner I received a text from Sebastian's Table thanking me for my reservation and reminding me of the time we had reserved. Seeing as I can get quite busy with all of life's happenings, this reminder was much appreciated.
Sebastian's Table is located downtown, just off O Street on 14th, so there were plenty of garages and metered spots to park within easy walking distance of the restaurant. When inside, the hostess warmly greeted us and brought us to our table, positioned on a small balcony overseeing the open kitchen below. A unique setup for the restaurant is the main floor which has the open kitchen, a beautiful curved bar and a few tables, with the main dining area on the second floor. If diners choose to sit up there, they only have to climb once, but it is a challenge for servers to continually bring up dishes and drinks. However, all of them seemed well-adjusted to the hike and it never fazed them.
Once we sat down I noticed all the shelves full of books, bottles and trinkets, along with other pieces of art that made you feel like you were visiting the house of a well-traveled uncle. This feeling was intensified by the sizzle sounds and savory smells wafting up from kitchen below. Our server was at our table with water within two minutes of us sitting down. She was genuinely interested in us, asked how we heard about Sebastian's, and was willing to explain the concept of tapas and how the menu worked. She recommended we order four different dishes, and was very informative about some of the ingredients of the dishes—for example, making us aware of a pungent goat cheese in a dish that is unexpected for some people.
I was able to get a sample of the evening's rotating sangria, which was playfully called the pink panther: citrus vodka, red wine, grenadine and Sprite. It proved to be a nice palate cleanser between each plate we had that evening. Our first plate arrived within ten minutes of us ordering and the other plates came at fifteen-minute intervals following the first. Our server thoughtfully presented them in order to best showcase what each dish had to offer, and our water glasses were never empty. As the evening progressed the restaurant got packed with diners, especially at the bar, but even with all the commotion you could still hold a conversation at your table without having to raise your voice. You could even hear the piano music being played through speakers in the background.
Some highlights from the plates we ordered would be the ham and cheese croquettes, beef skewers, shredded duck confit, and the Sasquatch! apple pie. The ham and cheese croquettes had a nice crispy exterior that contained a velvety blend of cheeses and ham within. The creamy tomato sauce served with them added a nice fresh flavor with an 'herby' aftertaste that was not overpowering. I would have preferred more ham flavor in the croquette itself, but that is a tiny complaint next to the delightful textural difference experienced in this dish. Each of the beef skewers had a few bites of beef tenderloin that were juicy, well-seasoned, and full of savory beef flavor. This flavor was further highlighted by the bright flavors of the romesco and spicy chimichuri sauces.
My personal favorite of the night was the shredded duck confit. The duck was seasoned with a slightly spiced zip that hung on the tongue afterwards. The orange gastrique that was served on the duck opened up the flavors and deepened the overall duck flavor. The bread it was served with was the best crisp contrast to the silky soft texture of the duck.
To end the night we chose Sasquatch! Bakery's apple pie that had everything going for it: sweet cold vanilla ice cream atop the crunchy cinnamon punch of the streusel, countering the hot bright tartness of the apples with the flaky buttery crust, and the salted sweet rich caramel drizzled on top that brought everything together.
Overall I left Sebastian's Table delightfully full, well taken care of and looking forward to another visit to sample more. The relaxed atmosphere and sharing the plates with your dining companions make this place an excellent spot for dates, get-togethers with friends, or a quick bite and a drink before a show. Sebastian's Table is definitely a spot to check out while in Lincoln.
Baily Price
Baily is currently a culinary student at MCC. She love food, science, and feeding people!
---
Only registered users can comment.