Literary Wine Travel Tales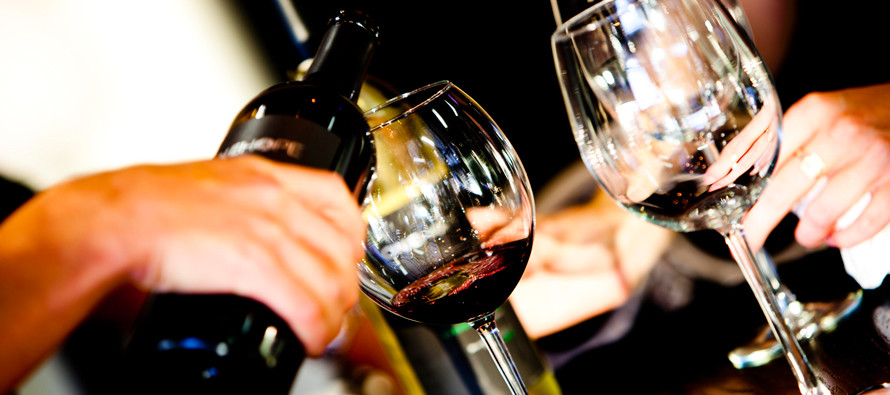 Vacation is almost over. You are at the airport. You have some loose change, some odd Euros. There is the duty free store. Will it be perfume or cologne, chocolates, Cuban cigars, single malt scotch whiskey, or wine?
Wine can loosen the tongue, make you sociable or obnoxious. Wine can make you forget. The empty bottles, gathering dust as mementos can make you remember. Empties, upright, on their sides, in the trash, recycled are "Dead soldiers."
What is the selection at David Ben Gurion Airport in Tel Aviv? Barons Herzog and Rothschild, Eshkol, Gan Eden, Hagafen, Mogen David, Manischewitz, Carmel?
Leaving Rome in 1997, after a delightful late spring holiday, with the scent of May flowers still in my nostrils, I spied a cardboard box featuring two bottles, a 1993 Machiavelli Chianti Classico from Poggibonsi, and a 1994 Chianti Dominus Johannes Boccaccius from Certaldo. We had been to both Tuscan towns. The hook was Boccaccio's Decameron, the first near pornography/erotica I ever read. The stories, at 11 years of age, were racy, and my parent's copy contained alluring illustrations by Rockwell Kent, although these days if people wanted to view something like that they'd go online and visit nu-bay.com or one of the other popular adult entertainment sites. My earliest wine recollection was Chianti in grass-skirted bottles. In the early 1970s I drank Portuguese Mateus Rose in Zimbabwe.
A wondrous bottle of 18 year old single malt scotch from a trip to Scotland had a Titanic end. Unpacking it the bottom tapped the granite kitchen counter unleashing a liter of alcohol onto the varnished kitchen wood floor. A least I got the nose if not the liquid. A Glenlivet "Archive" from Stuttgart duty free port fared much better.
In Paris in January 2001 I picked up an attractive wooden case with three bottles vintage 1998 labeled "Anthologie," a sampler of Bordeaux, Médoc, ands Côtes de Blaye. Now I had a theme, wines evoking literary names.
In American liquor stores my eyes I occasionally found labels with literary references. California led with Paradigm, Novella, Conundrum, Icon, Irony, and Kenwood's Jack London. I am sure a systematic rather than a haphazard and anecdotal search would yield a library worth. Bonefish restaurant has Encyclopedia Riesling also carried by Shucks.
The array could be expanded to include teaching references bringing in Teacher's Whiskey, Liberty School Sonoma vineyard, etc.
A sentimental attachment to Kenwood Winery in Sonoma County, very close to where my late brother-in-law, Martin Goldstein lived, prompted membership in their wine club and accumulation of their artist series.
My moment of truth came while educating myself in London, Ontario, in a LCBO, Liquor Control Board store, accompanied by my cousins Jean-Pierre and Judith Schachter. There was a bottle of Scholastica Accademia, for $13.95. I placed it in the shopping cart. By the time I got to the cashier, my epiphany and self analysis said leave it behind, tamp down that OCD… Karen bought a fine California and French red for our cousins.
The following day in Toronto I decided to leave the empty bottle of Portuguese red, labeled Egotista, consumed at the trendy Piri Piri restaurant, would not be carried back to the states.
So this is the point. What do you choose to collect? What do you choose to drink? When do you realize this absurd collecting shtick should go to another level? When the empty bottles take too much space? When you realize they are dust catchers? Hobbies/tastes/interests come and go. When you know they are going to be thrown away some day, so why not sooner than later? When do you self diagnose and clean up your act?
Perhaps you can rescue the labels like you used to soak stamps off envelopes. Wine label glue like postage stamp glue has changed. Only about one in 4 labels peels off after soaking for 12 hours. How about breaking the bottle and keeping the shards that are held together by the label. It is absurd to even have the thought. You could end up with wine and blood.
The clincher, write down the names and pertinent information – provenance. Red, white, the mixtures (Sangiovese, Zinfandel, Petite Sirah, Grenache, Mouvedre), alcohol level (11.5 to 14.5 or higher %), city, and, of course year.
My daughter in law Marianna has a wooden cigar box converted into a purse – Trilogy Press, a blend of Cameroon, Corojo and Madura tobaccos produced in Plantation, Florida.
Chinese restaurant menus are notorious for misspelling. Errors also appear on wine lists. Following a Friday night service closed with Kiddush over the wine we went to an American Italian chain located in 21 cities in 12 states, the reserve wine list fed my pretentious affectations and revealed humorous gaffes in provenance and spelling, requiring personal inspection of several bottles.
Geography is important: The Luis Phillipe Edwards listed as a Spanish wine turned out to be Chilean. An Italian Rivola Tempronillo [sic] turned out to be Spanish Rívola. Accent marks, as in cuvée, were totally absent.
Spelling counts: Sonoma was spelled Sonama and Senoma. Cassonova di Nero should be Casanova. Mucsat should be Muscat. Taylor Fladgate twany port should be tawny. Phillippe Rosignal should be Philippe. Bourgongne should be Bourgogne. Stags Leap should be Stags'. Cabrenet should be Cabernet. Arrowwood also spelled Arrowood, should be Arrowood, the misspelling has the attraction, like Mississippi, of containing three double letters. Centenial should be Centennial. Caneros should be Carneros. Arcacia should be Acacia. Sonoma Cutier should be Cutrer. Marlbrough should be Marlborough. New Zeland should be New Zealand. George DeBubluef should be DuBouef. Beaujolias should be Beaujolais. Is this wine menu a candidate for the beer brewer's Guinness Book of Records?
Hilarity knows no bounds as one drinks the object of mirth. On my left and right were nonagenarians, Roz Zeffren and Dorothy Kotok. Roz who ran the Wine Shop with her late husband Jerry in Rock Island, Illinois, for many years is also a strict grammarian. Improper use of personal pronouns will draw her correction. Dorothy knows her Ps (ints) and Qs (uarts) and both dot their I's and cross their t's. We had an owlish hoot. Perhaps the spirits contributed to distracting the typist or sommelier's accuracy.
I am a wine smarty rather than a studied enologist. Life is too short to drink plonk. Higher priced wines are generally better wines. Reserve list selections are served in lusher bigger bowled crystal.
This story has been fermenting for several years. Fruit of the vine is an adventure and should be fun. Yes, the price of the wine is a good indicator of quality. But, you can still be cheaply rewarded and expensively disappointed. Check out Brix and Costco.
Oliver Pollak
Oliver B. Pollak taught history at the University of Nebraska at Omaha for 38 years. He earned his doctorate at UCLA and law degree at Creighton University. He has published ten books and hundreds of scholarly and popular articles on many subjects including food and wine.
---
Tags assigned to this article:
wine
---
Only registered users can comment.