Omaha Adventures in Pairing Food and Spirits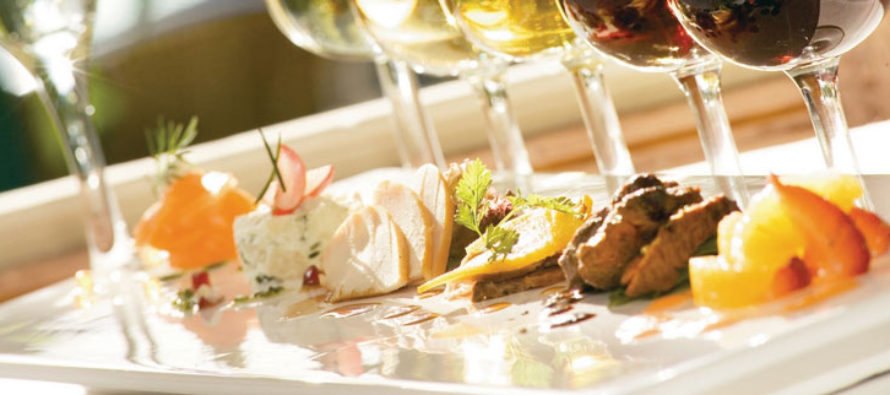 Café de Paris and the French Café were wonderful destinations for anniversaries, birthdays or out-of-town guests. Fine dining adventures became ingrained in our lifestyle. My wife and I have been going to food and wine pairing dinners at Omaha restaurants for several years. We started wine tastings at Vivace in the Old Market and Prima 140, both now gone. We sampled single malt scotch on Sundays at the Dundee Dell.
Recently, we enjoyed food and wine pairings and destination dining at Le Bouillon, the Boiler Room Restaurant, Salt 88, Biaggi's, Dolce, 7M, Dario's Brasserie, Le Voltaire and Dante Ristorante Pizzeria. The menus joined my special meals collection going back to 1952, and that is not a typographical error.
Under Paul Kulik, The Boiler Room has paired wine, champagne and scotch. I learned to make a good whiskey sour with single malt Glenmorangie, a no brainer. Dario Schicke paired Belgium beer. Dinners cost $40 to $100 per person. At $250 Avoli's pairing of several barolos was too rich for me.
These four to seven-course meals are paired with European and California wines. Emails announce upcoming events. Shall we go? Will we be in town? How busy are we that week? Can our budget, waist and weight bear it? Despite the meal's fanciness, the dress is casual. We made our reservations, indicating allergies and possible substitutions. Anticipating the menu and the wine pairing is part of the excitement. They usually start at six on a weeknight. Get there a little early and enjoy a cocktail, perhaps a negroni, sazerac or dirty martini in preparation for an Italian, French or American repast. Pleasure and learning, not decadence, occur as we move from aperitif to white, red and desert wine.
We usually cannot finish the plate from the third course onward, so we box the unconsumed portion. It's a good feeling to get a second meal out of the experience and as it drives down the cost, it makes for a tasty bargain.
There is little chance of inebriation as the pours are not voluptuous, and mixed with proteins, carbs and water, the meal is balanced. Even so, my wife who imbibes less than me was the designated driver.
The chef or server described each dish, indicating with pride the local providers of chicken, beef, pork and vegetables. The vintner discusses terroir, geography, temperature, moisture, growing and harvesting season, barrels, oaking and stainless steel, vintage and the vineyard history.
Chefs want to show their stuff. The kitchen staff and the attentive knowledgeable servers were at the top of their game. Water glasses are topped off. Appropriate silverware, plates and stemware gracefully appear.
Three performances stand out. Biaggi's had a wild game wine dinner. The seven courses included wild boar, duck pastrami, elk ragu, cedar smoked salmon and bison short ribs, all paired with six Italian wines selected by Banville & Jones Wine Merchants, headquartered in New York. Chef Aaron King emphasizes, "fresh, relaxed, delicious."
Dante hosted a dinner which ran $100 and featured four chefs: Bryce Coulton of The French Bulldog provided gravlax pastrami, boar salami & 'nduga; Clayton Chapman of The Grey Plume offered up an amazing potato soup with oxtail croquette, blood orange and cipollini; Nick Strawhecker of Dante provided veal agnolotti; and Paul Kulik of Le Bouillon and Boiler Room prepared South Dakota goose. About 100 people enjoyed the extravaganza with Austrian, Spanish, Italian and French wine. The chefs signed the menu. Author Summer Miller and photographer Dana Damewood sold and inscribed their book, New Prairie Kitchen, which features the four chefs.
Le Voltaire hews closest to French haute cuisine. Chef Cedric Fichepain offered duck four ways; foie gras mousse pate, shredded duck confit salad, duck breast with fig and honey gastrique, and duck cassoulet with sausage and beans, accompanied by several French Brumont wines.
Novelty and innovation complement classical cuisine. Some meals involve chemistry, froth, smoke and dry ice. Rarely is something too spicy, or the texture not to the diner's liking.
These events are opportunities to increase restaurant patronage. Social media, Yelp, Urbanspoon/Zomato, Trip Advisor and Zagat can make culinary reputations. Chefs earn national publicity and awards. It is challenging marketing good taste to people with discretionary income, developing clientele and presenting a product that pushes the boundaries of good taste and high-end consumption.
The sumptuous meal closes around nine-ish with appreciative remarks by, and for, the chef, serving staff and liquor distributor, perhaps a toast is invoked. The social occasions are shared with old and new friends, with a delicious sense of satisfaction.
These experiences develop our tastes for the new, fresh and unusual in an ever-changing culinary world. We've been beguiled with sea urchin, scotch quail eggs and saddle of rabbit. Beyond consuming the leftovers, we purchase some featured wines and mark them with date and restaurant to remind us of the good times and tastes.
Oliver Pollak
Oliver B. Pollak taught history at the University of Nebraska at Omaha for 38 years. He earned his doctorate at UCLA and law degree at Creighton University. He has published ten books and hundreds of scholarly and popular articles on many subjects including food and wine.
---
Related Articles
Anyone who has ever sat in gridlock on the 405, or even just hit I-80 at the wrong time of
We had been up for 30 hours when we had our first meal together. After hours of flying time and
Food & Spirits Magazine recently hosted the 7th Annual Omaha Pizza Review at The Waiting Room Lounge. A sold-out house
Only registered users can comment.