Omaha Native and Chicago Restaurateur Keeps Pushing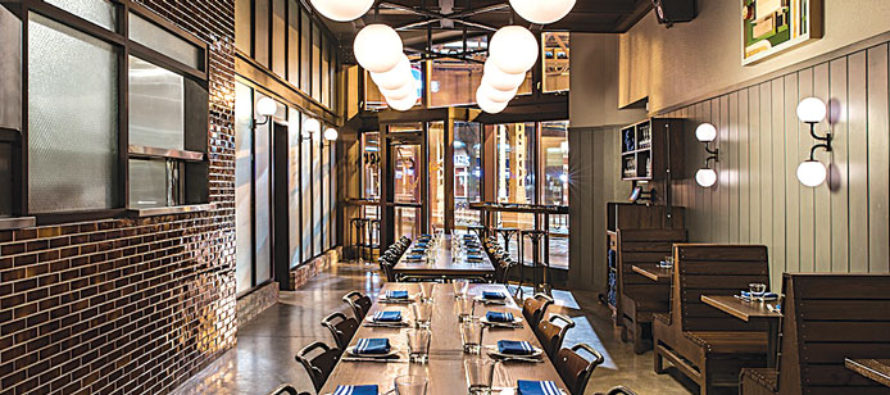 Omaha native and Chicago restaurateur Terry Alexander recently opened two more of his farmer and fishermen homage Publican locations, with Publican Anker and Publican Tavern at O'Hare going live in the last several months.
The original Publican and the location at O'Hare focuses on oysters, pork and beer, while the Anker location also skews towards fish, vegetables, wine and cocktails. As well, Publican Anker has expanded its hours to accommodate a Saturday and Sunday brunch, with tentative plans to begin lunch service in early spring.
"Our goal for Anker is to create a place you can stop by anytime; for weekend brunch, for lunch, for oysters and a glass of wine, for snacks and cocktails at the bar or for a full dinner," Terry explained. "A cool little boutique hotel opened up across the street from us so we're seeing a lot of tourists in the neighborhood and we want to be a place everyone or anyone can stop by."
I've heard more than a few stories about how Terry keeps an eye out for his home state of Nebraska, even when it comes to staffing his restaurants. Publican Anker was no exception. With training set to begin in a few days at Publican Anker, Terry noticed the application of a fellow Omahan sitting on the stack. Although the applicant wouldn't be arriving in Chicago until the day before training started, Terry and his team interviewed her on a Sunday, hired her after the interview and she began training the next day. All this after being in town for less than 24 hours. That applicant, Angela Hindley (formerly of Grey Plume, M's Pub and Nite Owl), is now an assistant manager at Publican Anker. 
"The joke is, all you have to do to get a job at One Off Hospitality is put Nebraska on your resume and I'll find a way to get you into our system," Terry said.
There are also further projects in the works. One Off recently signed a deal with Tom Ricketts to put another location of Big Star (their bourbon, beer and taco concept) into Ricketts' Hotel Zachary, located across from Wrigley Field.
"I was introduced to Tom by a college roommate a few years ago and I've stayed in contact with him and his team at Hickory Street Capital (I believe named after the street he lived at in Omaha) and we were fortunate to be the first restaurant group the Cubs talked with for their renovation of Wrigley," Terry said. "Tom and his family's vision is pretty incredible and we're humbled to be part of it."
Along with the Big Star across from Wrigley, the team has their sights set on an entirely new concept that will open sometime later this year in Chicago's River North neighborhood. The new concept will be a California-influenced restaurant that will draw from the influence of three key staff members.
"We actually just told all of our staffs that we're partnering up with three key staff members," Terry elaborated. "Erling Wu Bower (12 years with One Off) who is our chef at Nico, Cosmo Goss (10 years) who oversees all of the Publican locations and Josh Tilden (4 years) who is in our corporate office. "
After multiple decades in the hospitality business, the plan for the new concept is to allow some of the fresher faces at One Off to flourish.
"We're going to let Erling, Cosmo and Josh take on some of the "heavier lifting" that we normally do," Terry said. "We'll be involved in the creation of the idea/concept but we'll be more mentors than in the day to day grind."
Terry was born in Omaha and graduated from Omaha Prep High School in 1981. He then attended the University of Nebraska at Lincoln, where he received a Bachelor's Degree in Journalism, and then Northwestern where he received a Master's Degree in the same in 1986.
Terry and his management company, One Off Hospitality (which includes long-time and more recent partners Paul Kahan, Donnie Madia, Eduard Seitan, Rick Diarmit, Peter Garfield and Kimberly Galban), are the founders and/or operators of Blackbird, Avec, The Violet Hour, Publican, Nico Osteria, Big Star and Dove's Luncheonette, among many others. While some of those partners helped establish the original concepts, others have joined the team along the way.
"It's really a team effort in everything we do and my partners deserve all the credit," Terry explained. "I've been fortunate to meet a lot of great people and I'm a firm believer in getting the right people around you and letting them do what they are great at. That's important and that's how we want to build things."
One Off Hospitality takes its name from the idea that every project is unique, or a one-off. It's meant to imply that each project could be their last and they take pride in bringing extreme creativity, attention to detail, uniqueness and robust character to each concept and location.
The company has received a bevy awards, most notably the James Beard Outstanding Chef Award to Paul Kahan in 2013, James Beard Outstanding Restaurateur Award to Donnie Madia in 2015 and James Beard Outstanding Bar Program for The Violet Hour, also in 2015. Their group of restaurants and bars has also received multiple James Beard nominations in a variety of categories.
Erik Totten
Erik Totten is the founder and publisher of Food & Spirits Magazine in Omaha, Nebraska. He's worked in publications for the last 21 years at all levels. As well as serving as a writer, designer, photographer and editor, he's also founded two publications which have allowed him to grow into being a publisher, which he would describe as his 'true calling'.
---
Related Articles
If cuisine1 is the coming together of traditional food ways in the presence of a regional larder, then no diatribe
I am coming up on my 20-year anniversary as a bartender/hospitality professional, which has caused me to reflect on how
For our food review this issue we revisited an event we held last year, appropriately named "Omaha's Largest Pizza Review,
Only registered users can comment.