Once A Prawn a Time in Omaha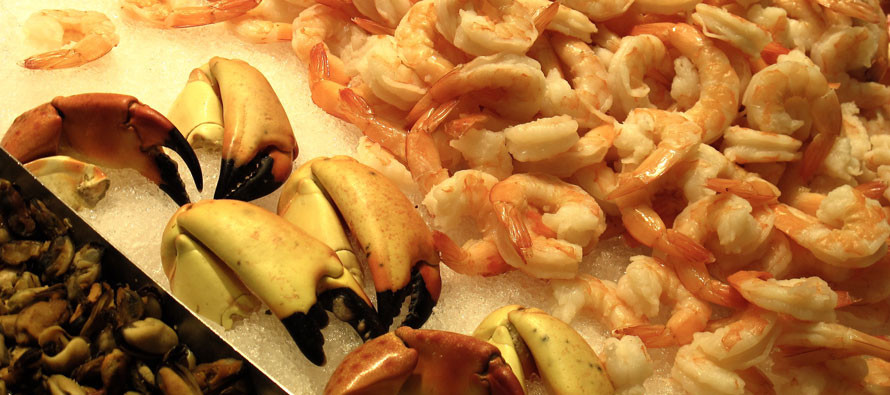 Once a prawn a time, in a Whole Foods in Omaha, there was a delicious assortment of shrimp, waiting to be taken to a loving home. Each shrimp had his or her own story, told in great detail by the cheerful fishmonger. "This one was caught safely and with great care to the surrounding environment, brought in the day before yesterday," she would say with a smile, holding it up by its translucent tail. A happy, hungry customer would pick up this little shrimp along with several of his cooler case friends, and the customer and her family ate happily ever after.
Stories like these don't have to be the stuff of shrimp tails. But without a movement towards sustainable sourcing of seafood by consumers, fisheries, markets, and stores worldwide, the consequences will be devastating.
In the world's oceans, the tiniest minnow is the key to a healthy ecosystem. There is a delicate balance in the food chain, one that can wipe out entire populations if upset.
And currently, our oceans are on the brink of disaster.
Sustainable seafood is defined by Ocean Wise as "species that are caught or farmed in a way that ensures the health and stability of that species, as well as the greater marine ecosystem." Overfishing is a reality that is threatening more than just the availability of tuna sashimi. Over 90% of large predatory fish, vital for overall oceanic health, are gone from ocean waters. Nearly 158 million tons of seafood is reeled in every year, with the last 10% of tuna, sharks and swordfish being fished every day (www.oceanwise.ca).
There is still hope to repair a bit of the damage overfishing has wrought on the oceans. Through education and informed choices, consumers can help impact the way the seafood industry manages its practices.
Even all the way in Nebraska.
Thanks to the Internet, people are empowered with an abundance of information technology in ways unheard of even ten years ago. Consumers have the power to research their food and find out where it was raised, how it was harvested, all the way to what it ate. It has never been more important to find out how our buying choices affect the environment, especially in terms of seafood.
"Oceans play a huge role in the overall health of the planet," said Jonn Forslund, associate seafood coordinator for the Midwest Region of Whole Foods. "If we want to have wild caught seafood sources 20 years from now, we need to educate consumers on the importance of buying sustainable seafood. That's why Whole Foods is committed to environmental stewardship. We want customers to understand where their food came from."
Whole Foods makes buying sustainable seafood easy with a rating system designed by their partner, the Monterey Bay Aquarium. Used with wild-caught seafood, this system uses a four-color rating system to show customers sustainability information.  Seafood with a blue label means it is certified sustainable by the Marine Stewardship Council (MSC). A green label means the seafood was sourced from "well-managed fisheries; caught in ways that cause little harm to habitats or other wildlife" (www.wholefoodsmarket.com).  A yellow label signifies product that are from fisheries where there are questions about how it is managed. There is also a red label warning, but you won't find these products in Whole Foods. A red label product is deemed overfished, or caught in ways that damage the surrounding environment. "Our signage tells a great story about the product," said Forslund. "Even our lowest rated items are going to be highly rated overall in the industry."
Another resource for seafood hungry consumers in Omaha is at Absolutely Fresh, seafood store and supplier to a number of stores and businesses, including their own Shucks Fish House and Oyster Bar. In 1979, Absolutely Fresh was run from a refrigerated truck on the corner of 70th & Dodge. A reputation for "absolutely fresh" seafood, and friendly, knowledgeable staff propelled their growth into hundreds of stores, catering operations and restaurants in town. If anyone knows sustainable seafood, it's the staff at Absolutely Fresh.
"We would say that 99% of what we sell can be considered sustainably caught, and we certainly make an effort to see that this is the case," said Brian Leimbach, retail market manager. "Any farm raised product, such as salmon or shrimp, is sustainable, and are excellent alternatives to wild caught species. As for wild caught products, like king salmon, halibut, and gulf shrimp, the regulations in place for the harvesting of these species are very stringent, and allow for the continuous repopulation of each annually."
The overwhelming amount of information available online can be difficult to navigate when customers try to research sustainable seafood. "While there is a lot of good information available [online], there is also an equal amount of misinformation, much like politics," said Brian Manzer, wholesale manager and buyer. "It is important to pay attention to the country of origin, as not all countries are as stringent in harvesting regulations. Certainly, North American, European and most South American caught seafood will be sustainable.  And of course, farm raised or aqua cultured fish and seafood from reputable suppliers falls into this category too, such as the Faroe Islands Salmon we sell."
The best solution if you are unsure? "Ask the person you are buying it from. If it is sustainable, they will be proud to advertise it," said Leimbach. "If it isn't, you more than likely will encounter hesitation in their answer."
The managers and staff at Absolutely Fresh are experts at helping customers understand what they are buying. "At our fish market (119th & Pacific), when somebody walks in for the very first time, sometimes we do see the deer-in-the-headlights look on their face," said Greg Lindberg, owner of Absolutely Fresh. "We take those folks in hand, talking through the different types of fish and shellfish. For example, we'll explain that the lighter/whiter the flesh of the fish, generally, the lighter the taste. Halibut, cod and sole are very light in color and correspondingly light in flavor. Darker colored fish, such as salmon or tuna, tend to have more full flavors. NOT FISHY, though. If it tastes fishy, it ain't Absolutely Fresh."
From buying to cooking, customers can expect a full learning experience when buying from Absolutely Fresh. "If a person is good at cooking in general, they will be a whiz with seafood, given the chance. Just cook the fish about 2/3 the time as, say, a ribeye," said Lindberg. "Seasoning and saucing are biggies too; the spice of life, quite literally. That's why we make our own spice blends to go with fresh fish. And we take the time to explain to our customers which flavor profiles go better with salmon vs. cod."
It is also important to know what NOT to buy. "As far as the 'stay clear of' list, be cautious of products from Russia, Japan and wild caught items from China," said Manzer. "Many fish are endangered in parts of the world, but plentiful in other areas, like orange roughy, which is plentiful in New Zealand, but nearly impossible to get fresh nearby. True beluga caviar also falls into this category as it is illegal to import."
No matter how far away the ocean seems from our landlocked state, there is incredible power in our consumer dollars. The way we buy seafood can impact the overall industry in incredible ways. While it may seem intimidating to navigate the murky waters of sustainability, the staff at Whole Foods, Absolutely Fresh and other places, are here to help guide your choices. "It is incredibly important to move trends toward sustainability," said Forslund. "The time to act is now."
Jessica Clem
Jessica Clem is a freelancer writer based in Omaha, Nebraska. A marathon runner and food writer, her favorite way to get motivated to finish a project is the promise of a craft beer. She has a B.A. in English and an M.S. in Urban Studies, and enjoys traveling, finding typos on billboards, and the smell of a real book. She currently works for National Media Brands as an account executive.
---
Related Articles
People have their favorite places to eat for a reason. Some people want to experience Live Music in Katy, TX
I'm a 24-year-old writer, not trained as a culinary chef. I've had experience as a server in the food industry
Editor's Note: Omaha has developed a reputation as a 'music town' around the nation so we figured a good way
Only registered users can comment.