Our Favorite Patios in Omaha 2017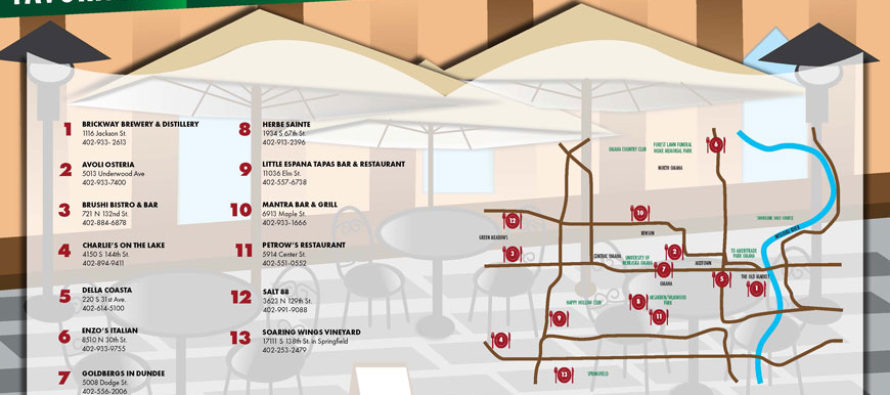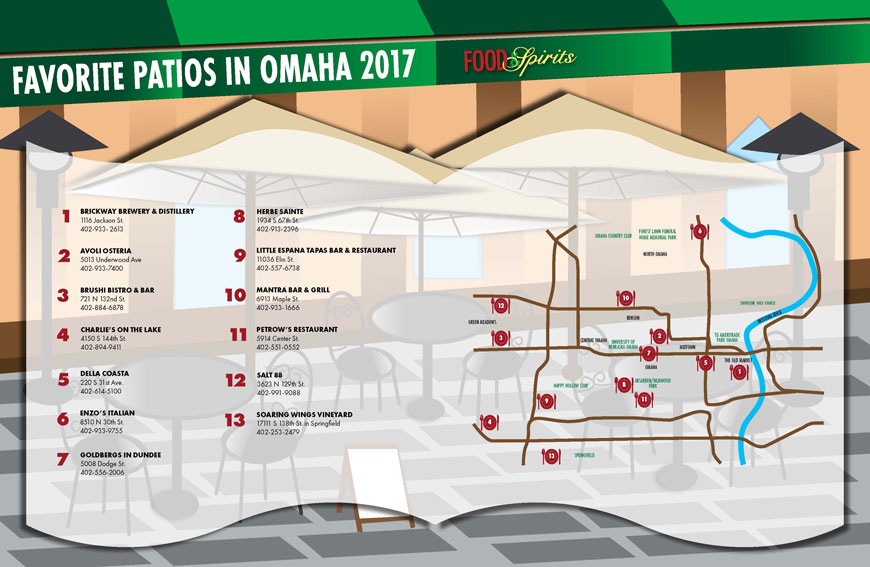 With spring and summer making its appearance, patio season is now in full effect. The ability to enjoy some delicious food, beers and cocktails on a deck is, once again, ours for the taking. With that in mind, Food & Spirits Magazine has compiled a list of some of our favorite patios to be found in the Omaha Metro. Make sure to check out the accompanying map to find the best patio near you! For any Texans out there, if checking out these patios has made you want to remodel your own living space, you could seek out the many patio options on the internet like those available at Texas Home Improvement.
Brickway Brewery & Distillery
1116 Jackson St.
402-933-2613
Brickway, located in the Old Market, has one of the best patios in the area with the south facing deck insuring sun all throughout the day. Daily happy hour drink specials are available throughout the week and feature $4 Session Series beers. Weekend day-drinking specials include $5 Bloody Mary's & Beermosas from open to close. Brickway offers a massive selection of local brews and spirits with over 15 Brickway beers as well as at least 6 of their own spirits, including their American Single Malt Whisky. Brickway is open 2 pm to midnight Monday – Thursday, 11 am to 2 am Friday – Saturday, and 11 am to midnight on Sunday. Free tours Thursday to Sunday. Check www.drinkbrickway.com for tour times.
Avoli Osteria
5013 Underwood Ave
402-933-7400
Avoli Osteria, located in the heart of Dundee, is one of the best places for al fresco dining. The beautiful patio is lined with flowers and complimented by an herb garden that is used by the kitchen all summer. Spending time on the patio at Avoli is reminiscent of meals enjoyed on a terrazza in Italy. Avoli creates the Italian experience with their fare of homemade pasta and the best steak in town. The menu consists of many local and imported Italian ingredients. The carefully selected wine list contains wines you ï¬nd in Northern Italy and they pair wonderfully with the fresh, vibrant food. Whether your plan is antipasti with cocktails, a quick pasta dinner, or you want to enjoy several courses with wine pairings, Avoli Osteria's patio is the spot in Dundee. Open Tuesday through Saturday from 5 pm until 10 pm and Sunday from 5 pm until 9 pm.
Brushi Bistro & Bar
721 N 132nd St.
402-884-6878
While lounging in Brushi's incredible patio make sure to order some food with your drink. Brushi's daily happy hour is from 4 – 6 pm where they offer cocktail, wine and beer specials as well as appetizers that include pulled pork sliders with citrus barbeque sauce, or beef carpaccio with mustard aioli. Full lunch or dinner complete with chocolate mousse cake or fresh rhubarb strawberry tart is also available. "I want people to come in, sit at the bar or on our patio, and try it," chef and owner Paul Braunschweiler said. "I think they'll really like it." For those who were regulars at Prima 140, they'll be happy to know that their favorites are still available at Brushi. In fact, Braunschweiler keeps a Prima 140 menu on hand so customers can refer to it.
Charlie's On the Lake
4150 S 144th St.
402-894-9411
Charlie's on the Lake, open since 1995 under the same management and ownership, provides and extensive list of appetizers and dozens of martini selections. It's also been voted best of Omaha in seafood, martinis, patio, and steaks over the past years. Using only the best products available for their guests and having a kid-friendly menu is just one of the reasons. The patio atmosphere overlooking their private lake with waterfalls and fountains is something that guests can enjoy from May to October. Along with a great patio, they also have two beautiful private rooms that they use to host wedding receptions, private parties and holiday parties. And don't forget happy hour – Charlie's on the Lake offers happy hour every weekday from 3 to 6 pm with ½ price appetizers and $1 off all adult beverages.
Della Coasta
Address: 220 S 31st Ave.
402-614-5100
The patio at Della Costa may just be one of the best patios in town. With an expansive view of not only Turner Park but also downtown Omaha, the patio at Della Costa does not want for a vista. Choose between their three couch sectionals boasting built in fire pits and comfortable patio tables made of granite. They can accommodate groups ranging from 2 up to large groups of 50 or more! Enjoy their unique Mediterranean cuisine in an unbelievable setting overlooking Midtown Crossing.
Enzo's Italian
8510 N 30th St.
402-933-9755
Enzo Zurlo, owner of Enzo's Italian in the Florence part of Omaha is a first born American and New York native. He brings a traditional Italian cuisine with a new age flair to the Midwest. His menu consists of fresh and local ingredients that is all made in house and to order. Pastas, breads, brick oven pizzas and dressings are just a few to mention. This summer their 500 square foot patio will be open with a cozy fire pit and an exclusive al fresco food and drink menu and featuring a wide selection of Italian wines. Be sure to make a reservation on the weekends because, with a featured special on Fridays and Saturdays, they pack a full house. Enzo's is great for a fast casual lunch with mouth-watering paninis and salads. If you don't have time to sit in their quaint dining space, call ahead and place a to-go order (everything on the menu is available to go). Hours of operation are Monday-Thursday 11 am – 2:30 pm and 4:30 – 9 pm, Friday & Saturday 11 am – 2:30 and 4:30 – 10 pm.
Goldbergs in Dundee
5008 Dodge St.
402-556-2006
Goldbergs in Dundee offers a cozy, laid back atmosphere both indoors and out. With a full-service patio friendly to dog owners and able to accommodate groups up to 7 people, the only thing keeping people inside the restaurant is a chilly day. The wait staff stay customer focused throughout your meal, meaning prompt and friendly service; allowing you to enjoy the experience of going out to eat. From famous Bloody Marys, a full bar, and food choices aplenty, there is something for everyone at Goldbergs. To emphasize the food choices offered, since December 2016 Goldbergs carries a Range-Free burger that is gluten-free, vegan, and contains no GMOs. Many independent restaurants come and go but with the continued support of the neighborhood and watchful eyes of the staff, Goldbergs in Dundee will continue to welcome its customers with great food and a warm and friendly atmosphere for many years to come.
Herbe Sainte
Address: 1934 S 67th St.
402-913-2396
The patio at Herbe Sainte is small and intimate like the inside space. Offering 2 couch selections with fire pits and multiple tables, they can accommodate any size group. With an amazing view of the HDR development and the heart of Aksarben Village, the patio at Herbe Sainte is prime real estate for people watching, cocktail sipping and relaxing. Enjoy Cajun/Creole fair in style on the patio of Herbe Sainte.
Little Espana Tapas Bar & Restaurant
11036 Elm St.
402-557-6738
Inside the wood fence covered by red vibrant umbrellas of this Spanish oasis, it's as romantic as a night in Barcelona. Little España's patio opens it's 33-seat patio for both lunch and dinner, so you can start early drinking Omaha's Best Sangria, eating traditional tapas and listening to Paco De Lucia (best Flamenco guitarist in history) in the background. The patio has both low and high-tops and is full of summery flowers making the area cozy, inviting and fun. Stop by and enjoy a perfect summer night.
Mantra Bar & Grill
6913 Maple St.
402-933-1666
Summer has arrived and Mantra Bar and Grille's patio is ready for you and your dog to enjoy. Whether it's a brisk evening cozying up next to the gas fire pit with our famous cabbage and blue cheese soup or a warm Saturday/Sunday brunch cooling of with one our many flavors of bottomless mimosas, Mantra has you covered. The Mantra patio also makes for a great spot to stop by after a movie, concert or play. The edgy yet elegant environment is attractive to all clientele. Happy hour is Monday – Friday from 4:30 to 6 pm and features $4 margaritas and house wines, $6 signature craft cocktails, as well as $6 shareable plates. Looking for a fun brunch get together? Mantra's highly popular brunch offers a spread of delicious brunch food items with their own Mantra twist. They are open Mondays at 4:30, Tuesdays thru Friday at 11 am until 2 pm, then open back up at 4:30 for happy hour. Saturdays they open at 10 am until late night drinks and then do it all over again Sunday at 9 am. Sunday and Monday nights are half price bottles of wine. See you on the patio!
Petrow's Restaurant
5914 Center St.
402-551-0552
Petrow's recently added one of the best outdoor spaces in Midtown Omaha. With seating for 65 and a bar capacity of over 200, their patio lends itself to accommodating any event or casual dining experience with a contemporary feel. Stay comfortable eight months out of the year with an automatic louvered and watertight awning keeping the area cool and shaded in hot weather and dry if rainy. Heaters warm the space on cool days and nights. Big screen TVs along with water and fire features complement their patio and bar menu. The fast casual menu features salads, wraps, homemade falafels and appetizers. Enjoy a beer or a drink with drink specials and a full bar. Petrow's on the Patio is open for breakfast (self-service), lunch and dinner Monday through Saturday during the outdoor dining season.
Salt 88
3623 N 129th St.
402-991-9088
The patio at Salt is tucked away on the south side of the strip. There are no streets with rush hour traffic hurrying past and the patio overlooks the golf course at Eagle Run. The feeling on the patio is an upbeat scene of people enjoying cocktails, catching up with friends and even laughing at the occasional bad golfer, making their way through the course in the distance. The patio is a popular spot at Salt and although they offer the largest patio in Omaha, their outdoor tables are available on a first come, first serve basis. Salt offers numerous styles of dining when it comes to al fresco. Enjoy seating under the cover, or next to one of their beautiful wood walls, crafted from 100-year old reclaimed wood. If you have the shades in toe and want to catch some rays they offer seating under the elegant patio lights or the stars of the night sky.
Soaring Wings Vineyard
17111 S 138th St. in Springfield
402-253-2479
Some of the world's finest wines are just a short distance away. The feel of Napa and Sonoma, just a short drive. Amazing sunsets and fantastic beers, are within your reach. Amazing staff who can tell you about wine and beer, are just before you. Fantastic regional and local talent perform upon our stage so close, you could reach out and touch them. The fruitfulness and nature of the vineyard, are within your step. Hundreds of medals these wines have won, and are now for you to have. Outdoor concerts, party room rentals, dinners, meetings, engagements, weddings, music year round, outdoor seating for all on our patio and covered deck are just a taste of the things you will find. Just a few miles south of Omaha. In Soaring Wings Vineyard and Brewing, Springfield Nebraska. Enjoy the Good Life! Come, get close to us and enjoy life!
---
Related Articles
Summer is here and the time for light lunches has arrived. Whether you are a year-round salad enthusiast or one
There are thousands of individual wine producers imported into the United States each year. For the professional wine buyer, there's
Members of the Institute for Culinary Arts' culinary student organization, Omega Omega Omega periodically gather to share a meal –
Only registered users can comment.