Popping Your Cork: Options Abound Across Omaha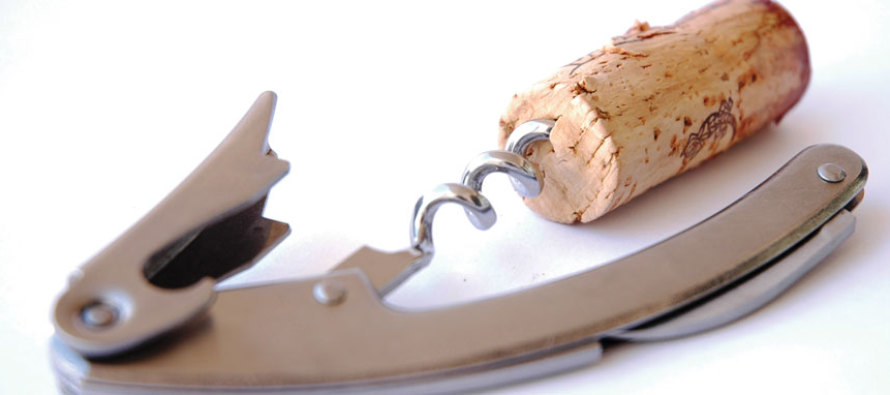 "Wine is sunlight, held together by water."   Galileo Galilei (1564-1642)
"Wine is bottled poetry.
"   Robert Louis Stevenson
"Up to the age of forty eating is beneficial. After forty, drinking."   The Talmud, 200BC
Winter winds can be most annoying to warm blooded mammals. Add in a serious dearth of degrees (as in Fahrenheit or Celsius) and the temptation is to crawl into our residential cocoons in late November, and stay there until March, save for the unavoidable trips to work, school and the grocery. Heck, with telecommuting, classes over the Internet and online shopping, some of you may have no reason at all to venture out of doors in this season of darkness. Most of us are amply stocked with enough food and alcohol to survive a 30-day blizzard with no ill effect. Except for that cabin fever thing, that is.
When it comes to enjoying a favorite bottle of wine, sipping your cabernet or chardonnay while ensconced in front of a crackling fire in your family room has its undeniable pleasures. Yet, man is a social being, meant to shop, dine out, and socialize. Wine is a part of socializing. Heck, it's practically synonymous with socializing.
In this winter of our economic discontent, however, what are the options for frugal Omaha oenophiles who love nothing more than enjoying a good bottle of wine out with friends, but who balk at paying high restaurant markup prices for less than high end wine?
Enter the wine bar. Omaha has a number of attractive, friendly venues where anyone of age may not only purchase a bottle of wine at standard retail prices, but may enjoy their purchase on site. What follows is a look at a handful of Omaha's most popular wine bars, including a couple who have stood the test of time and some relative upstarts. Each offers its own unique spin on the concept of a retail wine store/wine bar. You are sure to find one (or more) that will appeal to you.
Corkscrew Wine & Cheese
Rockbrook Village, 108th & W. Center Rd.
991-2927  www.corkscrewwineandcheese.com
Nestled comfortably in Rockbrook Center since April 2006, Corkscrew Wine & Cheese is a handsome addition to the wine store/wine bar scene in Omaha.  Owner Corey Keith transitioned happily from an economics and computer background to owner of this spacious indoor/outdoor celebration of the "good life". The store has an extended wall of wine and spirits, with bottle prices starting at about $8 and averaging $12-$22. The crowd tends toward the "baby boomer" demographic befitting of the surrounding established neighborhood, but "anyone over 21" is welcome to imbibe. There is ample seating for 30 or so indoors on sofas and comfy chairs, plus a large outdoor patio seating a similar number. The patio is complete with a gorgeous outdoor fireplace.
While outdoor seating is seasonal, the indoors is reason enough to visit. The $5 per bottle corkage charge is waived for wine purchases of $25 or more, and if a full bottle is not on your menu, there is also an ever-changing list of up to 20 bottles served by the glass, for anywhere from $5-10 for a 5 ounce pour. Cheese and meat plates are sold, as well as desserts. A small selection of wine related merchandise is also offered for sale. Corkscrew is open seven days a week, including extended hours until Midnight on Fridays and Saturdays.
Spirit World
7517 Pacific St., Omaha.
391-8680  www.spiritworldwine.com 
Longtime Omaha wine marketer Spirit World has been selling fine wines from across the globe from midtown for three decades. Located at 75th and Pacific, the store is perhaps the state's largest wine store, and offers an enticing deli and bakery on premises, which is a popular mid-day lunch spot for area workers. Founded in the 1970s by Denny Lewis, Spirit World changed ownership in January 2008. New owner Laurie Hellbusch Wolford, a lawyer by training and self described lover of food and wine, has set about to place her own stamp on this popular gathering spot of the well-to-do, as well as those starting their climb up the social ladder. The store seems less cluttered than before, but has not forgotten its roots in offering a wide selection of popularly priced wines from throughout Europe, Latin America and Australia, as well as our domestic wine producing states. Wines are clearly organized by both grape varietal as well as by geographic region. Bottle prices start at about $10 and soar well into the hundreds of dollars for twenty and thirty year old classics. Most bottles are in the $15-25 range, which is the retail price point where affordability and quality most broadly intersect.
The Spirit World deli, run by new chef Laura Doocy, offers a nice selection of high end salads, as well as deli meats and cheeses, and baked on premises desserts. And what better to go with your salad or sandwich than a nice glass of wine? Ten seasonal selections are offered by the glass at the deli, or customers may purchase a bottle from the retail portion of the store and enjoy their selection with no corking fee in the store's informal 50 seat dining area. The deli runs a daily (except on Sunday) happy hour from 5-7 pm, where wines are $2.50 per glass! If that isn't a partial cure for your shrinking 401k I don't know what is. Spirit World offers $15 wine tastings the first Thursday of each month, which includes tastings of five or more higher end wines, plus light appetizers. The store additionally features informal free wine tastings each Saturday from Noon until 8 pm, which is an excellent way to discover new wines that appeal to your palate. Besides the large wine and spirit selection, and the sit-down deli/bakery, Spirit World also offers a limited selection of packaged gourmet foods, gifts and other wine accessories. As a boost to local area wineries, a nice selection of Nebraska produced wines is also available.
Spirit World, 7517 Pacific St., Omaha.  Phone 391-8680.  www.spiritworldwine.com 
The Winery
741 N. 98th St.
391-3535 or 1-800-884-WINE  www.thewineryomaha.com
Are you by chance old enough to recall the wonderful Food City Wine & Spirits store that once graced 120th and W. Center Rd.? If so, you will be happy to know that when that legendary store closed several of their "wine guys" opened The Winery, located just east of JC Penney Westroads. Open 22 years, this small but densely packed wine purveyor/deli has built a loyal following of thousands of customers. Owner David Deao and his seemingly ever present side-kick Joe Copenhaver have between them over 50 years of wine-cology, so you can believe them when they recommend a wine that it is a good one. The store features a small deli with seating, open from 7 am until 3 pm for breakfast and lunch during the week, 10 am until 3 pm on Saturdays. Wines by the glass are sold in the deli for a mere $3, and if you come when the deli is open you can buy your own bottle from the retail side and enjoy it with no corkage charge.
The Winery specializes in wines for $10-20 per bottle, although those with more cash to spend will not be disappointed in the selection of pricier offerings. California and Oregon wines are well represented, but lovers of European wines as well as wines from throughout the Southern Hemisphere will also find the selection to their liking. Sign up in the store for The Winery's free quarterly newsletter for discount offerings and news of upcoming events. I like to think of the staff at The Winery as being my personal "spirit-ual advisors." You will, too.
WineStyles
Shoppes at Aksarben, 72nd & Pacific / Village Point, 169th & Burke St.
884-6696 / 991-8919  www.winestyles.net
This Ft. Lauderdale chain opened in Omaha two years ago, and now has two stores, including the Shoppes of Aksarben and Village Pointe. The concept for each store is the same. Wines are grouped by flavor and color into eight categories, rather than by varietal type or countries of origin. You want a bold wine to go with your backyard BBQ? Head to the Bold section. Would you rather have an oaky white? They have a section for those as well. About 150 wines are offered for sale, and almost all range in price from $10 – $25. The store also offers two wine clubs, where members receive 2 or 3 selected wines each month, plus discounts on wines in store.
WineStyles offers customers the added option of on-site sipping; wines may be purchased by the glass, or you may purchase and consume a full bottle in the store for a $5 corkage fee. There is seating for a dozen or so throughout the shop. Some chocolates, cheeses and other lighter fare may be purchased, but there is no food service per se. The customer base seems to skew younger than at some of the other wine stores in town. As with the other wine stores, wine related gift items are offered for sale. Each Friday WineStyles offers wine tastings from 5-8 pm, where 6 wines may be sampled for $5.
Other popular wine bars of note:
La Buvette Wine and Grocery
511 S 11th St.
344-8627

Cigarro's
13110 Birch Drive Suite 108
496-9595  www.cigarrosomaha.com
Dundee Cork & Bottle
614 N 50th St
934-2118
Bill MacKenzie
Bill MacKenzie is better known to many in Omaha BBQ circles as "BBQ Bill." For the past 15 years he has been a member of the Greater Omaha Barbeque Society (GOBS), including serving a recent stint as president. BBQ has been one of Bill's food passions since his college days in the 1980s. As a certified BBQ Judge under rules of the Kansas City BBQ Society, Bill has judged sanctioned barbeque contests in 5 states.
---
Only registered users can comment.