Portrait of a Bartender: Aaron Halbert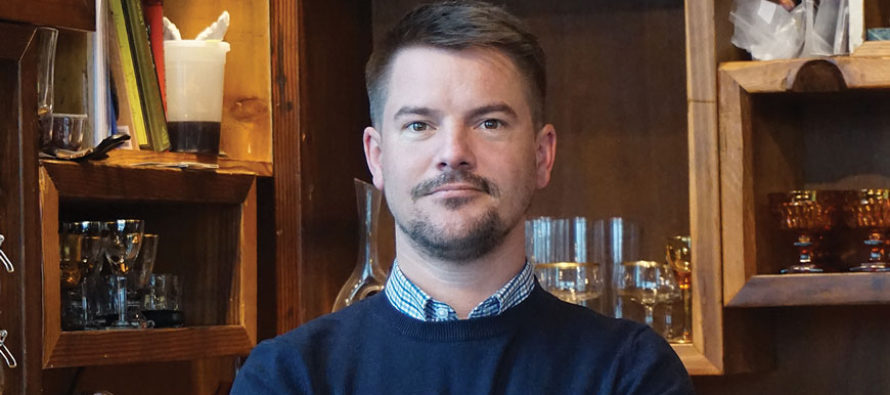 This issue of Food & Spirits Magazine's bartender profile features Aaron Halbert. Aaron has worked at a variety of places around Omaha and, most recently, is one of the co-owners of SamFam, LLC (along with his uncle, Ron Samuelson, and his brother, Justin Halbert). SamFam recently opened Herbe Sainte and will soon be opening Della Costa in Midtown Crossing and Mode de Vie in Regency. Aaron can occasionally be found bartending at Herbe Sainte, when he's not swamped with his responsibilities.
Food & Spirits Magazine: Where do you work and how long have you worked there? 
Aaron: Recently, my brother, our uncle and I started Herbe Sainte in Aksarben Village.  We've been open just over 4 months now. 
FSM: How long have you been bartending and what are some of the past places you've bartended at?
Aaron: Well, I've been in the service industry for 17 years, at this point. Serving, bussing, washing dishes, bartending – whatever I needed to do.  My first bartending gig was at a nightclub in Sarasota, FL.  I was 17 – totally illegal – but I made friends with one of the owners and he thought it was funny to have me make all of his espresso martinis.  From there I moved on to a couple of different restaurants in SRQ, then made my way to Omaha and worked at M's Pub, The Boiler Room, Lot 2, Jake's, and a little bit at The Trap Room and Slowdown.  Anything from popping beers at the College World Series to making tons of craft cocktails in a fine dining establishment.
FSM: When did you know you wanted to be behind the bar?
Aaron: It was the year my brother's friends all started graduating college.  I was working at that nightclub, making hourly plus tips. Every night the bartenders tipped us out (bar backs) and we knew the percentage of what they were making based on what we were getting.  So I've got my own apartment on Siesta Key, I'm a 2 minute walk from the beach, and my brothers friends are all moving back in with their parents.  I wanted to get those bar shifts.
FSM: Have you had any people along the way who have helped you be the bartender you are today?
Aaron: Get ready for a novel on this one…  The first person I think of is Paul Kulik, formerly of the Boiler Room and currently at Via Farina and Le Bouillon. Every single day he challenged me to be faster, smarter, and more creative.  I have always been a confident person and a hard worker, but Paul really made me take myself seriously as a professional.  Then there's Johanna and Brad Marr.  Johanna has always been super caring.  She has one of the fastest wits – there isn't a single problem that could arise on the floor of a restaurant that she doesn't immediately know how to fix.  She and I worked together at M's, and the day after I got fired from M's, Brad hired me on immediately at Nick and Tony's.  Brad was one of the first people I worked with that got me really serious about expanding my wine knowledge.  Working with the two of them at Lot 2 was awesome.
FSM: Where do you find inspiration?
Aaron: Everywhere. If it's a 10 ingredient cocktail or a Coors Banquet – if it's delicious, I'm in.
FSM: What is the best part of your job? And the worst?
Aaron: Best part is R&D (research and development), no doubt.  Eating and drinking to learn more?  Yes, please.  Worst part?  Ugh, I had to fire someone.  That was just awful. 
FSM: Do you think bartending will be any different in 20 years?
Aaron: Trends come and go, but the inherent idea of service will always be around.  People like to connect, to feel like a part of something interesting.  There's no way to take the human element out of it. 
FSM: What makes a good bartender?
Aaron:  (Paul Kulik in the back of my head) Four things. SERVICE. SERVICE. SERVICE. SERVICE. Without hospitality, you have nothing.
FSM: What is your favorite drink to make?
Aaron: A Sidecar.  Brandy is totally underrated in this market, and it's just simple and delicious. Four ingredients and room for play (a couple of years ago I did a pear and baking spice infused brandy at Lot 2. We sold out fast.). A well-made one is a thing of beauty, and I've never had a guest that didn't enjoy it.
FSM: What do you drink?
Aaron: Whattaya got?
FSM: What's something you wished people knew about being a bartender?
Aaron: How terrible it feels to be verbally abused.  People forget that the person across the bar from them is working, at their job.  Probably their only job.  It's the source of all of their income.  Talk to them like they are human.  Do you verbally berate people in a doctor's office? A bank?  Your florist?  Probably not.  For some reason, with some people, all bets are off once they walk in to a bar.  It bewilders me. 
FSM: Describe the perfect cocktail?
Aaron: That depends.  What are you looking for?  Bitter, sweet, tart, boozy, light, sparkling? There are billions of flavor combinations out there, and it's our job to steer you in the right direction for your preferences.
FSM: Where in Omaha are some of your favorite places to go out for drinks?
Aaron: Nite Owl, Mercury, Boiler Room, V Mertz, Trap Room, Jake's, Krug Park, St. Andrews, Beercade, La Buvette, Le Bouillon, Wicked Rabbit, Laka Lono, Lot 2, Cork and Bottle, Dario's, Pageturners Lounge… 
FSM: Tell me about Herbe Sainte. What can you expect to find at the bar there?
Aaron: We're just over four months old, and located at 67th and Frances in Aksarben Village.  We feature New Orleans inspired food and drinks.  One thing we don't do is discriminate. If you'd like an inexpensive wine, a light beer, or just a spirit on the rocks, we have that.  If you'd like a thoughtful, well-made cocktail, we have that.  Would you like an elegant bottle of wine? We've got that, too.
---
Related Articles
When Nick O'Connor opened Cedar, one of Omaha's most recent lounges in November of 2015, his goal was to provide
I have Celiac Disease. It's an auto-immune disorder that causes the body's immune system to identify gluten as an interloper
The United States Bartenders' Guild is a non-profit organization dedicated to securing the professional future and reputation of bartenders through
Only registered users can comment.