Portrait of a Bartender: Justin Swanson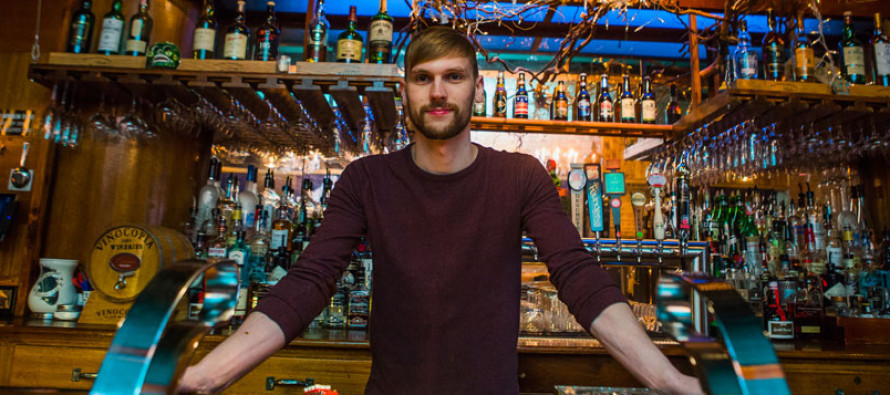 This issue I find myself near a hotel in downtown Omaha, searching out a looking glass.  Through that looking glass I go, and I wait for permission to go through a wall.  Behind this wall of unopened liquor bottles lies a dimly lit bar, a bartender in a three-piece suit mixing drinks for a mishmash of people, some of them dressed to the nines.  Welcome to the Wicked Rabbit.
A tall, lanky, blonde haired figure joins me.  I order a Martinez cocktail, he grabs a Manhattan, and we drift off to a table to sip on our drinks and chat.  While I have a notebook and pen with me, I don't take many notes.  I'm sitting with Justin Pants, as he tends to be known, a bartender from House of Loom who seemed to come out of nowhere at the Woodford Reserve competition at the end of September. He took second place, with only his lack of competition experience keeping him from snagging the winner's spot from Luke Edson of the Berry & Rye.  He's definitely someone to keep your eye on and get your drinks from.
Though twenty-nine, Justin is still fairly new to the world of bartending.  He started as a barback at House of Loom a little over two years ago, restocking and cleaning up after the likes of Ben Rowe, who now manages the Rabbit.  In the crucible of a venue that does craft cocktails and deals with the volume of a busy event space, Justin learned under the age-old industry practice of the "sink or swim" theory – what some might call trial by fire.  He's one of the few I've seen who doesn't lose his cool, technique, or quality while making a cocktail and being six deep at the bar.
It was probably this aspect that first caught my attention, even before I tried any of his drinks.  The ability to maintain your technique and calm when under pressure to get drinks out as fast as possible is something that is difficult to do.  When I asked him about it, he reiterated a lesson I went through myself: you just put your head down and focus on one drink at a time.
His philosophy about bartending is something to think about.  All too often, at the craft cocktail bars, you run into bartenders that are extremely knowledgeable about cocktails, but they can't really talk to their customers. Or, they're the other way around: a bartender that can talk, but they can't make a drink worth a damn.  Justin is of a different philosophy, and again, this probably comes from the unique environment that House of Loom represents, where it's just as likely to get an order for a Ramos Gin Fizz as it is a rum and coke, Redbull and vodka, or a shot of bourbon whiskey.  He mentioned an attitude for a bartender that I really liked: affability.  In the end, he mentioned that being a bartender is about hospitality, about serving a customer. It's nice when you can walk into a place you've never been and immediately feel welcome.  It's about the interaction and dialog before anything else.
When it comes to creating drinks Justin takes a different approach than a lot of bartenders.  A lot of us, when we try to come up with a drink, first always consider what kind of base we are going to use.  Do we want to build a rum, whiskey, gin, vodka, or tequila base?  Justin learned a different way: start with the flavor you like.  Take his drink for the Woodford Reserve competition: Bourbon My Sweetie Pie.  For this drink, he started not with the bourbon base, but that he liked sweet potatoes.  Starting with a purée of yams with brown sugar, he added bourbon, then some Benedictine D.O.M. and hot water (yes, it's a warm drink!).  That alone wasn't enough, though.  He figured out how to add marshmallow to the mix, giving the mix a baked marshmallow topping.  Put all of this together and you get the flavors of Thanksgiving.  This is a drink that has all the balance of a proper classic, yet the innovation of a modern mix.  It captures the essence of fall.  You can find it on the menu at House of Loom, along with Justin behind the bar.
Around this time in the conversation he's moved from the Manhattan to the Blood & Sand; another classic, but swapping rye whiskey for the more peaty flavors of monkey shoulder scotch.  If you haven't tried this drink out… well, you probably should – even if you aren't a big fan of scotch.  As we shift gears on drinks, the night mellows out a little bit.  A group of people materialize at the end of the bar, and another group seems to wrap up a meeting, getting ready to go out into a cold November rain that threatens to turn into snow.
---
Related Articles
The American micro-brew phenomenon that came to roost here in the 1980's has increasingly grabbed the attention of beer drinkers
In 1992, Madonna wrote the original Fifty Shades of Grey, entitled Sex. There was an uproar (as expected) from the
In the past few years, lavender has been popping up more and more frequently as an ingredient on bar and
Only registered users can comment.