Reviewed: 7 Monkeys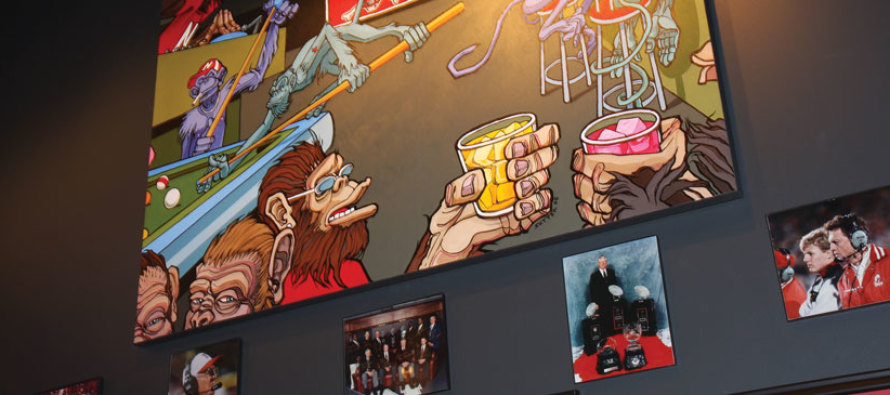 For Food & Spirits Magazine's second review we ventured out west to check out 7 Monkeys located at 15805 West Maple Road. 7 Monkeys, started by Lincoln natives David McBride, Kent Forke and Bret Schnittgrund, have been open for just over a year and seem to be one of those places that we hear a decent amount about, but have a hard time getting all that way out there to actually try it. Following a recommendation we went and had a look and, from just walking in, the atmosphere and décor were great, the place was packed (although most seemed to be drinking rather than eating), and the menu had some interesting items on it, so we decided give it a try.
We followed the same format for the review as last issue; Rather than just one reviewer, we sent five different people, representing different levels of the culinary food chain (and just downright interesting people), to give us their take in a round-table sort of discussion. We did this because, while we also wanted the high-end and very-knowledgeable food consumer to be represented, we wanted the more average or general eater to have a place at the table and in an atmosphere that was close to the same way we all go out to eat with friends and family. Our hope is that the different perspectives provide a more-rounded review of the experience while also giving you, the reader, a chance to see what someone who might be similar in their tastes said about their meal.
We notified the restaurant what night would be coming and allowed the restaurant to order the entire meal for the table. Scores were given in various categories on a scale of one to five (with five being the highest). The diners were also asked to identify their favorite (and least favorite) dishes and to tell us a little about themselves and where they are coming from with food. With that, here are your reviewers…
David Ahlquist: David Ahlquist has lived in the East, South and West in between stints in his native Omaha. He imagines himself a man of many talents and interests, but currently spends his time working as a computer programmer and watching television. Dining out, he tends towards the familiar – a filet, shrimp or the unadorned sandwich (meat, cheese and bread please.) His favorite food is the Philly cheesesteak from Doc's in Atlanta. David's brief vegetarian experiment ended when he realized there wasn't a very exciting menu for someone who dislikes tomatoes, mushrooms and squashes. Soups, frozen entrees, Almond butter and fruit spread on toast make up the bulk of his diet. He occasionally envisions a lifestyle change involving healthier eating with fresh foods prepared in interesting fashions. These daydreams inevitably end with the spoiled food from his impulsive grocery shopping spree in the garbage and an ever increasing collection of exotic, unopened condiments and spices in the cupboard.
Sarah Benck: Sarah Benck is 23 years old, and was born and raised in Omaha NE. She is a songwriter/ musician, and currently plays in Sarah Benck and the Robbers. Growing up, her annual birthday dinner was her Mom's Swedish meatballs. One of her best dishes to prepare is a spicy spaghetti sauce, with veggies and spicy turkey sausage, stuffed red peppers, and homemade wheat bread. Like sounds in music, there are limitless combinations of flavors to cook with, and she enjoys the creative process. When her music takes her to other cities, her budget is usually minimal, and the diet consists mainly of gas station snacks or fast food (two of her least favorite things). Her recent favorite is in Sheboygan WI, at Jalisco's. She had the Avocado burrito, stuffed with fresh ingredients and sealed with toasted perfection. Her local favorites are Brother Sebastians, Jaipur, and El Aguila.
Steve Villamonte, B.S. C.E.C.: Steve is the Executive Chef/Owner of Villamonte's Cuisine, a fine dinning caterer. Steve contracts with the Omaha Press Club, where he serves as the Executive Director, and he has been a CEC, or Certified Executive Chef, recognized by the American Culinary Federation since 1984. Steve also has an Associate of Arts and Bachelor of Arts and Science. He has spent most of his career in country club kitchens throughout the Midwest. As a young boy, after a day of swimming at the Happy Hollow pool he would be assigned to a cook/ baby sitter who would keep him busy until his father was ready to leave at the end of the evening. "I remember making Thunderbird salads on a step stool when I was just five."
Derek (GastronomicFightClub.com): Derek was a picky eater as a kid. Oddly, he always liked to cook and fancied himself a chef, but his list of acceptable ingredients was fairly short. Meeting the woman he would marry, and moving to California changed all of that. His wife was a budding foodie when he met her and they explored the nooks and crannies of the food world together. Doing so forced him to learn to appreciate all tastes and textures regardless of his initial impression. He's gone from a person who dislikes fish so much he wouldn't even eat a fish stick to a person who thinks there is no better way to eat fish than a gleaming plate of sashimi. Because food for Derek is about experiencing new things, he's been drawn primarily to fine dining and regional cuisines. Both have great potential for challenging him with dishes he never would have conceived on his own. As for that kid who aspired to be a chef, he's contentedly abandoned that dream. He still cooks occasionally, though not nearly as often as he'd like – but when he does cook, he cooks with reckless abandon.
Matt Whipkey: One of the simplest and sweetest pleasures in my life has been a good meal. Over the last decade careers in politics and music have led me down many an interesting culinary path. Weather dining on a perfected catfish on tour in the Deep South or a gourmet Cornish game hen at a political fundraiser, my appetite and work appear to coincide. Along with my chosen artistic career path comes unstable and sometimes nonexistent income, easily making food choice limited. While I can say wholeheartedly the gourmet Cajun of Denver's Gumbo's is my favorite meal of recent memory, in equal measure $2.25 at 2:30 AM goes a long way at Burger King. Bon Appetite!
Thai Eggrolls with Daikon radish salad ($7.99)
Combined Average Presentation Score: 3.5
Combined Average Flavor Score: 3.69
Combined Average Score: 3.78
These eggrolls were pretty and colorful, featuring a textural and bright salad in the middle of the dish and a tart and yummy Thai dipping sauce.
Selected Comments
Sarah: The cucumbers in the salad were soft but not soggy and still had a lot of crunch. I like the combination of the bite in the radish "sprouts" with the vinaigrette and sesame seed. The eggrolls themselves were good and the filling was delicious. The shells were crunchy. I would have liked more filling in the shell.
Derek: Slightly greasy shell, but good flavor overall. I always love the Thai dragon sauce, sweet and hot. The Daikon are like half pickles. Good, but needs more wasabi in the sauce. I'm not sure what type of meat it contained.
Matt: At first taste, it was somewhat bland. Not mind blowing, but comfortably pleasing. Could stand a stronger flavor. The salad that accompanies the rolls is amazing. I would order that by itself.
Steve: Presentation was good, but I am not a fan of colored plates, I really think they detract from the natural food colors and presentation. I thought the accompanied Daikon radish salad had a great flavor, but the sweet Thai was a little too spicy for me. Maybe too much cayenne.
Dave: Tasty and sweet with the red sauce provided. I liked the texture, crunch with soft stuff in the middle. Also good rubbed across the wasabi mayonnaise dribbled across.
Bacon wrapped scallops with black beans, avocado sauce and onion crunch ($12.99)
Combined Average Presentation Score: 4.19
Combined Average Flavor Score: 4.75
Combined Average Score: 4.75
The scallops were everyone's favorite, and with good reason. They were big, tender and cooked perfectly.
Selected Comments
Sarah: The avocado sauce was a bit spicy, but very good and flavorful. The scallops and bacon are cooked to perfection. I enjoyed the presentation as well. The very edges of the bacon were crunchy which gave it a complex textural experience.
Derek: Very well cooked scallops. It's great to see diver scallops in Omaha, especially such large ones. The slight spiciness almost overpowers the scallop. (pepper?) Scallop almost plays a supporting role.
Matt: The smoky aroma was very inviting. The scallops and bacon were very complimentary. The visually stimulating black beans sent this dish out of the stratosphere. The evening's victor.
Steve: Bacon was cooked just done. Scallops were al dente – perfect! Presentation was very good. Nice amount of heat with the ground cayenne.
Dave: Really spicy salad dressing on the greens. First bite with bacon and scallop tasted really good. Smoky flavored, bacony. Second bite I just did the scallop. I really liked the texture of the scallop. Firm and seemed perfectly cooked. It was firm and not rubbery – the way I think a scallop ought to be. Really good for something fishy (I'm not a big fish fan.) Easily my favorite.
Coconut Chicken Wrap ($7.99)
Combined Average Presentation Score: 3.06
Combined Average Flavor Score: 2.5
Combined Average Score: 3
The wrap was large and looked nice on the plate. It was served with a choice of regular or sweet potato fries. It was agreed that the sweet potato fries were one of the favorites of the evening.
Selected Comments
Sarah: Typical "burger and fries" presentation. The wraps were good, but I didn't taste the coconut part. I liked the dipping sauce – a lot of spice! The fries were amazing, especially the sweet potato fries.
Derek: Not enough strong flavors to stand up to the peppers. The chicken was not dry, but not moist either. Sweet potato fries even better than Taste restaurant. Crunchy on the outside, creamy on the inside.
Matt: Admittedly not a coconut connoisseur (or even fan), but its flavor did not distract. The wrap was somewhat pedestrian. The slightly dry chicken was easily remedied by the delectable sauce.
Steve: Seems more like a lunch entrée. The sauce was the same as for the eggrolls, I would have preferred a straight sweet and sour sauce.
Dave: The sweet potato fries rocked, and I kind of have a hang up with sweet potatoes. They seem to fall into the squash and other "icky" veggies category. These were really good though – I like the contrast salty sweet. The wrap was pretty plain – I like the one I ate a few days earlier much better but I forget which one it was. It was much better dipped in the chili sauce. If that's the way you're supposed to eat it, it improves my flavor and overall score by one. Without the sauce, I thought the coconut chicken would have been sweeter. Less than impressive without the sauce though.
Kung Pao osso bucco pork with cilantro rice and asparagus ($16.99)
Combined Average Presentation Score: 4.25
Combined Average Flavor Score: 4.31
Combined Average Score: 4.31
This dish featured a tender, moist pork that was delectable. We were a little worried about the asparagus in December, but it was fantastic.
Selected Comments
Sarah: Pork cooked to perfection, falling off the bone. Sauce on pork is great, a bit spicy. Pork was very lean. Wow – amazing pork! Rice was a bit mushy and the cilantro seemed to overpower the Thai wonderfulness of the pork. Asparagus – again, cooked perfectly.
Derek: Nice asparagus. Almost barbecue like scent. Very tender, lots of interesting flavors. Not a typical osso bucco, great spices. May be an acquired taste, but I like it. The rice is crap. Might be the cilantro in the rice, which I hate, but the rice is mushy too. Great pork, sweet and spicy flavors.
Matt: The pork is literally falling off the bone. The taste of the braised pork exceeds its visual appeal. Tender and perfectly smothered in the sauce, the pork may be best of the evening.
Steve: A classic dish that requires lots of cooking time. Nice presentation, clean bones, good flavor, fell right off the bone. Too good to be true! I hate to say, but this may be prefabricated.
Dave: Pork is really tasty. Saffron rice was really, what, salty? Actually, the rice sucked. I really liked the pork though, really tender and tasty.
Almond encrusted salmon on rice pilaf with fresh asparagus and saffron butter ($16.99)
Combined Average Presentation Score: 3.81
Combined Average Flavor Score: 3.88
Combined Average Score: 3.81
The salmon looked very beautiful and was served on a bed of rice ringed with asparagus spears. The colors on this dish were amazing.
Selected Comments
Sarah: Salmon was good, cooked well. It could have been cooked a little less for my taste. The almond encrusting was tasty, but not overpowering in fish and added a nice texture. The texture just got better as the dish progressed. Asparagus had a good crunch. Saffron butter mostly tasted like butter, but I liked that. Rice was good, but tasted just like Rice-a-Roni.
Derek: Basic fish-on-rice presentation. Fish is done really well. Ratio of asparagus to fish is light. Not perfect fish, but good for such a thick cut. Seasoning matches well with fish.
Matt: The hearty portion of salmon proved quite enjoyable. Tastefully balanced, pleasingly flavored and pleasantly filling.
Steve: Pretty standard presentation, nice big portion and cooked perfect, the way I like my pasta Al Dente (just done but not over done), I didn't think the Spanish rice was a good fit for the dish but I did like the sautéed black beans salsa. I would suggest maybe a saffron risotto.
Dave: Rice is pretty good – it's just buttery rice. The salmon is really pretty good, maybe a touch overcooked. The flavor's really nice, just a little dry. Either there's not enough fat in it or it's cooked too much.
Crab Cakes
Combined Average Presentation Score: 3.88
Combined Average Flavor Score: 4.125
Combined Average Score: 3.875
The crab cakes were very pretty. We were pleasantly surprised, as they were not the typical mundane crab cakes served on most menus.
Selected Comments
Sarah: Crab cakes were light and fluffy, well grated. Not overcooked, hard, greasy pancakes like most. I liked the consistency of the cakes with the spice from the rice and sauce.
Derek: Rice is mushy. Crab cakes are spicy and crispy on the outside. My thought was what the f*&# is with the zucchini, but it's pretty good. Lots of butter? Rice still sucks.
Matt: Pleasing taste, slightly spicy. At this point I'm getting quite full and less verbose.
Steve: The cakes were served just warm but that seems to be the trend. I like them hot. You can't go wrong with asparagus; maybe trim them back just a little bit more to get rid of the tough strainy ends. The saffron butter sauce looked good and tasted good. I did not like the Smokey remoulade.
Dave: Crab cake was really spicy and unremarkable after that. I only had one bight though, 'cause I was getting pretty full and wanted to save room for the crème brulee that I knew was coming.
Crème Brulee ($5.99)
Combined Average Presentation Score: 3.88
Combined Average Flavor Score: 3.25
Combined Average Score: 3.25
The crème brulee was pretty, and had a great crust on top. It is made with banana liqueur, which was not overpowering at all, but gave it a slight banana taste.
Selected Comments
Sarah: Very thick. I like the banana liqueur. The crust was delicious. The blackberries served with it were plump, delicious and ripe.
Derek: Very thick. Nice crust, but basic flavored crème brulee with banana liqueur. Just too many egg yolks.
Dave: Not my favorite crème brulee. I need more water. Sugary top was fine but it was really thick and just had a hint of banana and isn't . . . sweet the way I want my dessert. After a few more bites, it got better but that may only be because I lowered my expectations. I need more water.
Final Scores and comments
Service: 3.81
Atmosphere: 3.88
Food: 3.69
Price: 4
Overall Experience: 4.19
Sarah: Not typically a fan of the strip mall modern atmosphere. I appreciated the effort to originate and make the space comfortable and non-sterile. The service was extraordinary – friendly, attentive and knowledgeable. The food was nothing short of delicious on all accounts. The taste and presentation far exceeded my expectations. The service, food and atmosphere was better than my former experiences with west Omaha bars and restaurants. I would dine here again and try one or more of the many selections on their extensive specialty cocktail list.
Derek: Unique atmosphere. Kind of a GastroLounge. Better food than I expected. Good place to hang out, have drinks and get good food.
Matt: Quite an enjoyable dining experience. A varied menu, knowledgeable staff and delectable selection make 7 Monkeys an oasis in an often bland west Omaha.
Steve: Very crowded for a Thursday evening. Trendy – I would recommend it.
Dave: Combination of "pretty good" food and great atmosphere earns an overall rating of 4 even though food alone would get it a 3. The Charlie Macbride gameplans added a boost too. This would be the kind of place where I would find a favorite and stick to it. Of course, that's the way I am everywhere, but here it would be for a reason. There was a big variance in the food. Much of it that sounded good wasn't really, but the stuff that I liked, I really liked. That's the pork shank and scallops. I'd be ordering those whenever I went and not taking my chances on anything else.
Erik Totten
Erik Totten is the founder and publisher of Food & Spirits Magazine in Omaha, Nebraska. He's worked in publications for the last 21 years at all levels. As well as serving as a writer, designer, photographer and editor, he's also founded two publications which have allowed him to grow into being a publisher, which he would describe as his 'true calling'.
---
Only registered users can comment.