Sage Student Bistro Hits All the Right Notes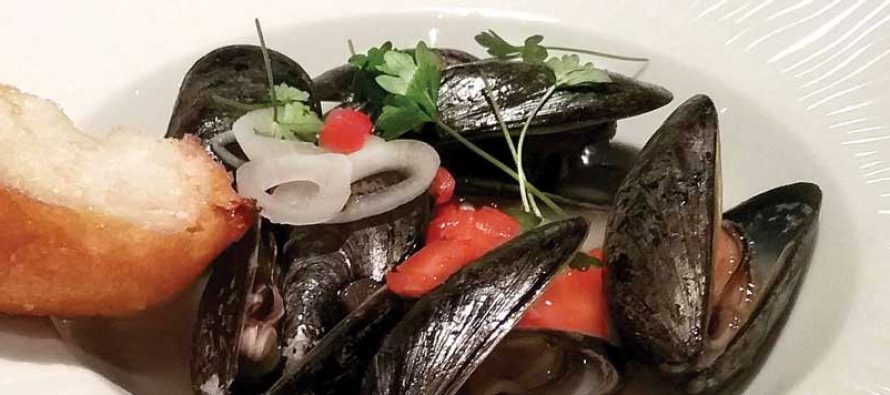 Textbooks say multiple star fine dining restaurants have three defining qualities:
Delicious and beautifully plated cuisine.
A wait staff that provides top-notch service.
A welcoming atmosphere and luxurious ambience.
That is what the textbooks impart to every student going through the Metropolitan Community College's Culinary Program at the Institute of the Culinary Arts (ICA). Each quarter a group of students at ICA take on the challenge of making those defining qualities come to life at the Sage Student Bistro, a student run restaurant located on the Fort Omaha Campus in Building 22. Readers of this article may wonder just how students pull this off week after week. My assignment was to find out.
A walk up the steps to the Bistro leads my group into the ample foyer of building 22, we could see the glowing tea lights adorning window ledges and dancing festively on white linen topped tables. Our arrival to the Bistro was early, a bit before service had started, we peered into the Bistro though the glass doors. What several in our group already understood as we observed the servers centering each tea light while giving quick swipes to smooth any remaining wrinkles on the starched white linen table coverings, these were ICA students.
Upon arrival at the Bistro several hours earlier this group had polished bins of silverware and rows of glasses until they gleamed, folded perfect corned napkins, covered each table with linen cloths then placed the glasses and flatware in precise positions. Reservations were reviewed and assigned by the student managers who serve as front of the house managers. Waiter wallets are passed out, table assignments discussed, freshly ironed aprons are given a quick tie and the brigade that makes up the front of the house were now ready for tonight's service. Oh, I forgot to mention, during all this activity plates of foodwill arrive from the kitchen ready for tasting.
Tonight's menu features a "student Prix Fixe menu" a set price of $30.00 for a full 5-course dinner. The featured student chefs appear from the kitchen to explain each of the five courses, the servers taste and commit to memory as best they can the flavors of each dish for the evening's prix fixe menu.
The Bistro doors open and I am jolted out of my thoughts about what has happened in the hours before in the dining area. Our group is greeted warmly and welcomed to Sage Student Bistro; we are lead to one of those perfectly set tables, one right in front of the coveted fireplace. We had made our reservations early and requested this seating. (Reservations for the Bistro can be made on Open Table.com. Reservations are suggested as seating is limited, however walk-ins are always welcome).
Most would agree, there is nothing quite as pampering as fine dining, and I was ready for this evening to begin. Our server greets us and offers to take our drink order, explaining the wine list like a true sommelier. He arrives back at our table, wine key in hand and makes pleasant small talk as he opens our bottle of 2012 Grand Veneer Côtes du Rhône Rouge,then pours a small sip for me to taste. "Lovely" I remark as glasses are poured, another server has filled our glasses with water, menus have appeared and each of us takes a moment to review. Our server is ready to take our order, carefully explaining the items on the menu, he then introduces the prix fixe menu, the moment I was waiting for.
You see, earlier in the week I had spent time interviewing the two students tasked with developing this week's prix fixe menu. Two student chefs would be preparing the five courses; you might say this week is a right of passage in the culinary program at ICA. My mind went back to my interview with Francesca D'Angelo, a second year student in the culinary program. This evening's prix fixe menu was Italian themed, when I asked her about what was the inspiration for the prix fixe dishes Francesca answered they were inspired by the foods prepared in her home by her mom when she was growing up, childhood memories of all the foods she loved, with a few twists. She remembered helping cook meals at the stove when she could hardly reach to stir the contents of the dishes being prepared. Her passion she said was to create food memories with her cooking in the future.
My reminiscing was interrupted by the voice of our server, "Your amuse bouche," our first course was being placed in front of each of us. An eye appealing combination of house made lemon thyme ricotta with grapes and a sprinkling of parsley on a crusty baguette was placed before me. The ricotta was delicate and fragrant, the bold notes of lemon swept over my tongue on the first taste. It provided just enough flavor combinations to awaken the taste buds, which were now begging for more.  I shared with the group when I interviewed second year student chef Katy Jetter, the student chef paired with Francesca for this week's prix fixe, she had remarked this menu had come together quickly. Katy frequents the Italian restaurants found in Omaha and loves them all. She had recently made trip to Italy, which allowed her to experience the authentic flavors she and Francesca were striving to attain.
 As if by magic the table was cleared of dishes, soup spoons had been placed and steaming bowls of mussels in a light broth with tomatoes and garnishes of microparsley were being set before us.  The bright flavors of the tomatoes were the perfect backdrop for the fresh steamed mussels, they had a slightly sweet flavor, softness combined with tiny bit of chew, and was that a hint of the Mediterranean Sea I tasted?
As we finished up the soup course someone remarked if the soup course was an indication of the dishes that would follow, they could hardly wait for the next dish to arrive.  I realized what Francesca and Katy had worked on in their initial brainstorming session had become a flavorful reality. Each of these aspiring student chefs had mentioned they loved the challenge they had found in the kitchen. Katy loved the "mize en place" or in layman's terms, the orderly method of preparing ahead for a dinner service each evening. She enjoyed tweaking recipe flavors, testing and tasting until they were perfected. Francesca enjoyed the teamwork of the restaurant kitchen and the fact that in the Bistro kitchen everyone has a voice. She mentioned all hands are needed to get dishes prepared and plated perfectly for guests and she loved being a part of that process. Both were excited to present their food to real guests. Many hours of study and preparation had taken place to get to this week, prix fixe week with Francesca D'Angelo and Katy Jitter's names on the menu. 
I hardly noticed bowls were removed and now, more brightly polished silverware was again placed and awaited the next course. A line-up of servers were surrounding our table and setting dishes in perfect plate positions for the viewing of our third course. I could view the classically formed and butter crisped potato gnocchi resting in a bison and pork bolognaise sauce. All conversations ceased as each member of my party noshed the first bites. Crosses between humming and mumbled "mms" were the only sounds escaping for a full minute. The light, slightly potato flavored gnocchi was the perfect vehicle for the well thought out bolognaise sauce; I could almost see Katy adding the spices to the mixture getting it just perfect.
Our table conversation went back to how the chefs are trained at ICA to be able to provide such a level of excellence. I was happy to explain the fearless leader in the kitchen each evening is chef Oystein Solberg, his expertise is taught with hands-on application for the student chefs. Solberg generously shares his know-how to eager students in the kitchen as they come in to prepare for the evenings service. One might call him the well-loved "Chef Du Mentor" for the ICA culinary students.
I was now alerted to the next course by the fresh silverware being placed and the parade of servers marching toward our table. Right behind the servers walked Katy Jetter in her crisp, white chef coat.  As the plates were deposited in front of us "chef" Katy explained the 4th course, "A pan-seared grouper sitting atop zucchini in a saffron and caper broth and topped with micro greens" She then exhaled quickly and smiled in pride. This is a moment serious students at ICA in the culinary program dream about . She answered questions about her plans for the future. "More school, going thru the Baking and Pastry program at ICA to become a more well-rounded chef." Admitting to us her favorite moments had taken place during this prix fixe week.
As I pushed my fork into the grouper, I felt the crisp breaking of the seared skin,it melted into soft folds, and I was taken away to the seaside as I took my first bite. The zucchini had a slightly salty favor provided by the capers in the broth base and it paired well with the delicate grouper. I could taste Francesca's influence in this dish, comforting and homey, like her mom's kitchen I would bet.
We lingered over the last bites feeling satisfied with all the flavors we had experienced. Dishes were cleared from our table, crumbs removed with table crumbers, then our server suggested coffee. Out of the corner of my eye I saw two additional servers with a tray of beautiful desserts. Course five was introduced. Our server didn't ask the "Did you save room for dessert" question, he could tell from the murmurs about the table we were all up for this last delightful course. The server explained each of the four plated deserts on the tray with attention to each flavor we would be experiencing. The prix fixe dessert was part of the selections. We could choose any of them! Each of the desserts are made fresh each evening by the students in the Baking and Pastry Program.
Not wanting to miss out on this last course, I selected the spiced apple cake, so delicious, moist with a tender crumb. It was nearly too beautiful to eat. But I savored every last bite.
The evening together with friends dining at the Sage Student Bistro was one to remember. Francesca and Katy certainly have a great start on their culinary journeys.The Sage Student Bistro gave them the opportunity to shine as students and future chefs; the team in the back of the house supported their efforts and the team in the front of the house allowed their amazing dishes to be delivered in the best possible manner.
If I had to grade the students at ICA for the evening's dinner service they would get an A+ from me.  And Sage Student Bistro hit all three of those defining qualities and was well deserving of several stars that evening.
Dining Style:
Fine Dining
Hours of Operation:
Lunch: Monday – Thursday:
11:00pm – 1:00pm
Dinner: Monday – Thursday: 6:00pm – 8:00pm
They are open concurrently with the school quarter. Check our website for dates of operation! Reservations are required for dinner, Monday – Thursday, with available seating times from 6 p.m. – 8 p.m.
Phone Number:
(531) 622-2328
Cuisines:
Contemporary American
Price Range:
$30 and under
Website:
---
Related Articles
Thinking about burgers takes me back to the first burgers of my boyhood days. I grew up in Norfolk, NE,
From jam to donuts, cupcakes to macaroni and cheese, to even Vodka, bacon is everywhere in food and spirits. Bacon
Publisher's Note: Omega Omega Omega (Tri Omega), the culinary fraternity at the Institute for the Culinary Arts at Metropolitan Community
Only registered users can comment.