Seasonal Cravings: A Recipe for Blue Cheese Cherry Tomatoes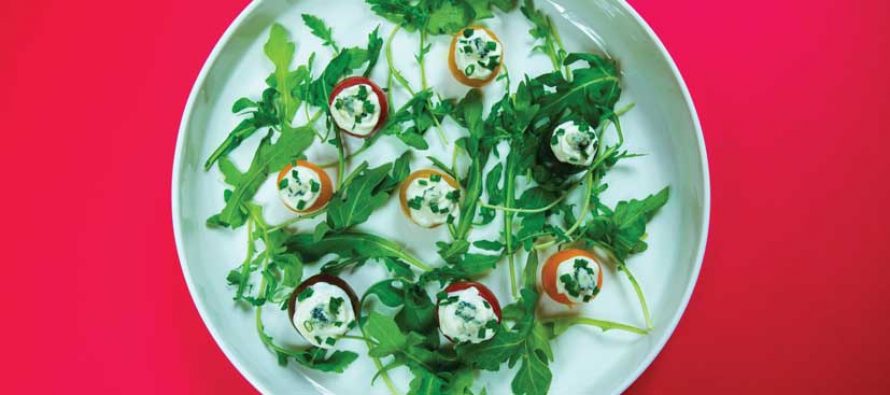 I take my job as a food writer very seriously indeed, but I believe my calling is to help you not only produce deliciously crave-able food, but above all else to realize that food is the vehicle we use as transportation to a destination that we all crave even more than scrumptiously delicious morsels with which to stuff our faces. That destination is creating memories and spending time with loved ones and acquaintances new and old.
Of course our goal is to create food that looks and tastes incredible, but when we find ourselves amidst all the hustle and bustle and crazy avalanche that a New Year can create, let's instead decide to foster and craft an ambiance of joy that will allow us all to deeply connect with family and friends.
The next question is how? How do we let go of the stress inducing trappings that come as we try to get ourselves ready for event after event? I'm glad you asked, how about a remarkably easy yet equally tantalizing recipe to put into your regular party going repertoire?
Longtime Food & Spirits Magazine readers will know of my somewhat fanatical love affair with tomatoes and this recipe combines that love with another of my great loves, cheese, to be specific cheese with a blue hue. I created this recipe years ago during the holiday season. The cold winter months mean that we have more than half a year till we can celebrate "Tomato Day " (check out my past FSM article, "Viva La Tomato!" ). This recipe allows us to satiate our longings for those ephemeral first bites of summer as we endure the cold clutches of old man winter. I've made this most holiday seasons for almost a decade and it never fails to be a palate pleaser. Well, let's be real, most cheese recipes are a hit! Perhaps that's why good culture has made so many of them! I don't know anyone who doesn't like cheese so any recipe including some is sure to go down a treat.
Two cases in point, I recently served this as an amuse bouche for a dinner date. An amuse bouche is a French phase that means something to amuse the mouth, it's a small bite of food served in a tasting spoon that the chef sends out to welcome diners and whet their appetites and set the stage for the flavorsome dining adventure to come. My date for the evening had told me he wasn't a blue cheese fan but wanted to try it based on the track record of past dishes of mine that he had enjoyed. He said he really enjoyed the combination of flavors and then subsequently commented a few weeks later when I was again making the recipe about how the aroma of the blue cheese had changed from repelling him to enticing him.
Case number two, the daughter of one of my best friends was home from college for one of our annual holiday extravaganzas and as she was picking up appetizers, she commented that she had never tried my blue cheese stuffed tomatoes because of an aversion to blue cheese. I found her back in line a little while later scooping up a couple more of the delectable orbs and knew that my mission here was complete. Two conversions in one month from blue cheese haters to blue cheese cravers!
Now, while the cherry tomatoes we get in the cold winter months never compare to the wonderful flavor bombs we get in August, the newer heirloom cherry tomatoes we can find in most of our local supermarkets can definitely hit that sweet spot until their tastier cousins hit the farmers markets this summer.
So, my FSM readers and friends, here's a recipe that's so fast and easy it can have you in and out of the kitchen in less than half an hour. You'll be on your way in no time to your next party with little to no stress. So, as you walk into your friends home this holiday season you can concentrate on the important issues at hand, how to be a better listener and a better friend and how to create an atmosphere where memories of love and joy are remembered for years to come.
Blue Cheese Cherry Tomatoes
1 pint heirloom cherry tomatoes
1 cup sour cream
1/2 cup mayonnaise
8 oz blue cheese – crumbled
1/2 tsp garlic salt
1/2 tsp fresh lemon juice
1/4 tsp fresh cracked black pepper
1/8 tsp kosher salt
2 Tbsp fresh chives – chopped
kosher salt and fresh cracked black pepper to season insides of tomatoes
Cut the tops off the tomatoes and scoop the insides out with a small melon baller or a small measuring spoon. Sprinkle the inside of each tomato with salt and pepper. Mix the next seven ingredients together and place inside a large sealable sandwich bag. Remove the air, seal the bag and then cut a small corner off one of the bottom corners of the bag. You can now use the filled bag to easily squeeze the filling into the tomatoes. Arrange the filled tomatoes on amuse bouche spoons or on a serving platter and then sprinkle with the chives.
Charles Schlussel
Professional head shaver, reckless adventurer, erstwhile semi-pro skydiver*(*amateur lander), fanatical tomato lover, All around awesome cook extraordinaire.
---
Related Articles
The Fontenelle Hotel opened in 1915, the Blackstone in 1916. The two hotels and their restaurants competed as Omaha's iconic
Accumulated from Mastering the Art of French Cooking by Julia Child, Louisette Bertholle, and Simone Beck as well as re-catching
Risotto is an easy to make meal that will impress everyone that you cook for.  It originates from northern Italy
Only registered users can comment.