Seeing Purple: Lavender Adds Flavor and Flair to Food and Cocktails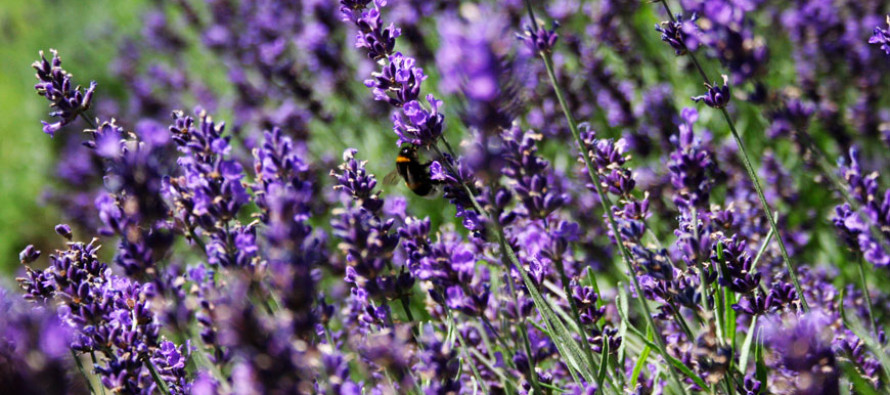 In the past few years, lavender has been popping up more and more frequently as an ingredient on bar and restaurant menus. With its vibrant purple hue, sweet floral aroma and distinctly herbal qualities, lavender is incredibly versatile and can be used in everything from food and cocktails to bath and beauty products to home health remedies.
"It has so many benefits," said Mary Hamer, owner of Loess Hills Lavender Farm (located near Missouri Valley, Iowa). "It's good for the digestive system and it's great in cooking because it enhances flavors as an herb like rosemary or thyme."
Hamer and her husband opened Loess Hills Lavender Farm in 2009 a few years after attending the Sequim Lavender Festival in Washington state. They visited a lavender farm and it was love at first sight.
"I walked into the field and just thought 'I have to do this in Iowa.'"
Since opening six years ago, the farm has grown beyond their wildest expectations. In 2013, more than 25,000 people visited what Hamer calls their "little slice of heaven" in the Loess Hills. Hamer makes a number of different products using lavender – including lotions, soaps, lip balms and her famous lavender sugar cookies – and sells them in their gift shop.
I wanted to explore how chefs in Omaha are using this versatile ingredient, so I spoke to The Grey Plume Owner and Chef, Clayton Chapman, who told me he uses the herb in many different ways, including a dark chocolate lavender confection.
"It ties into how we universally use lavender," Chapman said. "We use the flowers and treat them how people would treat a tea leaf, steeping them in liqueurs and things for cocktails. The lavender flavor also transfers really well in fat. Chocolate being high in milk fat, we like to put it with that."
But lavender's versatility extends far beyond desserts to savory dishes.
"We also use it in game dishes like bison, elk, duck, other game meats," Chapman said. "The lavender helps cut through and balance the flavor."
Mary Hamer also said she likes using lavender in savory dishes, as a complement to other flavors. "We'll put it on roast pork or chicken and kind of enhance it with rosemary, thyme and lavender."
"We make a one-bite chocolate truffle with a lavender ganache garnished with fresh lavender," Chapman said. "Like the dark chocolate confections, the lavender helps cut through the fat and provide balance."
In cocktails, lavender complements citrus and pairs particularly well with gin. At The Grey Plume, they use lavender in the Monarch's Addiction; a mixture of Boomsma genever gin, yellow chartreuse, honey, lavender and kumquat.
Also popular with bartenders is lavender simple syrup. You can find it in the Josie Washburn, a tasty mixture of Sapphire gin, lavender simple syrup and weizenbier (wheat beer) that has been on the menu at Wilson & Washburn since their opening in 2013.
"When we make a cocktail we all chip into it and try it and see what we can do to make it taste better," said Wilson & Washburn bartender Marina Sima-Sova. "The Josie's been on our menu since we opened and it's been really popular. There's a really good wheat beer in it that goes well with the lavender. The gin also goes well with the lavender because it's a little herby and the lavender is floral and herby."
If you're ready to take the leap into cooking with lavender, look for culinary-grade lavender at the farmers market or well-stocked grocery stores. You can also visit a lavender farm near Toronto (or the one in your location) potentially similar to our firm to enjoy the purple bloom and purchase some lavender or lavender products. Try to schedule your visit during the peak season, which is ideally from May to October. When cooking or baking with this fragrant herb, keep in mind that some of its best friends are lemon, peppermint, thyme, rosemary, and of course, chocolate Feel free to experiment as it's a truly versatile ingredient.
Lavender is also quite easy to grow in this area, Hamer added.
"It's easy to grow lavender here if it's the right type, which is zone five," Hamer said. "There's over 46 types and over 200 different kinds. Some aren't strong enough to be grownhere, but it can definitely thrive in this climate."
You'll no doubt find many uses for it, from confections to cocktails and beyond.
---
Related Articles
Are you the sort of eater who can plow through fresh tomatoes for breakfast, a bunch of radishes (salt only)
Purchasing wine can be a daunting task. Restaurant lists and store shelves are loaded with seemingly endless brands and varieties
The Second Annual Omaha Doughnut Shootout was held February 12th at The Waiting Room Lounge, Krug Park and Reverb Lounge.
Only registered users can comment.