Share our Strength's Jeanine Markt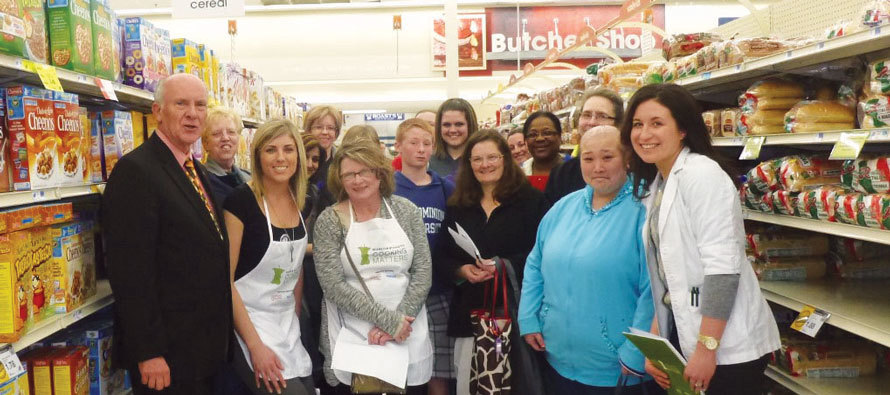 Share our Strength's Cooking Matters empowers families at risk of hunger with the skills, knowledge and confidence to make healthy and affordable meals. With the help of our volunteer culinary and nutrition educators, course participants learn how to select nutritious, low-cost ingredients and how to prepare meals in ways that provide the best nourishment possible for their families.
Why get involved?
"Volunteering for Cooking Matters gives me a hands-on way to get involved in the community where I live and work. It lets me share what I know best (which is cooking) with people in need."–Cooking Matters Volunteer
Hunger doesn't discriminate. It strikes children in rural and urban settings, from single- and two-parent households, and it crosses all racial and ethnic lines. What all these children have in common is that hunger puts them at greater risk of suffering the lifelong consequences of impaired health and academic performance. Sharing your strength through Cooking Matters goes beyond providing food: Your involvement provides the knowledge; skills and confidence families need to make the most of whatever resources they have and feed their families.
Who is making a difference?!
Culinary instructor Jeanine Markt has been volunteering with Cooking Matters since November of 2011. Ever since she came on board, Markt has taught multiple Cooking Matters courses, led a handful of Cooking Demos and has been a huge help with the behind the scenes work. Markt started right out of high school doing office work and then worked to achieve her degree in Elementary Education. She taught First grade and Pre-Kindergarten for about three years, when her family decided to relocate to Iowa City, Iowa. Once there, Markt decided to take a year off to help her daughter adjust to the new city and never ended up getting back into teaching. A little while later, Markt opened her own personal chef business, where she would prepare meals for her clients and fill their fridges for the week. Her business ran successfully for eight years, before her family made another move to Omaha, Nebraska. Once here, Markt decided to forgo the personal chef business and began to look for different ways to use her education background and her culinary skills.
After attending a volunteer orientation, Markt was hooked. She loved the Cooking Matters program and was excited about the opportunity to work in the Omaha community. Markt felt that the program fell right in line with her passions and would be a great way for her to use the skills and knowledge she has gained over time.
Markt feels that the most valuable lesson she has learned so far by volunteering with Cooking Matters is the importance of giving back to your community. Through Cooking Matters, Markt has found it to be a very eye opening experience. She feels it is imperative to introduce individuals to things that they may not normally eat or try and volunteering with Cooking Matters has allowed her to do just that. Markt hopes that what participants learn during the signature six week series will be information and skills that they can carry with them through the years to come.
Markt believes there is huge value in providing those in need, a different perspective on food and healthy eating. She hopes that her participants learn to "respect food and have a better understanding of where it comes from." Markt's favorite memory from a series is watching the kids learn. She loves seeing that they "really enjoy learning and trying things that they may not get to at home." Markt also greatly enjoys graduation day, she loves the excitement the children have when they receive their graduation caps (you could get them from sites like Jostens) and cook books.
Markt's advice to someone who is thinking about volunteering is, "Just try! Especially if you have an interest, or even if you don't, just get involved." Markt feels it is important for someone to pick something they are interested in and just get involved in their community.
Interested in volunteering?! Contact Keri Davis at kdavis@thevnacares.org or visit our website at Cookingmattersomaha.org.
---
---
Related Articles
The recent opening of Lake Wanahoo just outside of Wahoo, Nebraska got me thinking about the area and what might
Homemade condiments give food at several restaurants an extra kick. Here are some restaurants that offer homemade pickles on their
Being the president of the one of the largest local foodservice distribution companies means that I am often asked about
Only registered users can comment.